Williams Lake Nation2Nation Forum

Thursday, 17 November 2016 from 9:00 AM to 6:30 PM (PST)
Event Details
It's not a question anymore if Aboriginals are doing business. It's a question of how we do business with Aboriginal people and their Nation. The goal of the Nation 2 Nation Forum is to open up the conversation, invite questions, and seek the answers.

WHY IS THIS IMPORTANT?
We need to start from First Nations' perspective on First Nations Development.
The Cariboo-Chilcotin economy is a blend of opportunities and challenges including new opportunities available in the mining, agriculture and tourism sectors. Growth in these sectors presents business opportunities across the region to build relationships, partnerships and joint ventures with local First Nations. To achieve a vibrant, sustainable economy it is necessary for First Nations, Government and Industry to collaborate and prepare. Acquiring the right information at the right time is essential to do this effectively.
To ensure that First Nations, Government and Industry in the Cariboo-Chilcotin are able to collectively benefit and grow the regional economy, All Nations Consulting & Coaching (ANCC) is hosting the Nation to Nation (N2N) Community Forum on Nov 17th & 18th, 2016 in Williams Lake, BC. This forum is unique in that it presents a First Nations perspective on economic development. Other conferences provide excellent platforms for resource industries to showcase their projects but often do not adequately address First Nations priorities and their business processes.
WHO IS INVITED? The N2N Community Forum is open to SME's, industry, contractors, government and First Nations leaders who are seeking to network and identify a framework to help address these priorities while working in partnership on resource development in First Nations territories.
WHAT WILL BE DISCUSSED? Keynote speakers will provide insights into 'best practices' in doing business with First Nations. Chiefs & First Nations leaders will share their vision and views pertaining to First Nations Development & Collaborative Partnerships in relation to industry and regional economic growth opportunities. Government and industry leaders will also share their views about growing the regional economy and working with First Nations.
PAST EVENTS & TRACK RECORD Visit events page for up to date current forums.
FOR MORE INFORMATION ON THE ORGANIZER, VISIT  WWW.ALLNATIONSCONSULTINGCOACHING.CA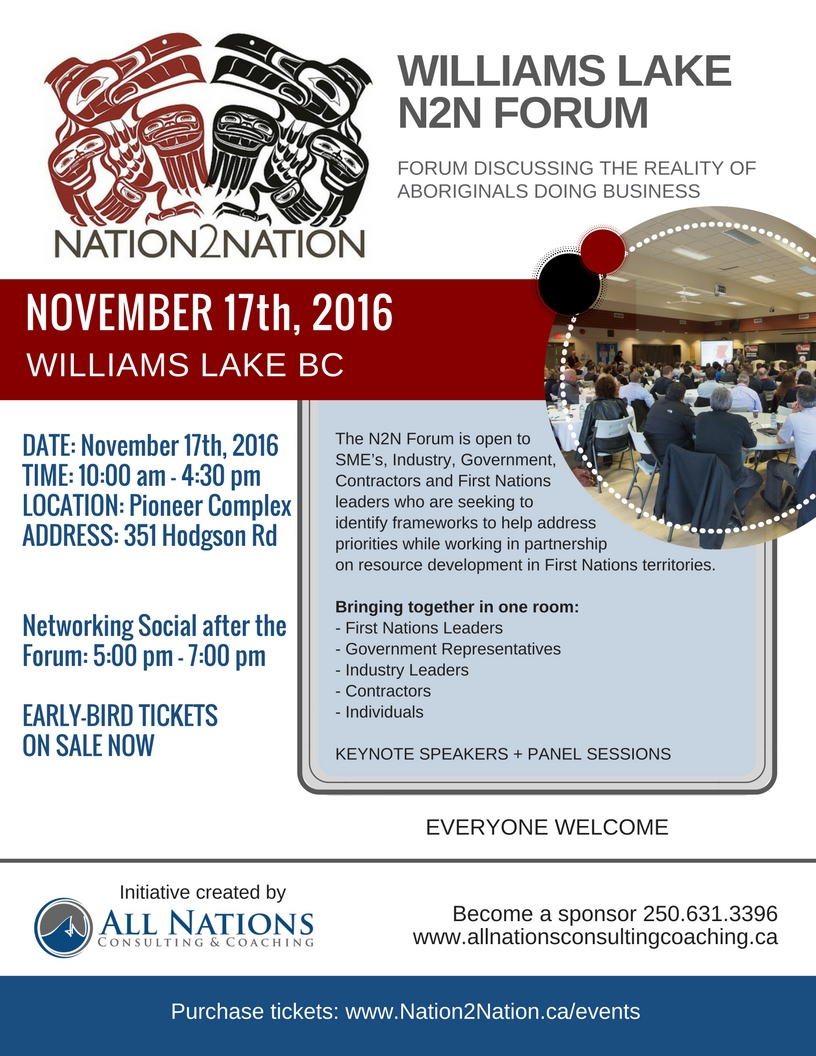 When & Where

Pioneer Complex
351 Hodgson Rd
Williams Lake, British Columbia V2G 3P7
Canada

Thursday, 17 November 2016 from 9:00 AM to 6:30 PM (PST)
Add to my calendar
Organizer
Lisa Mueller is the founder and creator of the Nation2Nation Forums. She is an aboriginal consultant, community builder and workshop facilitator recognized as a young and upcoming voice and connector in the First Nation Community in BC. To learn more about her visit: http://lisamueller.net/