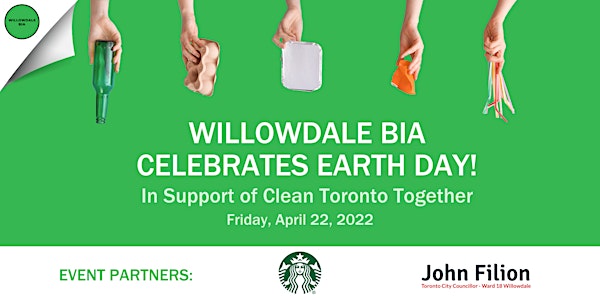 Willowdale BIA Celebrates Earth Day! In Support of Clean Toronto Together
We invite your business to join us for a 20 minute clean up for the community in the Willowdale district!
About this event
WE INVITE YOUR BUSINESS TO JOIN US!
Recruit your co-workers & spare 20-minutes for a clean up of your Willowdale BIA district.
Enjoy refreshments & receive a FREE gift!
GETTING INVOLVED IS EASY! SIGN YOUR TEAM UP TODAY!
1. Fill-out our registration form
2. Select your preferred location & time to participate (Choose a convenient time between 12 PM to 4 PM)
3. Register by April 18, 2022 to reserve your team experience.
We hope you will join us for this unique team building activity. For more information call us at 416.432.6998 ext. 0
Clean Toronto Together is a City of Toronto initiative that brings more than 200,000 Toronto residents, community groups, schools and businesses together to help clear litter from public spaces.
CLICK REGISTER TO CHOOSE YOUR PREFERED TIME AND LOCATION.