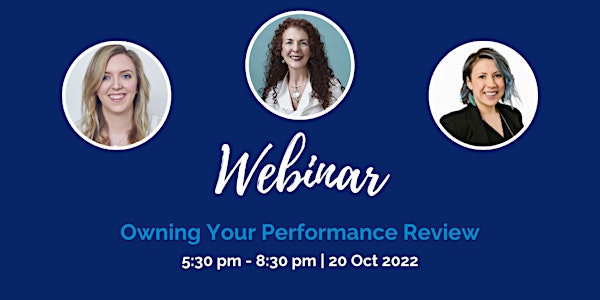 WIMDI Interactive Webinar - Owning Your Performance Review
A webinar version of our popular Speaker Series events where we learn skills that improve our leadership and careers!
Refund Policy
Contact the organizer to request a refund.
Eventbrite's fee is nonrefundable.
About this event
Three talks in one! Each fall, WIMDI puts on this amazing mega-event to give women the tools they need to tackle their performance reviews and professional development planning with confidence.
Welcome to Talk 11 of 13 - Owning Your Performance Review
Performance reviews are an essential piece of the puzzle to advancing at work, but they can be a tricky minefield of gender bias. Women face a number of unique difficulties:
Women's accomplishments are forgotten, glossed over, made smaller, or attributed to luck
Women are 1.4 times more likely to receive critical feedback
Women face likeability penalties when they negotiate
This interactive webinar aims to give you the key skills you need for the three main phases of the review process: Talking about your wins, getting feedback, and negotiation. We've gathered together three experts to help you navigate the double binds and tricky spots so you come out ahead, with amazing career opportunities (and a bigger paycheque!)
Note: Get ready to play with us! This session is a blend of Q&A, teaching, and live-practice in the room with your WIMDI friends.
5:45pm - Expert Q&A
Our three experts answer all your stickiest questions about performance reviews and share tips that have worked in real life to set women just like you up for their next promotion, raise, or juicy technical project.
6:15pm - Essential Skill Practice #1 - Talking About Your Successes
Your review is an opportunity to tell the story of your work over the last year. Were you someone who completed a 6-month project, or someone who nurtured a relationship with your biggest client over the last year and secured an extra $250k of business for the firm? This session will teach you how to contextualize your wins so your boss understands the impact you've created and sees you as promotion (and raise!) material.
Speaker: Holly Burton, WIMDI Founder & CEO + Leadership Coach for Women in Male-Dominated Industries
7:15pm - Essential Skill Practice #2 - Accepting Feedback
Worried about how to keep your cool and respond effectively when your boss gives you critical feedback? This session teaches you how to corral your feelings as they bubble up, get your professional game face on, and ask clarifying questions to turn vague, useless, icky-feeling feedback into the essential insights you need to continue moving up the ladder.
Speaker: Tiffany Elsener, Leadership Anthropologist & Integral Coach for Conscious Leader
7:45pm - Essential Skill Practice #3 - Negotiation
Want an extra 10k a year but not sure how to ask? How about an extra 30k? There's nothing more delicious than getting paid what you're worth, but sometimes the thought of waltzing into your boss' office and asking them to tack a couple of zeros onto the end of your cheque is utterly terrifying. But worry no more! This session will teach you how to ask for audacious raises with confidence – and get a yes.
Speaker: Carrie Gallant, Negotiation Coach
--------------
About Our Speakers
Holly is a leadership coach for women in male-dominated industries. She works one-on-one with ambitious women to help them lead, get promoted, and create the careers they actually want in industries they love. As a mining engineer for the first ten years of her career, Holly was exposed to one of the most male-dominated spaces -- just 17% female. She uses the unique perspective she gained as a woman in mining, alongside her obsessive nerdiness for all things feminism, leadership, and career to help women create the working world they deserve while they wait for the rest of society to catch up.
Hey, I'm Tiffany (she/her) and I recently completed a master's thesis on the evolution of leadership in humans, and more specifically, where we are at this specific point in our collective history. As a Leadership Anthropologist, I am insatiably curious about how we can further evolve our definition of leadership and education because - Let's Be Real - traditional models are failing us.
Passionate about human centred business design, I co-founded LBR Experience, where we believe in creating a world where happy and healthy people (one by one) collectively create a great place to live. By humanizing experience in all areas - physical, cultural & technical environments, we can think infinite and realize full potential. As a certified Co-Active Coach, I help Conscious Leaders place humans at the heart of business to create wins both individually and collectively, so we can not just survive, but thrive.
Carrie specializes in helping professionals imagine and negotiate extraordinary outcomes. She's a former lawyer and has held a number of leadership positions, including Director of the Centre for Conflict Resolution at the Justice Institute of BC, Director of the University of Windsor Mediation Service, and Chief Legal Counsel to the Ontario Pay Equity Commission. With her background in law and mediation Carrie has spent a lot of hours doing, studying, and coaching the negotiation techniques that we all sometimes struggle with. Many WIMDI members (and our founder, Holly) have worked with her and learned tricks that altered the way we think about negotiation forever.
Carrie is co-author of Conversation Secrets for Tomorrow's Leaders: 21 Obvious Secrets Leaders Do Not Use Enough.
Available on Amazon.ca
--------------
How to Choose Your Ticket
Many of our WIMDI members work in highly-compensated industries and have financial privilege. Many of us also have financial privilege that is created by or directly tied to colonial injustice (eg: those of us who own homes on indigenous land).
We recognize that not all of our WIMDI members are in stable financial positions and that many rely on free tickets. We are passionate about keeping WIMDI accessible to everyone, regardless of financial position. We have a "Free" ticket category at this event for those who need it, but we encourage any member with financial stability to choose a paid ticket and participate in supporting Indigenous women.
Timeline of Our Fun Event:
Our events are interactive and will require your attention and input throughout the course of the event. We highly recommend grabbing a pen and paper, setting yourself up with dinner, and giving your full focus to all the amazing nuggets of career wisdom our speakers are dropping.
5:30 pm - The event starts with mingling, socializing, and small-group networking. We recommend putting your webcam on* (even if you've already transitioned to work-is-over-dress-like-a-slob mode) to help you make the strongest possible connections with your new WIMDI friends!
5:45 pm - Expert Q&A sessions!
6:15pm - Our expert speakers help delve into your performance review skills! Most talks contain interactive elements, question prompts for you to complete, or other activities that make multi-tasking difficult. Get out your notepad and prepare to soak up some knowledge.
Bio Breaks - We've built in short bio breaks between the three talks so you can grab snacks, get a drink, stretch your legs, or do anything else you need.
Recording Notes:
Part of this event is being recorded for release on the WIMDI YouTube channel:
We are recording only the instructional Learning Time! part of this event
We will not be recording the one-on-one Practice Time! Breakout rooms nor the Q&A, so you can attend and still stay internet-anonymous if you want to.
Attendance Notes:
1) Gender:
This event is open to individuals of any gender identity.
2) Code of Conduct:
By attending this event, you agree to adhere to WIMDI's code of conduct, which you can find at wimdi.com/code-of-conduct-and-policy.
3) Privacy, Photography and Recording*:
This event is being recorded for release on the WIMDI YouTube channel. By attending you consent to the terms laid out at wimdi.com/video-release/. We understand that some of our members may not be comfortable being recorded, and we don't want this to stop anyone from attending. Our Video Policy has helpful tips for staying internet-anonymous at our events. Learn more at wimdi.com/video-policy/
Online WIMDI events use Zoom, as such we cannot guarantee that no photos, screenshots, or recordings will be taken of you during the event by other attendees. We love it when our members connect at our events using both video and audio, but we understand if our members prefer to participate with their video turned off to preserve (more of) their privacy.
4) Donations to PAFNW (Pacific Association of First Nations Women)
As part of this event we have the option of donation to the Pacific Association of First Nations Women for their scholarship fund for Indigenous women and girls. This is a concrete way - beyond land acknowledgement - to redistribute some of our collective financial privilege to support Indigenous women.