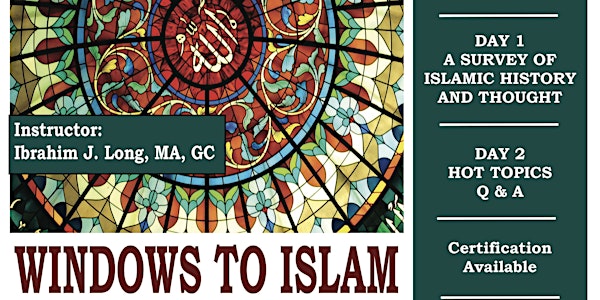 Windows To Islam - A Glimpse inside Islamic Theology, Law, and History
Date and time
Sat, Jul 8, 2017 10:00 AM - Sat, Jul 15, 2017 3:00 PM MDT
Location
Canadian Islamic Center - Al Rashid Mosque (Masjid) 13070 113 Street Northwest Edmonton, AB T5E 5A8 Canada
Refund Policy
Contact the organizer to request a refund.
Description
Course Description
Islam has become one of the most relevant issues in the forefront of socio-political debates in the West. It's representation in Western films, news stories, and other media often conveys a narrative that Islam is a force of destruction, backwardness, violence and terrorism. However, many Muslims adamantly defend their faith as being about peace, submission to God and love for all mankind. As such, those who wish to better understand Islam objectively may wonder: how does one reconcile these profoundly conflicting views of Islam in light of today's realities?
This class is designed with these thoughts in mind.
WIndows to Islam is a 2-Day Certified Course intending to provide those interested with an objective look at Islam and Muslims. This will be provided through a basic, albeit in-depth, overview of Islamic Theology ('aqidah), Law (fiqh), and History. By the end of the course students will have become familiar with many of the subjects covered in a 12-week undergraduate course.

Windows to Islam is not intended to proselytize, or convert any person to the religion of Islam. The sole purpose of the class is to provide fellow community members, clergy, professionals and those interested with an objective perspective of Islam and Muslims in a time when stereotypes have muddled rational observation.

Instructor: Ibrahim J. Long is a professionally-trained religious care provider (chaplain) and religious educator. He holds a MA in Islamic Studies and Christian-Muslim Relations, GC in Islamic Chaplaincy, and BA in Humanities and Religious Studies. Ibrahim presently serves as an Islamic studies teacher and chaplain for Edmonton Islamic Academy and as a chaplain for Alberta Health Services and NAIT.
We look forward to hosting all that can come. However, unfortunately we will not be able to accommodate young children.
.
About the organizer
Al Rashid has a one hundred year history of openness and inclusion. Our community has played an integral role in the development of Alberta and Canada and we love to share this tradition.
Come enjoy and experience our outstanding hospitalitiy!