Join us to learn more about Windsor Hall, a new IB MYP Candidate School in Richmond, BC. Admissions are open for Grade 6 with limited spots
About this event
Windsor Hall is a new candidate school for the International Baccalaureate (IB) Middle Years Programme (MYP) and pursuing authorization as an IB World School, in Richmond, BC. Offering small class sizes, we aim to develop active learners and internationally-minded young people who can empathize with others and pursue lives of purpose and meaning. Windsor Hall opened in September 2021 with our first cohort of Grade 6 students. The MYP, is a five-year programme (from grade 6 to grade 10), and we are looking forward to watching our students grow and mature as they proceed through to Grade 10, adding a new grade each successive year.
At Windsor Hall, we are committed to making world-class education affordable for candidates who will be successful in their community, offering Bursaries and Scholarship options regardless of financial circumstances. Bursaries are available to families with demonstrated financial needs and can cover up to 100% of the cost of tuition and program-related costs. For the school year 2021-2022, Windsor Hall has five scholarships available to applicants entering grade 6 and wish to attend the IB MYP Programme, with total or partial coverage of the Tuition Fees.
Attend our Open House, to learn more about our program, our admission requirements, bursaries and scholarship opportunities. Meet our Teachers, Principal and current students.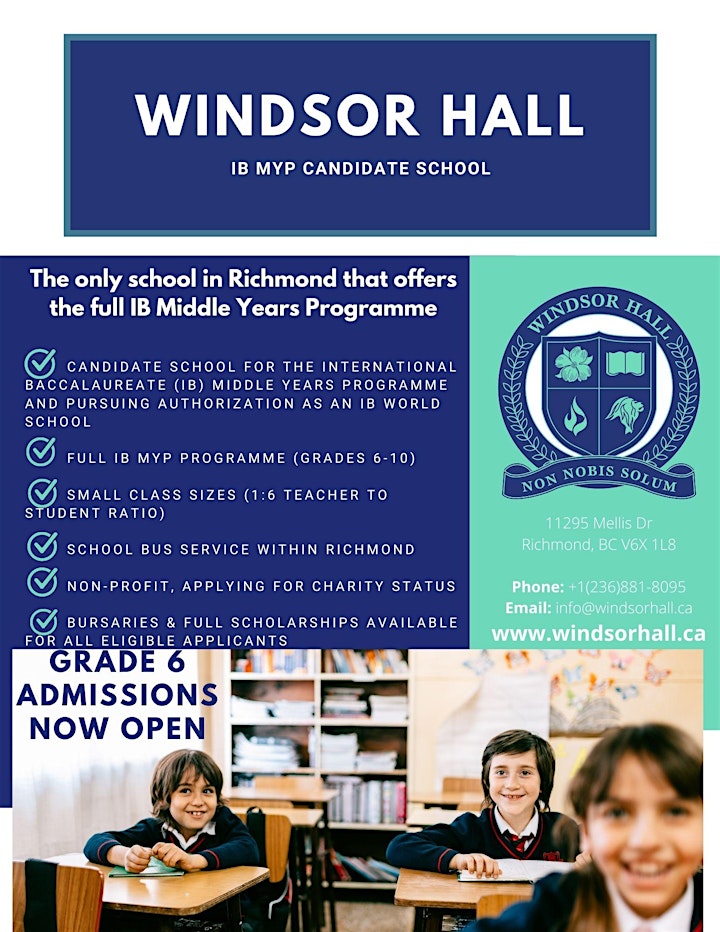 Admissions are still open for grade 6, for the 2021-2022 Academic Year!
To learn more, schedule a campus tour, or start your application process, contact us at +1(236)881-8095 or by email at info@windsorhall.ca