Location
Centennial Secondary
570 Poirier Street
Coquitlam, BC V3J 6A8
Canada
Description
Join us for our 4th social celebration of Wine, Women & Sport - an evening of empowerment & mingling - exploring opportunities for women in fitness health, mental wellness & sport. Proceeds benefit Centennial High School Senior Girls Soccer Program (see details below under Organizer Description). Each ticket includes your first glass of Township 7 wine and tapas prepared by Centennial Secondary Culinary Arts Teacher, Chef Jonas.
Please purchase your ticket before midnight January 25th, 2020 to receive the pre-event discounted price of $40! Regular priced tickets are $50.00 each. Ticket prices do not include processing fee.
We thank Coquitlam Metro-Ford Soccer Club for their support. Soccer for Life!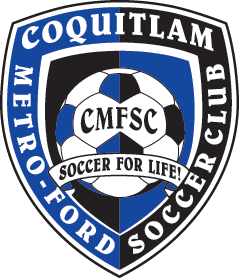 New this year!
Michelle Tremblay, founder of MPower Lives Company, will lead us through a mental health reset for 2020 with a guided focused breathing exercise to support your well-being. Enjoy slowing down to connect with your mind, body and spirit. For more info about MPower Lives: www.mpowerlives.com
The evening features fitness, health and sport table top displays. If your business or organization would like to feature a table top display please call 604-818-7407 or email Jenndaw17@gmail.com
Introducing the 2020 Amazing Women of Wine, Women & Sport:
Award Winning Sport Journalist. Former World Champion & Olympic Synchronized Swimmer. Mom. - Karin Larsen (Moderator & Panelist)
In a career that has spanned more than 25 years with CBC Vancouver and CBC Sports, Karin Larsen has covered a dozen Olympic and Paralympic Games and reported on the achievements of Canadian athletes from all corners of the globe. In 2011, she co-hosted CBC Vancouver's highly rated Seeking Stanley, which followed the Vancouver Canucks historic run in the Stanley Cup playoffs.
Karin was a member of Canada's national synchronized swimming team for almost 10 years. She was an Olympian in 1988 at the Seoul Summer Games. She became world champion in 1986 in addition to winning many other international events. Karin was inducted into the British Columbia Swimming Hall of Fame in 2001. In 1999, she was awarded the Leo Award for Best Sportscaster in Vancouver. Karin was inducted into her hometown Coquitlam Sports Hall of Fame in 2019. She is a graduate of SFU & Centennial Secondary School. You can follow Karin on Twitter at @CBCLarsen "Feel free to read the story before commenting".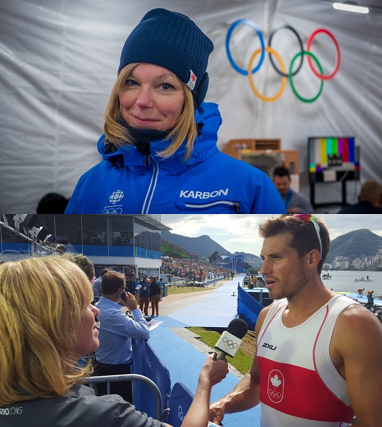 Professor (teacher actually). Physical Performance Coach. Mastery Seeker. Sports Fanatic. Mom. - Carmen Bott
Carmen Bott holds a Master's Degree in Exercise Science (MSc.) and has evolved into an International Educator. She is sought after for her methodology & coaching tactics in Performance Enhancement for Combative & Repeat-Sprint Team Sport Athletes. After several years of working with top Wrestlers, Carmen published The Wrestler's Edge. It has sold 100's of copies worldwide.
Carmen is also a Professor at both Langara College & Simon Fraser University. Her interests lie in teaching the future of this industry. As a Physical Performance Coach, Carmen has 20+ years of hands-on experience from the learn to train level to the High Performance, world level.
Give Carmen a puzzle and watch the problem-solving unfold. Carmen surrounds herself with other leaders in her field who share the same values toward seeking mastery through a relentless commitment to the process. Carmen is forever curious about the potential of the human form and has boundless energy to help athletes and students achieve their goals... if & when they are ready to walk a path of excellence. Carmen is also en route to being "Mental Performance Coach". You can follow Carmen on Twitter at @carmenbott or on Instagram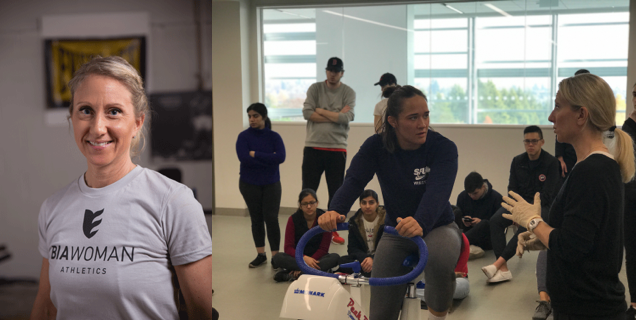 Deb Middleton – 3X Breast Cancer Survivor.

Abreast In A Boat Paddler. Dragon Boat

Coach. Inspiration Champion.
At the age of 33, Deb Middleton received her first diagnosis for breast cancer. Her illness was caught early but she made a full recovery. In 1996 Dr. Don McKenzie sought to disprove a UBC study that concluded women who had breast cancer should not do upper-body exercises because they would develop lymph-edema. She was one of 24 women to start a program called Abreast In A Boat, the world's first all-female breast cancer survivors dragon boat team. Her cancer returned the next year and aggressively two years later, each time she bravely fought the disease.
Deb manages a group home for special needs adults, in addition to regularly kayaking, hiking, camping and travelling. She also has not missed a year paddling with Abreast In A Boat and proudly says, "I'm clear. I'm fabulous and I'm so, so lucky. I live and love every day."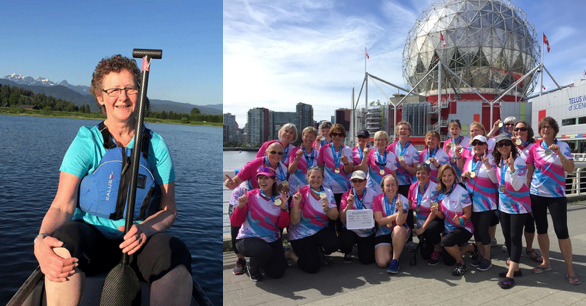 Leah Pells - Healer. Clinical Counsellor. 3X Olympian. Published Author & Runner. Mom.
Leah Pells found solace in running at an early age, she developed a passion for running in the peaceful isolation of Langley's quiet country roads. When her parents divorced, her mother sunk into a destructive alcoholic state. Running became her way of coping. The adversity she faced strengthened her resiliency and fueled her athleticism.
Leah is a mom, clinical counsellor, three time Olympian and outstanding author. Her book, Not About The Medal, is her story of love and addiction. Currently, Leah is a school counsellor in Suwa'lkh, an indigenous educational program in Coquitlam for students in grades six to 12.
Her running career extended into her late thirties. Leah competed in middle distance events and was once ranked first in the world in the 1500 metres. During a long, consistent career that extended into her late thirties, she represented Canada at six world championships, three Olympic Games, and three Commonwealth Games. Winner of eight national titles at 1500m and 3000m, her Canadian mile record of 4min 23.28sec still stands. In 1999, she electrified Canadian fans at the Pan American Games in Winnipeg by taking silver in the 1500m. In 2015 Leah was inducted into the BC Sports Hall of Fame.
"Part of my success as an athlete was my resiliency." Pells says. You can follow Leah on Twitter at @LeahPells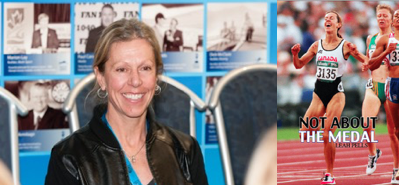 Thank you for supporting our event. We hope you leave connected, empowered and with an inspired heart.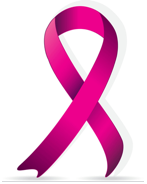 For more information on Breast Cancer Awareness please go to http://www.bccancer.bc.ca/health-info/types-of-cancer/breast-cancer
FAQ
Are there ID or minimum age requirements to enter the event?
This is a licensed event. Paid attendees must be over drinking age.
What are my transportation/parking options for getting to and from the event?
Parking is available in the parking lot off Winslow Avenue. Please do not park in Fire Lanes.
How can I contact the organizer with any questions?
Email darcelmoro@gmail.com
What's the refund policy?
Ticket transfers are allowed, however there are no refunds.