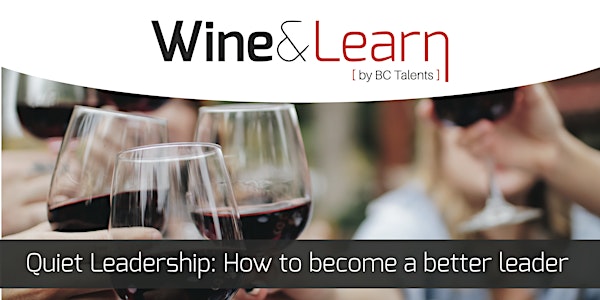 Wine&Learn - Quiet Leadership
When and where
Location
Hendricks Resto-Lounge 433 Robson Street Inside the Westin Hotel Vancouver, BC V6B 6L9 Canada
Description
Don't miss our Wine&Learn event where we have the honor to welcome Faris Khalifeh who will talk about Quiet Leadership.

• Do you feel like your temperament somehow hinders your career path or leadership effectiveness?
• Are you overlooked for leadership roles because of your quiet nature?
• Do you feel overshadowed by your gregarious colleagues?
• Do you feel pressured to go against your authentic self to get recognized?

The Event Concept
There will be two parts to this event. The first session will get you the chance to share with the other participants around your experience. Faris will be here to share you how to use quiet leadership. The second session will be around feedbacks and if you were able to use what you learned from the first session, and reflect with the speaker. Also, it will give you the opportunity to get more input and tips. All while tasting and learning about wines. Agenda is below.

More about Introvert and Leadership
About 50% of all leaders are introverts, yet our working environments favor the extrovert, the outspoken, bold and assertive. These traits have changed our definition of leadership and altered our assumptions about what good performance looks like. Also, while many studies have shown introvert people are natural born leaders, many business cultures often make it impossible to thrive. The speaker will illustrate how you don't have to be loud to be a great leader, and you can be impactful by being soft-spoken, quiet and gentle.
This talk is for extroverts as well, as they can gain valuable insight into the introvert's world, allowing them to understand and work more effectively with their introverted colleagues.


Key Takeaways:
✔ Understanding of Quiet Leadership
✔ Quiet leaders traits and strengths
✔ Expose introvert myths
✔ How to close the communication gap between introverts and extroverts
Named among the Top Six Life Coaches in Vancouver by Crowd Wellness, Faris coaches clients from all around the world with different backgrounds, cultures, and industries, focusing on uncovering what is true and unique about them and assist in building on their key strengths.

Additionally, he teaches business, leadership and personal development courses at various colleges, run multiple mastermind groups, leadership roundtables and facilitate corporate training and seminars. Faris is a former member of the Board of Directors for the Vancouver International Coach Federation (ICF). He is also the founder of the Vancouver Quiet Leadership Community where he hosts monthly events to support quiet leaders and entrepreneurs.

Before becoming a coach, he was in the corporate world in marketing and business development roles serving different clients ranging from startups to Fortune 500 companies. www.fariskhalifeh.com

SCHEDULE for your Wine&Learn:
First Session - April 17th - Location: Hendricks Resto-Lounge:
5:30 pm to 6:00 pm: Welcoming and Networking
6:00 pm to 7:30 pm: Workshop with Faris
7:30 pm to 8:00 pm: Networking

Second Session - May 1st - Location: Downtown (venue will be announced on First Session):
6:00 pm to 6:30 pm: Welcoming and Networking
6:30 pm to 7:30 pm: Feedbacks with the speaker & Wine Tasting

Book now!
As a non-profit organization, we do not make revenue from these events. The small profit will be directed to a program that helps French-speaking people to pursue their career in Canada.

Learn more about BC Talents!
Our goal is to create a place where we can share resources. We lead a series of events to help build a community and encourage people to build professional relationships.
Follow us on Linkedin, Instagram, and Facebook.


Thank you for your interest and see you soon!
The Team of BC Talents