Description
WE ARE NOW SOLD-OUT!
Please add your name to the waitlist and we will contact you closer to the event, once tickets are released. Thank you!
May 18th UPDATE: Announcing Desmond Cole to join our panel of speakers. Desmond is an award-winning freelance journalist, activist & author.
Greenpeace hosts an evening of thought-provoking and inspiring conversations on "Winning in the Age of Trump."
Join us for a night on how we rise up, protect free speech and build power to win in the face of

turbulent

times.
Speakers include: Greenpeace's new International Executive Director, Bunny McDiarmid (who will be in Canada for the first time), award-winning journalist and activist Desmond Cole, and discussion moderated by Avi Lewis, Co-founder and Strategic Director of The Leap.
We see this as a critical time for this conversation with an onslaught of attacks to journalism and advocacy groups. In fact, right now, Greenpeace is facing one of the biggest threats in our 45 year history - two huge multi-million dollar lawsuits that could have a significant impact to our organization's future - and signal a silencing of free speech.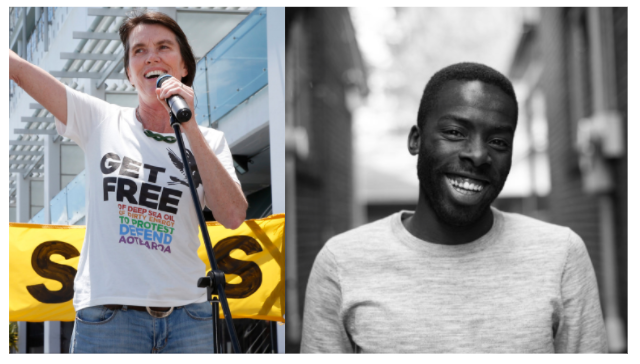 Bunny McDiarmid (left photo) shows resolve in times of great struggle. Bunny has a long and rich history with Greenpeace, from crewing on the original Rainbow Warrior that was later bombed by the French secret service, to defending the forests of the Amazon with the Indigenous Munduruku people last year -- Bunny has lead the way for real change and triumph.
Desmond Cole (right photo) is an award-winning freelance journalist, an activist and an author. His work has appeared in the Toronto Star, Toronto Life, Walrus, Ethnic Aisle, NOW, and Torontoist. Desmond is working on his first book on the past and present experiences of Black Canadians
Avi Lewis is director of the feature documentaries This Changes Everything, inspired by the 2014 book by Naomi Klein, and The Take (2004). As a local news reporter, music television host, debate show moderator, documentary filmmaker, and public speaker, he has been creating space for more radical voices in mainstream media for 25 years. Rajiv Sicora edits The Leap. He worked with Naomi Klein as leader of the research team on This Changes Everything from 2010-14, and was an Associate Producer on the companion documentary film directed by Avi Lewis.
A reception with complimentary refreshments and cash bar are available. All cash and ticket donations support Greenpeace Canada and its work to protect our planet.
Doors and reception open at 6:30pm. Speakers will begin at 7pm. The event will end at 8:30pm. The venue is accessibility functional (i.e. ramp near stairs) and has gender neutral bathrooms.
TICKETS: Tickets are FREE or "pay what you can" by donation. The ticket includes talk, reception and complimentary refreshments (cash bar).
NOTE ON SEATING: There is a mix of standing and seating rows, as a ticket does not guarantee a seat. Please arrive early to guarantee your seat.
---
FAQs
1. What do I need to bring?
You only need to bring your ticket printed in-hand or have a copy on your smartphone (preferred). We cannot accept people without a ticket (please see below).
2. Where does the money go?
The tickets are free or "pay what you can" by donation. All cash and ticket donations support Greenpeace Canada and its work to protect our planet.
3. What if I don't have a ticket?
We are not selling tickets at the door. Unfortunately, only individuals with tickets through Eventbrite will be allowed inside the event. This is a smaller venue and we cannot accommodate more people than those that have tickets.
4. What is the schedule & format of the event?
Doors and reception open at 6:30pm. Speakers will begin at 7pm. The event will end at 8:30pm. We will start with a reception and socializing, there is a cash bar and light refreshments available. Then we will have a panel discussion for 1 hour with our speakers, and open it up to Q&A with the audience. There will be time for more socializing after the speaking.
5. Is there any age restriction for this event?
No age restriction, but you will have to provide ID if you are having an alcoholic drink at the cash and look 25 years or younger.
6. What are my transportation/parking options for getting to and from the event?
There is a Green P parking spot at 180 Spadina Avenue. The event can easily be accessed by TTC public transit on the 510 streetcar.
7. Is the event space accessibility friendly and inclusive?
The venue is "accessible functional" meaning that there is ramp near the door and accessible washrooms. But the venue does not meet the standards of City's accessibility code. However, there will be volunteers to help any person down and up the ramp as we want to do our best to open the event to everybody. The bathrooms are also gender neutral for a truly inclusive space.
8. Why is there not enough seats for everybody?
There is a mix of standing and seating in order to encourage a more social event. The venue is also smaller than previous Greenpeace events and we're only able to accommodate 80 seats, while the rest of our guests will need to be standing. So please be willing to give up your seat for elderly or people in need of a seat. Thank you!
9. What is the cost of drinks at the bar?
You will need to bring cash in hand for the bar, the prices are:
$7.00 House VQA Wine
$7.00 Domestic Craft beer
$3.25 Sparking water or Assorted Juices
$2.00 Pop
Still water available free, because water is a basic right!
10. How can I contact the organizer with any questions?
Please contact our Supporter Services team at Greenpeace Canada:
1-800-320-7183
supporter.ca@greenpeace.org