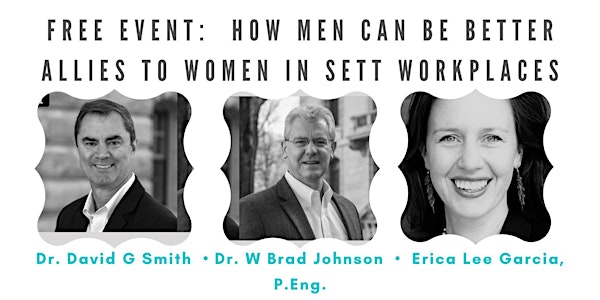 WinSETT Community Event: How Men can be better allies in SETT workplaces
How can men be better allies to women in their Science Engineering Trades and Technology (SETT) workplaces?
About this event
Most men (86% according to recent data from Project RISE) aspire to be good allies to women in their Science and Engineering workplace. Just 25% of women surveyed in those same companies could name an act of allyship they'd experienced.
So what's going on? What do women in SETT workplaces really need from their male supervisors, coworkers, classmates, or managers? How can men be better allies to women? What does that look like? What are the challenges? Why isn't it happening more already? And (this might be the best question of all) -- why is it to important to get this right?
Drs W Brad Johnson and David G Smith, authors of the 'Good Guys: How Men Can be Better Allies for Women in the Workplace' will be joining WinSETT Program Director Erica to share their most important pieces of advice for men -- including how to be a great ally, what NOT to do, and why being an ally to women is a great investment for them.
We want to hear from you, whether you're an aspiring male ally or a women in a Science Engineering Trades and Technology workplace. Bring your most trusted ally for a refreshing, honest, and solution-oriented conversation about breaking down the barriers that can hold women back from achieving their full potential!