WINspirational Women: A Conversation with Dr. Suzanne Johnston
Description
This event is SOLD OUT! Please join our waiting list.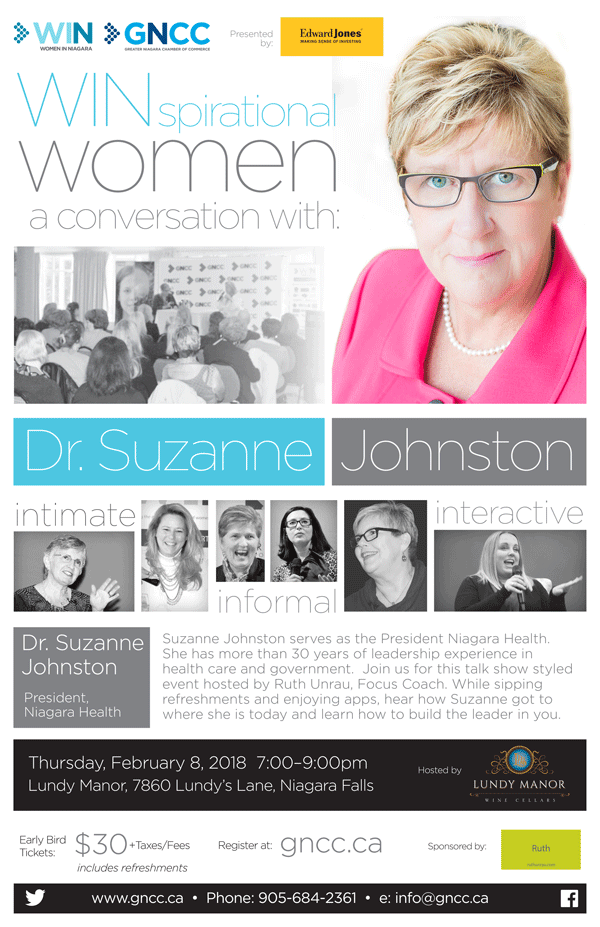 intimate • informal • interactive
WINspirational Women: A conversation with Dr. Suzanne Johnston
Thursday, February 8, 2018
7:00–9:00pm

Lundy's Manor WIne Cellars


Dr. Suzanne Johnston, President of Niagara Health

Suzanne has more than 30 years of leadership experience in health care and government across Canada. While leading Niagara Health, she instructs at Brock University, and serves as a Director for both the Niagara College Board of Governors and the YMCA of Niagara.


Join us for this talk show styled event hosted by Ruth Unrau, Focus Coach. While sipping refreshments and enjoying apps, hear how Dr. Johnston got to where she is today and learn how to build the leader in you.