Description
What better way than to start 2018 with elegance and class?
A Small World, Pearls and Sequence and SAPNA Toronto are coming together to form one of the biggest social events of 2018. Join us on Thursday February 22, 2018 @ 6:00 PM EST at the glamourous Bisha Hotel which is a hallmark of downtown Toronto.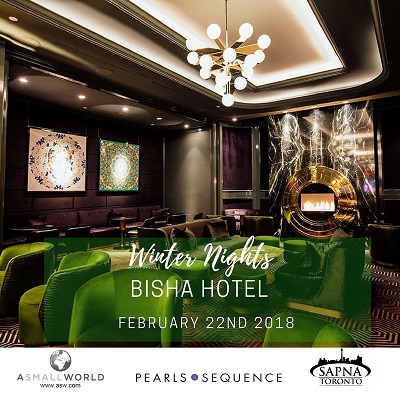 This event combines panache, elegance and professional growth in one place. Be a part of Winter Nights as you connect with some of the finest professionals from all walks of life.
Each registrant will receive a complimentary beverage on behalf of all three organizations.
Keep in mind that there are only a limited passes, so purchase yours today!
We're looking to seeing everyone on February 22nd, so we can warm up your winter nights.
Get your pass today!
A few house rules!
*Remember to network with a purpose
**If you drink, please don't drive.