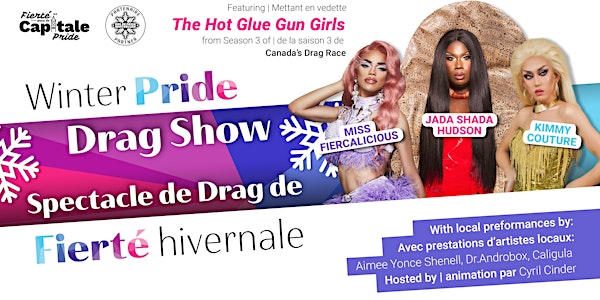 Winter Pride Drag Show / Spectale de Drag de Fierte hivernalé
Featuring the Hot Glue Gun Girls of Canada's Drag Race Season 3: Kimmy Couture, Jada Shada Hudson and Miss Fiercalicious
When and where
Location
Bronson Centre Music Theatre 211 Bronson Avenue Ottawa, ON K1R 6H5 Canada
Refund Policy
Contact the organizer to request a refund.
About this event
Celebrate the end of Winter Pride with our final show featuring the Hot Glue Gun Girls of Canada's Drag Race Season 3: Kimmy Couture, Jada Shada Hudson and Miss Fiercalicious along with your 2023 Royal Court: Aimee Yonce Shenell, Caligula and Dr. Androbox and host Cyril Cinder. Music throughout by DJ Roxy Sunset.
--
Event Details:
The event is 19+.
Tickets are general admission with both standing room and some seating available.
The Bronson Centre Music Theatre is Wheelchair Accessible. Reserved accessible seating is available by contacting info@capitalpride.ca following the purchase of tickets.
Alcoholic and non-alcoholic beverages will be available for purchase.
--
Event Schedule:
• Meet and greet at 6 PM.
• Doors open at 7 PM
• Show start time at 8PM
--
Meet and Greet details
Meet the headliners of the show and get your photo taken. Meet and greet ticket holders will be invited to meet the headliners prior to the doors opening. A Capital Pride photographer will be on hand to capture the moment. Photos will be shared following th event. Capital Pride volunteers will also be available to take a photo with you and the headlining artists using your phone/camera.
-
Célébrez la fin de la Fierté hivernale avec notre spectacle de clôture mettant en vedette les Hot Glue Gun Girls de la troisième saison de Canada's Drag Race Season (Kimmy Couture, Jada Shada Hudson et Miss Fiercalicious) ainsi que votre Cour royale de 2023 (Aimee Yonce Shenell, Caligula et Dr. Androbox) avec Cyril Cinder à l'animation. La DJ Roxy Sunset sera à la musique tout au long du spectacle.
--
Détails sur l'événement
19+
Les billets sont valides pour une admission générale. Des billets debout et des places assises seront offerts.
L'auditorium du Centre Bronson est accessible pour les personnes utilisant un fauteuil roulant. Les sièges accessibles peuvent être réservés en écrivant un courriel au info@capitalpride.ca après l'achat de billets.
Des boissons alcoolisées et non alcoolisées seront en vente.
--
Horaire de l'événement :
• Rencontre avec les artistes à 18 h
• Ouverture des portes à 19 h
• Début du spectacle à 20 h
--
Détails sur la rencontre des artistes
Rencontrez les têtes d'affiche du spectacle et prenez une photo avec elles. Les détenteur·rices d'un billet pour une rencontre avec les artistes pourront le faire avant l'ouverture des portes. Une ou un photographe de la Fierté dans la Capitale sera sur place pour immortaliser le moment. Les photos seront offertes après l'événement. Les bénévoles de la Fierté dans la Capitale seront également disponibles pour prendre une photo des têtes d'affiche et vous au moyen de votre téléphone ou de votre caméra.