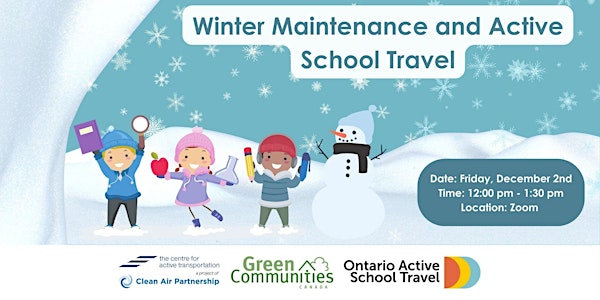 Winter Snow Maintenance and Active School Travel
On December 2nd, join TCAT and GCC for a conversation on how winter snow maintenance can support active school travel.
About this event
Between 2020 and 2022, Green Communities Canada and the Human Environments Analysis Lab at Western University conducted extensive policy research on active travel to school, culminating in a final report titled: Evidence-based recommendations for policies to promote active transportation for school journeys.
Inspired by this report and its 57 enclosed policy recommendations, The Centre for Active Transportation (TCAT) and Green Communities Canada (GCC) are hosting a three-part workshop series to disseminate tactics for supporting active school travel in Ontario.
On November 25th, join TCAT and GCC for a webinar that will explore winter snow maintenance and its critical role in supporting active school travel.
TCAT will be joined by guest speakers:
Isla Tanaka, City of Edmonton
Bartek Komorowski, City of Montréal