Winter Solstice Art Therapy Gathering
About this event
You are invited to participate in a community art therapy event. Join us as we gather together through ritual and art making. We will explore letting go, setting intentions and lighting our individual and collective flames to honour the sun and all that supports life. Birth Mark clients, community members, doulas, and team members are invited.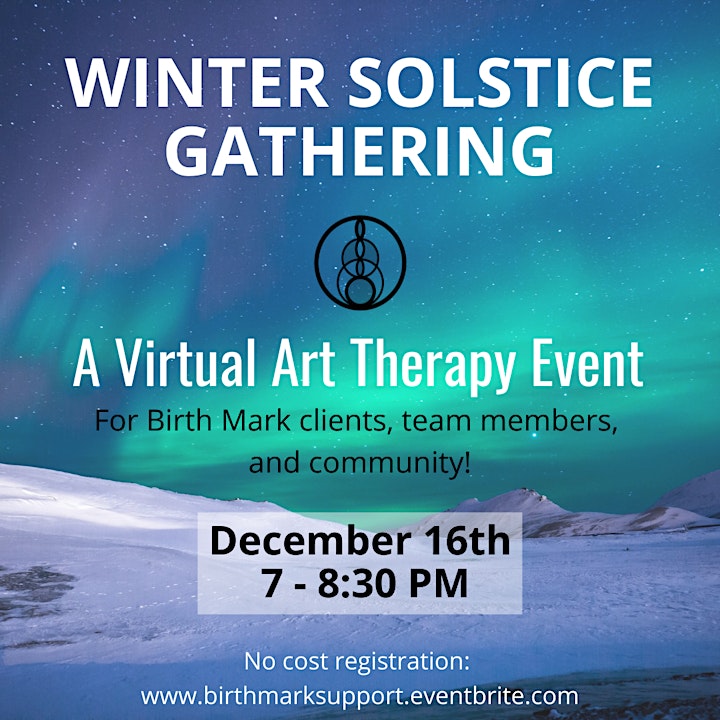 In many cultures and traditions this time of year holds a lot of meaning. In the natural world, the solstice is the darkest day of the year. Which means the return of the sun is close to follow.
Our facilitator and Birth Mark team member Amy Hoare Nassar will share some traditional Celtic practices to honour our connection to the solstice and to each other. Together we will gather and through ritual and art making we will explore letting go, setting intentions and lighting our individual and collective flame to honour the sun. Participants are invited to use items that you may already have around the house. Paper, coloured pencils or crayons, markers of scraps of papers and glue. You may also wish to have a journal or paper you can write on and something to write with. If you have a candle or another form of light, please bring it to the virtual space.
We will also leave time to sit in a circle where participants who wish to do so are invited to share their experiences. We are asking participants to have their camera on where available to help create an intimate container for our ritual art making.
Open to all members of the Birth Mark organization and community in Toronto and Hamilton.
We look forward to our time co-creating together.
In love and gratitude,
Amy & The Birth Mark Team
Organizer of Winter Solstice Art Therapy Gathering
Birth Mark is a charity providing a safe, compassionate, non-judgmental space for women, pregnant people and families to feel empowered, supported and informed.
Welcome to Birth Mark! We are a registered charity providing reproductive doula support to folks in Toronto. Our role is non-medical and provides continuous care in the form of emotional, physical, and informational support. We are a source of knowledge and comfort to our clients as they navigate pregnancy, childbirth, and early parenting while dealing with the obstacles often faced by our focus population in today's society. There is no cost to our clients to access our services.
Birth Mark doulas pursue social change by assisting at-risk and marginalized individuals and their families in the navigation of the systems of sexual health, reproductive health & infant care in Toronto. The doulas' efforts in relation to social change are focused primarily on helping clients find their own voice to advocate for the care that they want and deserve from the public medical system. Through this work, the obstacles to receiving care faced by marginalized individuals are mitigated. These issues include but are not limited to: poverty, discrimination, citizenship status, race, gender, sexual orientation, etc. Our activities seek to promote access to information, services, and resources that these individuals may need; equality of opportunity; and meaningful participation in decision making for themselves, their babies and their families.