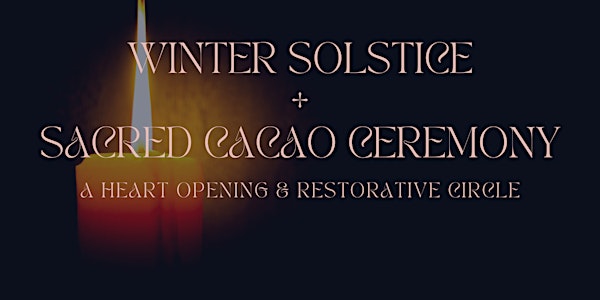 Winter Solstice & Sacred Cacao Ceremony
A heart opening & restorative circle, we invite you to a beautiful evening of gentleness, self-honouring & celebrating you!
When and where
Location
Oasis Wellness Centre 1111 Austin Avenue Coquitlam, BC V3K 3P4 Canada
About this event
This special circle is celebrating a return to yourself. A place where all parts of you are welcome. This Winter Solstice, gift yourself presence and honour that Divine Light within. This is a self-care circle. With the help of heart opening sacred plant medicine cacao we will ease into the quietude, tread gently, and offer yourself unconditional love. Trust that you are safe and worthy to give and receive love.
Includes:
Individualized Energy Balancing
Cacao ceremony
Sound healing meditation with crystal bowls
Crystal grid
Special Gift
What to Bring:
Journal & Pen - Feel free to bring a note pad to journal anything that comes up for you or to take notes.
Dress in layers & wear comfortable clothing as there may be a window open to assist with air flow. Please bring a yoga mat or meditation cushion to sit on so you will be comfortable. Chairs will also be available for use.
If you have any questions, please reach out.