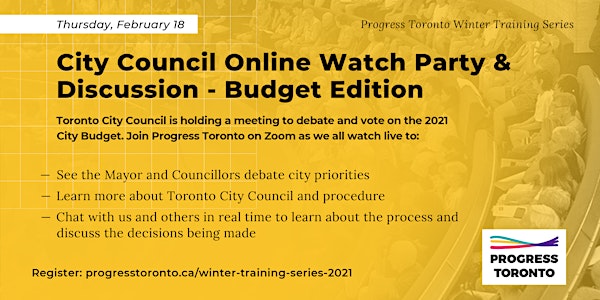 Winter Training Series: City Budget Online Watch Party & Discussion
On Thursday, February 18 Toronto City Council is 2021 Budget meeting and there will be many important items debated.
Refund Policy
Contact the organizer to request a refund.
Eventbrite's fee is nonrefundable.
About this event
On Thursday, February 18, Toronto City Council is meeting and the Mayor and City Councillors will be debating the 2021 City Budget.
The budget and other important decisions are made at City Council. Understanding how decision-making unfolds, can you help you think of tactics to influence the decisions being made.
Join Progress Toronto on Thursday, February 18 at 9:30AM via Zoom so we can watch City Council live together. While we watch the livestream, Progress Toronto will be there, online with you on our Zoom chat. We will be providing helpful info throughout the day, and can help to answer questions about process, timing, motions, and more!
A livestream of the City Council meeting will begin at 9:30AM on the City's Youtube Channel here: http://youtube.com/torontocitycouncillive
We can't know when the City Council meeting will end and in fact it might continue through to the next day. You can sign in to the Zoom when you're available or when an item you're most interested in is being debated at City Council. The agenda for the City Council meeting can be found on the City's website here.
Follow us on Twitter @progresstoronto to see when big items are up for debate and then join us in our Zoom discussion — or stay online with us throughout the day.
October City Council Online Watch Party & Discussion
Thursday, February 18
9:30AM ET continuing throughout the day
Join us any time
Note the City Council meeting may continue on Friday, February 19 and and we will let you know by email (if you're registered) if we will be live again on Friday.
This online training will be hosted on Zoom and the link will be provided to those who register.