Arts Market Pop-Up: Winter Warm-Up
About this event
Catch the winter spirit and warm-up with some holiday shopping at the Winter Warm-Up event. Special surprises will be planned throughout the day and there will be hot apple cider and other sweet treats available that day. The Green Forest Gallery will host a pop-up tent in the theme of Winter Pot-Pourri, hosting a wide range of artist goods under one tent. The pop-up shop will be hosted by Jennifer Claveau in the indoor mall behind the Muskoka Yarn Connection and will take place on Saturday December 4th, from 10-3. A portion of sales will be donated to the Food Bank. This event also marks the launch of a new arts collaboration between The Green Forest Gallery and the Slack Country Living, a Mercantile in the mountains of beautiful Golden BC. You will be the first in Ontario to see the beautiful Copper Antler Jewelry of Jacquie Mack-Farnsworth.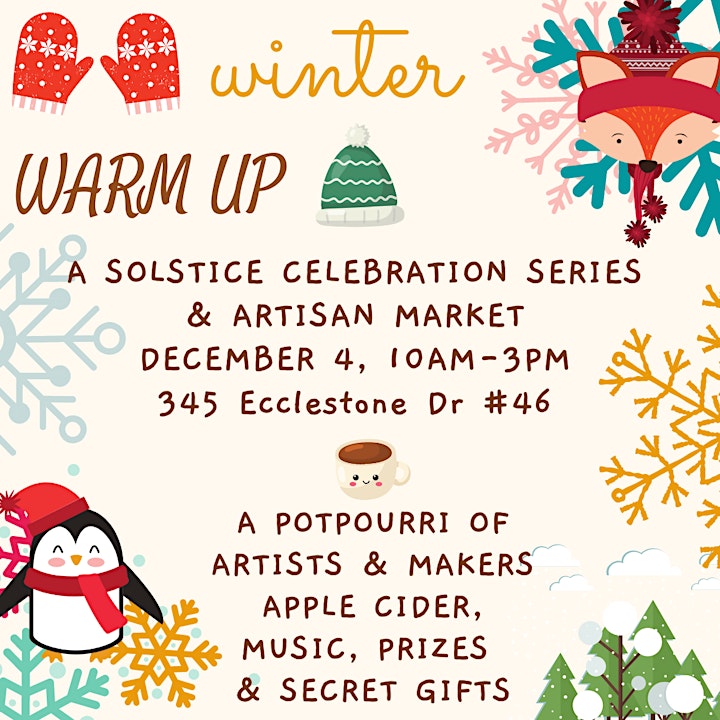 Organizer of Winter Warm-up Day Market
Jennifer Claveau operates her own studio called Box Of Paints Studio. She is an artist and a musician, actively working in Muskoka, Ontario. She describes herself as a creative force of nature and brings creative passion to any project she manages. From her own creations of songs and paintings, to events management, marketing and business administration, Jennifer is a creative problem solver and is currently building a body of visual works while exploring her identity through both visual art and music. In addition to her numerous creative projects, Jennifer is currently pursuing her degree in Art History at York University in Toronto.