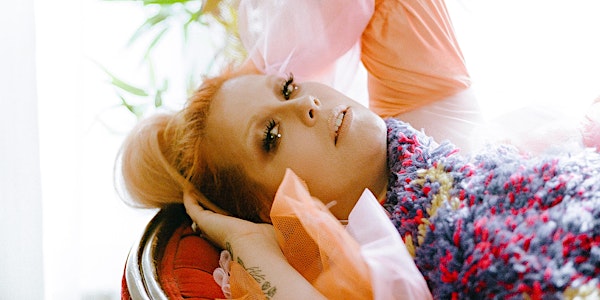 Winterruption 2019 - Begonia, Natural Sympathies, Eekwol & T-Rhyme
Presented by: Regina Folk Festival
Event Information
Location
Revival Music Room
2224 Dewdney Ave
Regina, SK S4R 1H3
Canada
Regina Folk Festival's Winterruption is back for 2019! Day 4 features Begonia
About this event
Regina Folk Festival Presents: Winterruption 2019
Begonia
with Natural Sympathies and Eekwol & T-Rhyme
Doors @ 7:00
Show @ 8:30
--------------
This show will offer a mix of seats and standing room.
All Ticket holders must be prepared to show ID at the door.
Lineup and schedule subject to change.
$2 of every ticket fee goes to support Regina Folk Festival's free daytime programming at our summer festival. Learn more at reginafolkfestival.com/donate
NO EXCHANGES OR REFUNDS.
-------------
BEGONIA
Begonia's Alexa Dirks has never been able to fit into the box of being a "conventional woman". "I'm loud, I'm awkward and I've always taken up space. I've done things my whole life that some people would tell me weren't appropriate 'for a girl'." That narrative that once tore Dirks down is now what empowers her to take charge of her own story, in her own way. The Winnipeg-based Dirks is a Juno Award winner with her former group Chic Gamine. While she thrived off of the collaboration, once the band broke up she knew she was ready to go solo. Even though she was terrified to go out on her own, that feeling was a fundamental factor to positively reinforce that the path she was on was the correct one.
As Begonia, Dirks is bold, brazen with her florid, surprising pop that is tempered with sensitivity and wisdom. Dirks' first solo output with her 2017 debut EP, Lady in Mind, was well-received, being listed on NPR's 10 Artists You Need To Know in 2017 and "Juniper" reached #1 on the CBC Music Charts in 2017. Noisey wrote that, "Begonia has one of Canada's most extraordinary voices, and thankfully she uses it to obliterate the misery from this world one live performance at a time." NPR wrote that Begonia is "the place where where synth-pop meets old soul and scrappy meets sexy."
Begonia is a celebration for the arrival of the person Dirks has become both personally and professionally; showing that some things can't be contained, no matter how much, and that fundamentally they shouldn't be either.
------------
NATURAL SYMPATHIES
Natural Sympathies is the solo project of Regina musician Amber Goodwyn, formerly of the Montreal bands Cobra & Vulture and Nightwood. Natural Sympathies makes music that is an eclectic mix of playful vocal harmonies, urgent lyrics, elemental drum machine beats, organ, twisty guitar and synth. Her live shows explore her inner life through fantasy, using dance and otherworldly projections and occasionally performing with a coven of back-up dancers called The Mutual Affection.
-----------
EEKWOL
Eekwol (Lindsay Knight) is an award-winning hip-hop performing artist in Saskatoon, Saskatchewan, originally from Muskoday First Nation, Saskatchewan. Eekwol uses her music and words to spread messages of resistance, revolution and keeping the language, land and culture alive for the next generations. Through her original sound, she displays her activist roots by living and creating as a supporter of both Hip Hop and Indigenous culture and rights. She has successfully completed her Indigenous Music focused Masters Degree at the University of Saskatchewan, which she has taken along with her many years of dedication to hip-hop and created something unique and astounding to give back to the community. Along with music and academic work, Eekwol frequently works with young people across the country as a mentor and helper. She achieves this through performances, workshops, speaking events, conferences and programs.
-----------
T-RHYME
Inspired by the spirit and sound of Golden Era Hip-Hop, Tara "T-Rhyme" Campbell shines a spotlight on her life experiences through poetry and music. Pride in her Denesuline (Dene) and Northern Cree roots has served as motivation for her to become an artist that women and Indigenous youth can relate to. Aside from being a mother, wife and lyricist, she is also the artistic force behind her beaded jewelry line aptly named Beads, Rhymes & Life. In 2016, T-Rhyme released her first original project entitled Diary of a Mad Red Woman. The 5-track EP is a fierce introduction to her signature style and sound as she shares stories of her struggles and perseverance throughout her journey to success.
Date and time
Location
Revival Music Room
2224 Dewdney Ave
Regina, SK S4R 1H3
Canada
Refund policy