Description
WISE will be hosting its second national conference on March 22-23 in downtown Toronto. The theme of this year's conference is " Experience: The Measure of Tomorrow", and during this two day event the delegates will hear high- level speakers, participate in diverse workshops and have the chance to compete in 2 world class competitions. Delegates will be given the opportunity to form connections with Canada's most successful leaders during the networking events and a career fair. The importance of experience is highlighted throughout the conference and WISE promises that every delegate will gain the momentum and inspiration to start a new chapter of their lives.
Workshops:
A series of workshops will highlight various activities that will not only contribute to women's professional life, but also to their well-being and happiness. The workshops include: Career path analysis, work-life-balance panel, living with creativity and steps of learning to code hosted by Ladies Learning Code.
Fireside Chats:
Two hours packed with opportunities to meet and hear professionals in specific fields. These fireside-chats include professionals from Energy, Medicine, Consulting, Entrepreneurship, Mining, Pharmacy, Investment, Finance and Education.
Accenture's Technology Case Competition:
The WISE Business Technology Competition, presented by Accenture, aims to provide the delegates with an opportunity to solve a business case through the application of cutting edge technologies. Teams will bring together different ideas over a 2 day timeframe, to propose a solution that will significantly impact an organization. Their case will then be presented to 3 judges in round 1 and if they go on to round 2, they will present in front of the full 12 judge panel. The winning team will be rewarded with a $1000 cash prize. All teams will get the opportunity to meet and engage with consultants and other professionals from Accenture.
Cisco's Social Impact Challenge:
Social and cultural entrepreneurship united with science and technology to create solutions with financial and social infrastructures necessary to persist and thrive. The teams will be presented with a social challenge that they must find solutions for. Each team will have 2 days to prepare and they will present their solution to a group of 3 Venture Capitalists and investors, once they pass the first round they will present their solution to a group of 12 investors. The winners will receive $1000 in cash and a chance to present their solution at Cisco.
Here is a list of some of the speakers :
- Swati Mylavarapu, Head of Square Inc Canada
- Marilyn McHarg, President and CEO of Dignitas International (Former Executive Director, Medecins Sans Frontieres)
- Karen Yeates, Director of Global Health at Queen's Medical School, Founder Pamoja Tunaweza Women's Center
- Kathy Lee, CEO of GE Capital Canada
- Ann Kaplan, President and CEO of iFinance Canada
- Erenstine Fu, Silicon Valley's Youngest VC, Forbes 30 Under 30
- John Hawkes, President and CEO of AngusPower, Former General Manager at GE
- Kyle Hill, Founder at Teach for Canada, Strategy Consultant at BCG
- Satish Kanwar, Director at Shopify
- Julie McDowell, Angel Investor, Chair Maple Leaf Angels Network
- Fabian Pfortmuller, Founder of SandBox Network & HOLSTEE
- Taimour Zaman, Founder, One Million Acts of Innovation
-Marci Segal & Nellie Jacobs ,Creativity and Confidence
-Lesley Scorgie, Personal Finance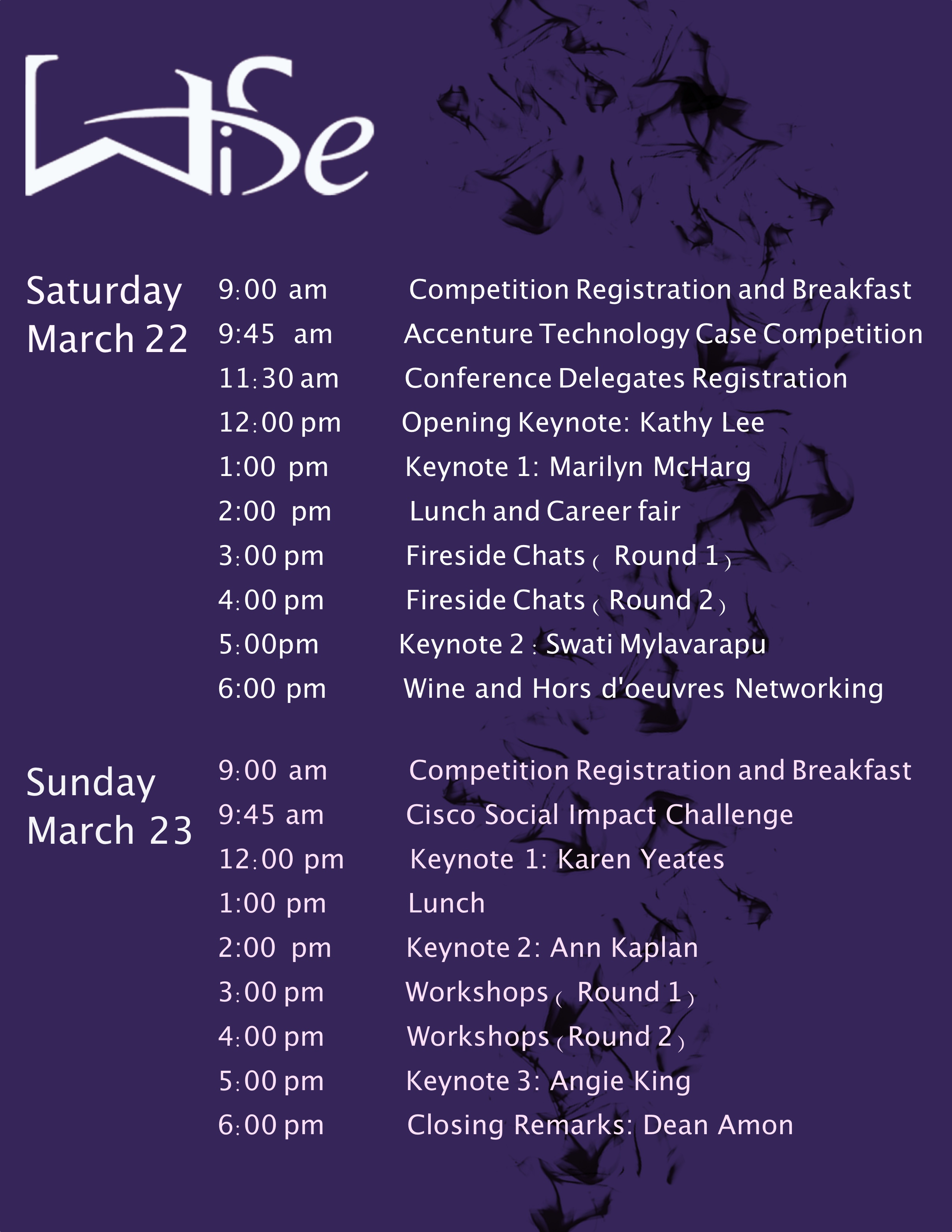 Organizer of WISE National Conference 2014
The University of Toronto's Women in Science and Engineering (WISE) looks to promote the education of women in the fields of science and engineering. To develop women's leadership skills, confidence, and involvement in research and technology, WISE focuses on building a supportive community of men and women through a number of initiatives.
• Our Community Outreach Initiative allows us to expand our club outreach into the community at large, through the organization of volunteer based events.
• Our Professional Development Initiative hosts technical workshops, and major networking events during the year with top companies in Entrepreneurship, Sales, Software and IT, Engineering, Medical Affairs, Technology Consulting, Science Consulting, and Pharmaceuticals.
• To encourage high school students to pursue science and engineering at the university level, our High School Outreach Initiative visits high schools across the GTA to educate girls about exciting opportunities they have in post-secondary school.
• To create a network for women across Canada, WISE hosts an Annual National Conference where delegates hear from high-level speakers, participate in diverse workshops, and have the chance to compete in world class competition
• Our WISE Blog creates a forum for sharing experience and an opportunity to connect with other like-minded individuals.