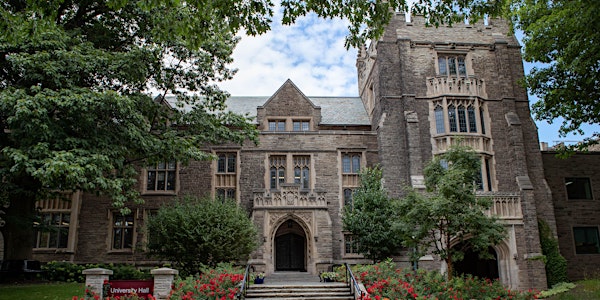 WISE Town Hall: Impacts of COVID-19 on Early Career Researchers
Join WISE for a panel discussion of the impacts of COVID-19 on early career researchers, including Assistant Professors, CLAs and post-docs.
About this event
In this town hall, we will discuss how COVID-19 is impacting early career researchers, including the effects of the pandemic on career progress, research funding and changes in the policy for tenure submissions, and "work-life balance" while working from home.
We will hear from Dr. Katie Moisse (Assistant Professor, School of Interdisciplinary Science), Dr. Sara Andres (Assistant Professor, Biochemistry and Biomedical Sciences), Dr. Shaiya Robinson (Assistant Professor (CLA), School of Interdisciplinary Science), and Dr. Oana Birceanu (NSERC Post-doctoral fellow, Department of Biology & McCall MacBain Post-doctoral Fellow, Teaching and Leadership) as they reflect on their experiences and guide us through these important conversations.
As a participant, you will be encouraged to share your thoughts and perspectives and ask questions of our panellists, faculty mentors, and WISE committee members. All participants will be added to our "WISE x Faculty Town Hall" Microsoft Team to connect, share resources, and continue our discussions following the event.
Date and Time: Wednesday, January 27th from 11:00 am - 12:30 pm
Location: Microsoft Teams (please register on Eventbrite with your McMaster email to be added to the Team).
Meet the Panelists:
Dr. Katie Moisse is an Assistant Professor (teaching track) in the School of Interdisciplinary Science. She primarily teaches science communication and she is also the Life Sciences Program Coordinator. She came to McMaster in January 2018 from New York City, where she worked as a science journalist.
Dr. Sara Andres received her B.Sc. in Biochemistry (2005) from the University of Guelph. She then completed her PhD in the Department of Biochemistry and Biomedical Sciences (2011) at McMaster University under the supervision of Dr. Murray S. Junop. In 2012, Sara joined the laboratory of Dr. R. Scott Williams at the National Institute of Environmental Health Sciences in North Carolina before returning back to McMaster University to establish her lab in the Department of Biochemistry and Biomedical Sciences in 2017. Sara is an assistant professor and a member of the Michael G. DeGroote Institute for Infectious Disease Research. Her lab studies DNA repair with a focus on structure through x-ray crystallography, small-angle x-ray scattering and atomic force microscopy. She also co-manages the macromolecular x-ray crystallography facility, working collaboratively with other groups to meet their structural research needs. Sara is currently teaching BIOCHEM 3Z03, Structural Determination and Analysis of Macromolecules.
Dr. Shaiya Robinson is a Limited Appointed Assistant Professor with the School of Interdisciplinary Science, where she teaches Genetics and Neuroscience. Prior to this, Dr. Robinson was a sessional instructor with the Department of Biology while she also completed her postdoctoral research fellowship at the Hospital for Sick Children. At Sick Kids, she studied how probiotics interacted with intestinal stem and epithelial cells, and how this impacted repair processes in the inflamed intestine. Prior to her postdoctoral fellowship, Dr. Robinson completed her Ph.D. at McMaster University, where she studied how a protein called Kaiso is implicated in intestinal health and disease.
Dr. Oana Birceanu is an NSERC Post-Doctoral Fellow in the Department of Biology and a McCall MacBain Post-Doctoral Fellow in Teaching and Leadership. Her work focuses on aquatic toxicology and physiology. Oana uses a variety of fish species as model organisms to answer questions on how the environment is impacted by stressors, such as climate change, contaminants and pesticides, and what are the consequences for conservation and aquaculture. Oana is passionate about promoting equity, diversity and inclusion in her academic work, within scientific societies and beyond. A self-declared bookworm, Oana Birceanu can often be found walking with at least one giant book in her bag, just in case.