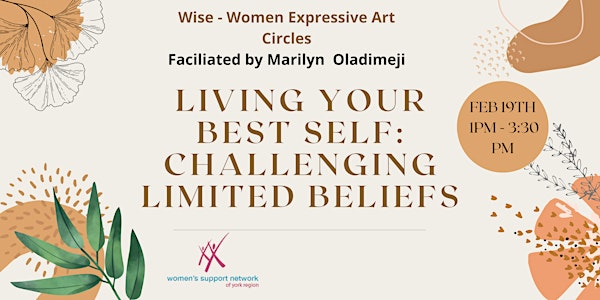 Wise Women Expressive Arts Circle: Challenging Limited beliefs
Wise-Women Expressive Arts Circles: Living your Best Self: Challenging Limited beliefs
About this event
Would you like to release feelings of fear, doubt, worry, insecurity, and unworthiness from holding you back in this challenging time — and replace them with the clarity, confidence and success-focused mindset that will propel you toward your goals and dreams. Let's connect with the deep inner voice that's calling you to a greater level of existence, achievement and becoming.
This is a group intended for anyone who identifies as a woman (18+). Participants will be granted the opportunity to use expressive art therapy to freely explore their thoughts and feelings through an arts-based creative process (e.g. storytelling, music, dance, art, writing), while being perceptively and empathically supported.
No art training is required, this process is a tool to access creative solutions. 
Registration is free, but spots are limited, so sign up quickly!
For more information, contact Marilyn Oladimeji, PhD, Expressive Arts Therapist at moladimeji@womenssupportnetwork.ca.