WISENL Annual General Meeting & 30th Anniversary Celebration

Wednesday, 21 November 2018 from 1:00 PM to 5:30 PM (NST)
Event Details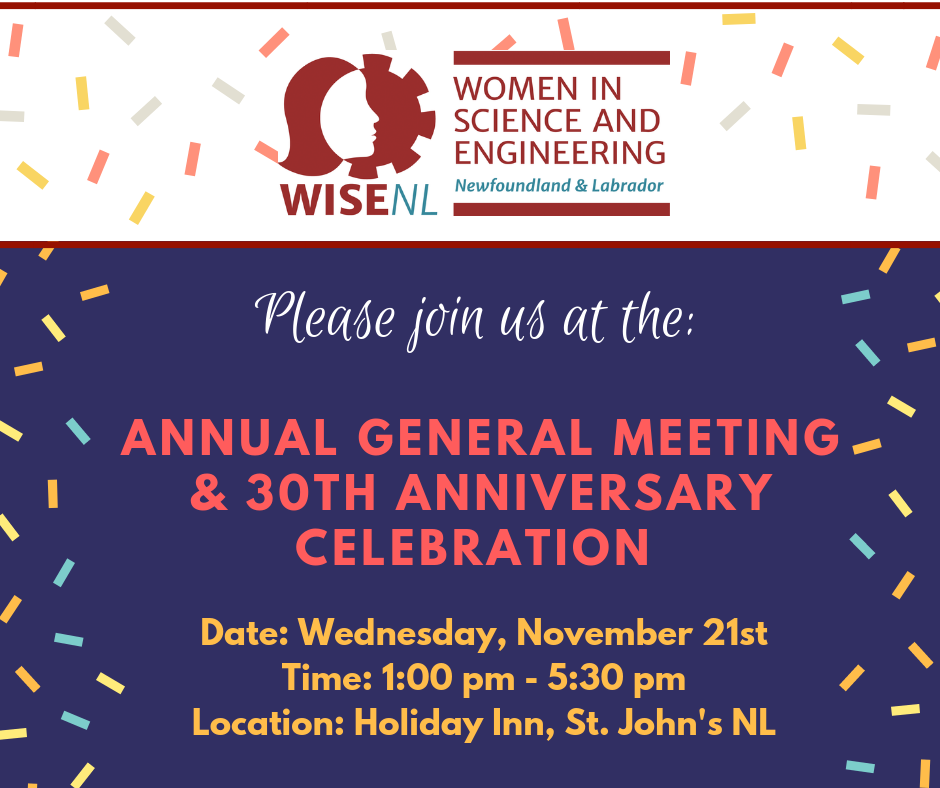 ---
 Event Agenda
AGM - 1:00 p.m. to 1:30 p.m.
30th Anniversary Celebration - 1:30 p.m. to 5:30 p.m.featuring:
Panel Discussion: "Women in STEM in Business" 
Panelists: Mona El-Tahan, Entrepreneur and Founder of WISENL, Charlene Johnson, CEO of Noia, Paula Sheppard, CEO of NLOWE and Ashley Smith, Founder and Managing Director of Fundamental Inc.

Keynote: "Women in STEM in Leadership & Community"
Keynote Speaker: Kim Keating, Vice President, The Cahill Group
---
Women in Business Panel
Panelists:
Ashley Smith
Managing Director, Fundamental Inc.
Ashley Smith is the Founder and Managing Director of Fundamental Inc, a consulting firm which helps clients to understand and effectively exploit energy efficiency and the potential for cost savings.
Ashley has a Bachelor's degree in Environmental Science and Chemistry, a Master's degree in Civil Engineering, LEED Accreditation. She has 16 years' experience in building design, community planning, and construction project management. Her background covers ecology and genetics, organic chemistry, civil engineering, town planning, urban design, building design, and project management.
This combination of education and professional experience gives Ashley a unique and comprehensive approach to design, construction and problem solving.
Charlene Johnson
CEO, Noia
Charlene became Chief Executive Officer of Noia in January 2018.
Originally from Gull Island, Newfoundland and Labrador, Charlene Johnson was a Member of the House of Assembly, Government of Newfoundland and Labrador, from 2003 to 2014. As a senior cabinet minister during her tenure she led a number of high profile departments, including Finance and Human Resource Secretariat, President of Treasury Board; Innovation, Business and Rural Development; Child, Youth and Family Services; and Environment and Conservation. She was also the minister responsible for the Status of Women and parliamentary secretary to the Minister of Natural Resources. Prior to the Government of Newfoundland and Labrador, Charlene worked as a policy analyst for the Nova Scotia Utility and Review Board.
Prior to becoming CEO of Noia, Charlene lived in Brunei. During her time overseas, she completed a Master of Business Administration (with Distinction) from Heriot Watt University in Edinburgh, Scotland. This complements her Bachelor of Science in forest engineering from the University of New Brunswick and Master of Applied Science in environmental engineering from Memorial University.
Mona El-Tahan
President, InCORETEC Inc
Mona El-Tahan is a role model for young women in the province of Newfoundland and Labrador, and worldwide. She is not only a professional engineer, but also an entrepreneur. She has a BSc. in Civil Engineering, a Masters degree in Ocean Engineering, and PhD degrees in various disciplines.
Mona's career began in 1975, after obtaining her BSc in Civil Engineering from Cairo University, Egypt. Within this same year, she moved to Newfoundland, Canada to pursue a Master's degree in Ocean Engineering at Memorial University. As part of her Master's thesis, Mona developed the first mathematical model in North America to predict iceberg movement. Upon graduating from her Master's, Mona was offered a job at Lavalin-Franco Inc. where she was the first female hired in the company.
During her eight years at Lavalin-Franco Inc. Mona worked her way up to senior researcher before returning to Memorial University as Project Manager/Senior Research Engineer. There, she obtained the funding and research resources that were vital to the founding of her own company, InCORETEC Inc in 1995, where she is currently President and COO. InCORETEC Inc provides applied R&D and consulting services for local, national and even international clients.
Mona is the founding president of Women in Science and Engineering (WISE) NL.
Paula Sheppard
CEO, NLOWE
Paula Sheppard is the CEO of the Newfoundland and Labrador Organization of Women Entrepreneurs (NLOWE). She is a diligent supporter and a fierce advocate for women in business.
Paula works closely with colleagues and all levels of government to support women entrepreneurs with the unique barriers they face, as well as building understanding of the critical importance of women-led business to the overall success of our economy.
Paula accepted the role of NLOWE's CEO in March 2011, and has worked with the organization since 2004. In addition, Paula is the Vice Chair and a founding member of the Women's Enterprise Organizations of Canada (WEOC), and a former Board Member for Women in Resource Development Corporation (WRDC). Paula was also the Co-Chair of Atlantic Canada Women in Exporting working group from 2011-2012.
Moderator:
Caron Hawco
President, The Caron Hawco Group
Caron Hawco, ABC, PMP, ICD.D is an accomplished communications and reputation strategist, stakeholder and professional project manager, local content diversity advisor, negotiator and facilitator.
As President of the Caron Hawco Group, she offers deep industry knowledge, business expertise, a strong network and global experience to help manage strategic relationships, build reputation, open doors to new markets and solve complex stakeholder challenges.
Caron is a specialist in oil and gas and the former Chair of the Newfoundland and Labrador Oil and Gas Industry Association (NOIA). Her recent projects have included international oil and gas trade missions (Guyana and Norway), stakeholder management in the technology industry, sustainability agreements in natural resources and supplier diversity.
From 2008-2015, Caron held management positions with Norwegian national oil company, Statoil, serving as a member of its Offshore Canada leadership team, contributing to global corporate initiatives, such as its Arctic and East Coast Canada Strategies and leading the development of its North American Communications Strategy. She also held a lead role during a corporate negotiation relating to a deep- water development, offshore Canada.
For over twenty years, Caron has provided strategic advice to corporate and industry leaders from international corporations, all levels of government and industry associations. She has worked in multiple sectors, including oil and gas, mining, R&D, healthcare, organized labour, advanced technology as well as the social services, not-for- profit and education sectors.
Caron is an internationally accredited communicator (ABC), who was also awarded Newfoundland and Labrador's Communications Professional of the Year by the International Association of Business Communicators (IABC). She is also a petroleum industry columnist with Natural Resources Magazine (Atlantic Business Magazine).
Have questions about WISENL Annual General Meeting & 30th Anniversary Celebration?
Contact WISENL
Save This Event
When & Where

Holiday Inn St. John's Conference Centre
180 Portugal Cove Road
St. John's, NL A1B 2N2
Canada

Wednesday, 21 November 2018 from 1:00 PM to 5:30 PM (NST)
Add to my calendar
Organizer
Women in Science and Engineering