Join us at Wishing Well Sanctuary to help us celebrate our 10th anniversary with a birthday bash & fall festival fundraiser!
About this event
We at the Wishing Well Sanctuary, located in Bradford, ON are excited to announce our 10th anniversary coming up in October! To mark this special milestone we invite you to join us Sunday October 3rd, from 11am-5pm, at the Wishing Well Sanctuary for a fun, family-friendly 10th Birthday Bash and Festival! The festival will be filled with mouthwatering vegan food, awesome vendors, wagons rides, guided tours around the sanctuary where you can meet 'our' rescued animal friends, fun activities for kids and families, face painting, live music, games, raffles and more!
Tickets are available through Eventbrite and at the door. Your investment per ticket is $20.00 per person and UNDER 3 ARE FREE! All proceeds from our festival will help immensely to assist in supporting our animals and Sanctuary as a whole. Your contributions help with things like food, medical care and ongoing, intensive daily care and support, just to name a few.
Our oasis is located just off Yonge Street in Bradford Ontario, approximately 45 minutes North of Toronto. We are a multi-dimensional hub and a centre of excellence for humane education, rescued farm animals, and a haven for healing and personal growth. Our ever-expanding Sanctuary provides ongoing dedicated care and affection to 'our' lovely animals, as well as programs and workshops held in the Wishing Centre and on the Sanctuary grounds, that focus on personal growth and wellness of mind, body and spirit.
For any questions or if you would like more information on becoming a vendor, sponsor or donating to our raffle, please email our Event Coordinator, Barbara Allin at wishingwellevent@gmail.com
Thank you and we look foward to seeing you there!!
Wishing Well Sanctuary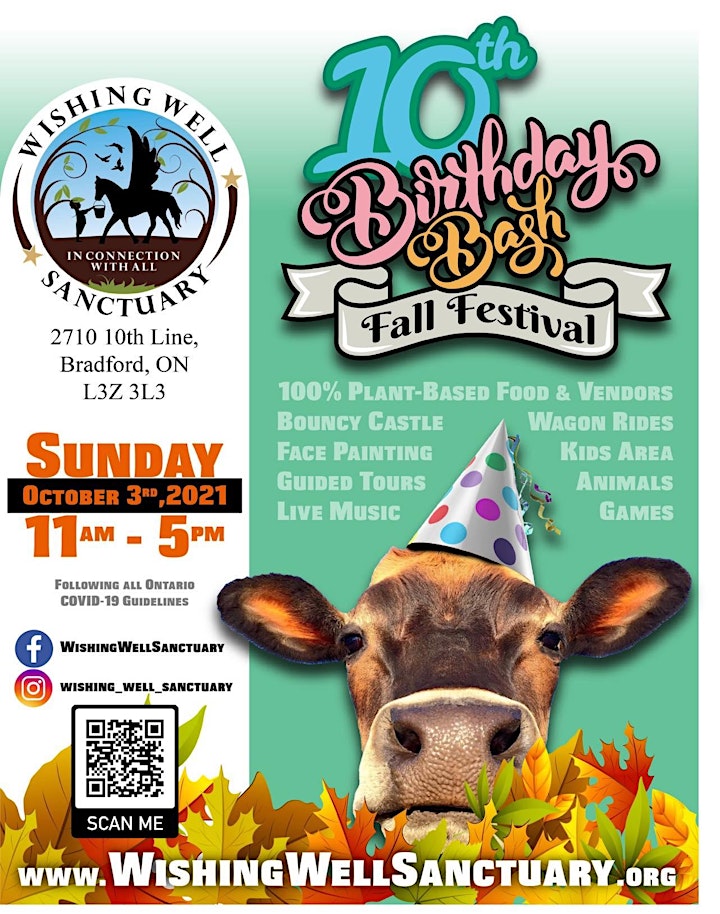 Organizer of Wishing Well Sanctuary 10th Birthday Bash & Fall Festival