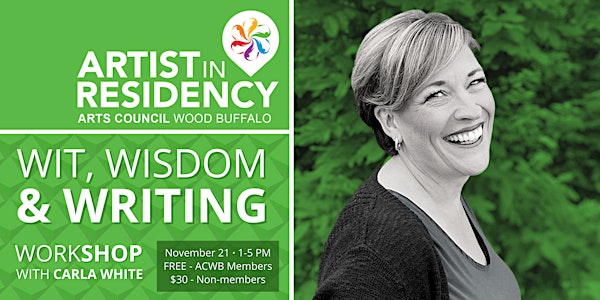 Wit, Wisdom and Writing Workshop with Carla White
Find the story inside you and feel empowered to tell it.
By Arts Council Wood Buffalo
Date and time
Sat, Nov 21, 2020 12:00 PM - 4:00 PM PST
Refund Policy
Contact the organizer to request a refund.
Eventbrite's fee is nonrefundable.
About this event
**IMPORTANT UPDATE**
This workshop is now taking place ONLINE. Please email geoff@artscouncilwb.ca if you have questions.
Join Carla White on November 21 for Wit, Wisdom and Writing.
So, you want to be a writer?
You have a story, many stories in fact. It is said that 81% of the population feels they have a book in them and want to write it. About 5% actually write it, and only 1% publish.
Carla will share her sometimes painful, often relevant, and frequently funny experience as a writer to encourage participants to step into their artistic, creative self.
"Even if you don't want to write the next bestseller but feel inspired to be a writer, then this workshop is for you to explore all aspects of the literary arts."
Expect discussions around:
What stops people from writing
Writing as therapy
Creative cures for writer's block and blank page syndrome
Publishing
Artists of all experience levels and disciplines are welcome.
Event Details
Date: November 21, 2020
Time: 1 – 5 p.m.
Location: Online
Admission Fees
FREE – ACWB Members
$30 – General Public (admission includes a free 1-year ACWB membership)
If you are an ACWB member, and haven't received the FREE code in your email, contact info@artscouncilwb.ca
Health & Safety
With consideration for everyone's health and safety, participants will be required to wear masks for the duration of the workshop and maintain six feet apart.
About The Artist In Residency & Mentorship Program
This iteration of AiR sees Carla White engaging as the Fall 2020 Artist in Residence, and aims to support Carla in developing a script dramatizing the events, demographics, learnings, and community-building that arose out of the 2016 Horse River Wildfire.
As part of Carla's journey in the AiR program, she will be offering a workshop that supports humour, creativity and writing.
Carla's iteration of AiR will end in a stage reading of her final script. Stay tuned for more updates and details about upcoming AiR workshops and performances.
Questions and More Information
For questions or more information, please contact the Artist in Residency Project Coordinator, Geoff Jones at geoff@artscouncilwb.ca.
Consent to Film: M'Guphynn Media will be attending to film the workshop for the documentary Sparking Creativity, which follows Carla White's process through the Artist in Residency & Mentorship Program with ACWB.
When purchasing tickets through Eventbrite, participants will be requested to check a box to consent to acknowledge that the workshop is being filmed. Some participants may potentially be included in the footage as a participant in the workshop.
About the organizer
Arts Council Wood Buffalo (ACWB) is a non-profit society and charitable organization that supports the growth and success of the arts in Wood Buffalo. ACWB was established to raise the profile of the arts in our region and to provide support to all facets of the arts community.
ACWB offers a variety of services and events that: build the capacity of our local artists to compete and thrive; enable collaborations between artists, arts organizations, non-profits, and industry; and, advocate for our region's arts municipally, provincially, and federally.
Through these initiatives, Arts Council Wood Buffalo is fostering an environment that embraces the arts as integral to a remarkable quality of life.