Description
Saturday February 27th at 10AM-4PM at the Millenium Library - Downtown Winnipeg.
Carol Shield Auditorium & Buchwald Room - 2nd floor (entrance on skywalk or through Library)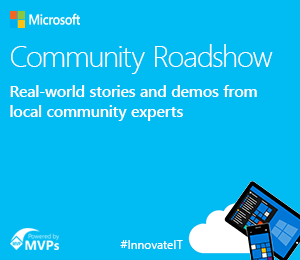 WITPRO is opening 2016 with a big event; we are happy to announce our first event for 2016; the Microsoft ITI Roadshow will be an all day event hosted by local IT professionals and Microsoft MVPs to local IT Professionals on Saturday February 27th at 10AM-4PM at the Millenium Library - Downtown Winnipeg. We hope this date/time will work out for many of you that has other commitments during the week.

AGENDA:

What's new in Windows 10 Enterprise:
Discussion on Increasing Security, Predictability and Compatibility on Windows 10 Enterprise.
Event Speaker - Jason Miller
Jason (
@Jason_Miller
) is a Senior Network Technician at Clear Concepts, a managed services solution provider and value added re-seller based in Winnipeg. He is the Past President of WITPRO, and has been involved with the group since 2006. Over the years his community contributions have included leading several IT-related study groups in Winnipeg and he has delivered training and seminar sessions to IT Professionals at user groups and conferences across Canada and the USA. His Microsoft technology interests include Windows Server, OS Deployment and cloud solutions like Office 365.

Modernizing the Datacentre:
Presentation on Modernizing the Datacentre with Windows Server 2016: Storage, Containers and Nano Server.
Event Speaker - Byron Wright
Byron (
@ByronWrightGeek
) has been a computer consultant, author, and instructor for almost 20 years. He is the owner of Conexion Networks located in Winnipeg. Byron started working with Novell NetWare and GroupWise, but now works with Windows Server, Active Directory, Exchange Server and Office 365. Byron is a Microsoft MVP for Exchange Server since 2012.

What's new in the Cloud:
An update on what's new in Cloud Infrastructure: Improving Datacentre Flexibility with Microsoft, open source and other technologies.

Event Speaker - Jordan Samulaitis
Jordan (
@jsamulaitis
) has been a IT Professional for over 15 years. With a strong background in Microsoft, VMware and Internet Security. Jordan was an influential member to bring the first WiFi hotspots to market in Winnipeg and Canada. Jordan has provided technical expertise and knowledge to other professionals and businesses across Canada. Jordan is current President of WITPRO; Board Member of (ISC)2 and Advisory Board Member for Business Analyst World.

DevOps:
What is DevOps? Discussion around it will cover a lot of ground. Many people refer to DevOps as being "devloper and operations collaboration" or "treating your code as infrastructure".

Event Speaker - D'Arcy Lussier
D'Arcy (
@Darcy_Lussier
) is a Winnipeg based technologist with over 15 years of experience in software development and solution architecture. He has been an active part of the technology community having helped run and speak at usergroups and code camps, being awarded a Microsoft MVP for ASP.NET the last nine years, and being active in online communities. D'Arcy is also part of the Microsoft Regional Director program, a select group of industry influencers.