Make you own Sparkly Crystal Ball Nightlight to take home
About this event
Come on out and conjure up creativity with The Wizard of Vase at this magical Make & Take workshop.
BYOB (Bring Your Own Blanket) *we'll have some extras for use as well incase we have spur of the moment attendees.
Each Maker will be given their very own Wizard Craft Kit, which will contain:
-1 Mini Wizard Hat & 1 Crazy Cape to wear while you make
-1 Crafting Cauldron to craft in (to avoid mess)
-1 pair of Magical Gloves (Non latex)
-1 Whimsical Wand that casts creativity (Paint Brush)
-1 Jar of Spellbinding Sticky Stuff (aka Glue)
-1 Crystal Ball Base (aka Metal Pet Dish)
-1 LED Light & 1 Tealight
-1 Hand Poured Unscented Soy Tealight & 1 LED Battery Operated Light
-1 Clear Medium Sized Terrarium Vase
-a communal selection of Magic Dust (aka Sparkles/Glitter) will be placed at the front for makers to select from.
*Gift bags and tissue paper will be provided to transport your makes home.
These Lamp-terns look lovely in the sunshine and divine in the dark. We'll be making them at sunset so you will be able to use them at the park in the dark. 
The Wizard can't wait to host this whimsical workshop with you my Pretties! 
*Makers are strongly encouraged to buy their tickets in advance via Eventbrite as spaces are limited.
Tickets can be purchased at the event with cash or via Square for an additional fee.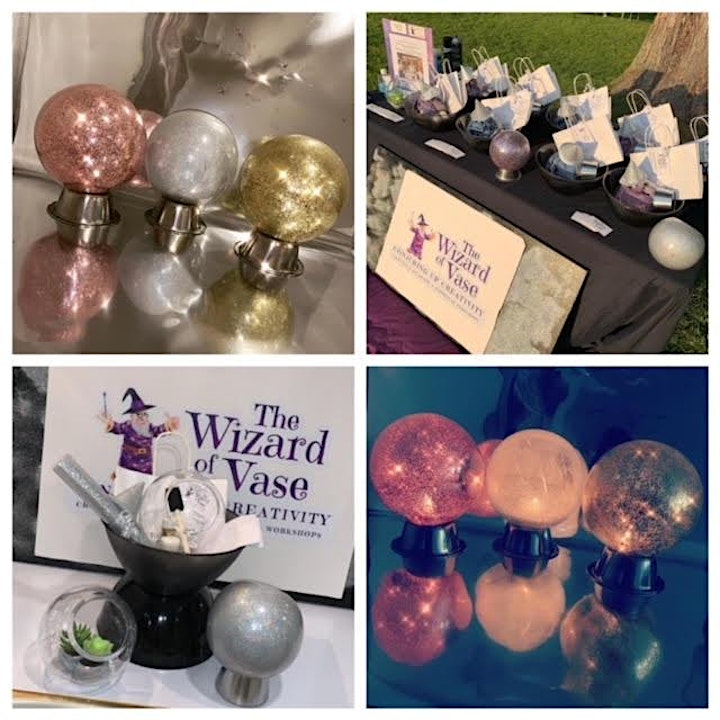 Organizer of Wiz Craft #2 Make&Take: DIY Crystal Ball Nightlights