Description
THURS NOV 1 UPDATE - A list of classrooms and locations have been announced, please have a look below for the day's schedule. Please note that there has been a change in building locations due to the increased number of attendees. We look forward to seeing you soon!
WED OCT 31 UPDATE - We are now able to accommodate an extra 100 people, reserve your tickets while you can, and see you soon!
FRI OCT 19 UPDATE - Thank you for the overwhelming interest in our event next month, we have closed our ticket reservations now. In the event that we may be able to host more attendees, we will let you know!

SAT OCT 13 UPDATE - We've already reached 500 RSVPs in the last 3 days! Thank you to everyone who has already registered for the event! We have opened up some more spots due to this wide interest, register now if you're still thinking about it :)
WIZARDING WORLD IN THE BURROW - SUNDAY NOVEMBER 4th, 2018

Let's Talk Science at the University of Toronto is hosting it's 2nd annual Harry Potter themed "Wizarding World in the Burrow" community event! Once you arrive at the event, we will sort you into a house! We encourage you to come out in your costumes dressed as your favourite witch, wizard, or anything magical :) If you had attended last year, this year we are adding new activities to our roster, stay tuned for more information!

Come out and join us if you are a big Harry Potter fan, love science and magic!
Please keep in mind that children 12 and under require parental supervision.

****THIS IS AN OPEN ROTATION EVENT, DROP IN WHEREVER YOU PLEASE!****
Check back for updates on this event page, our Facebook page, or our Let's Talk Science - UTSC Outreach website
We are opening up more tickets this year (500)! Register now to secure your spot :)
-> Please reserve tickets for ALL attendees of your party, if you are registering for more than one person <-

If you would like to donate to Let's Talk Science at UTSC, 100% of your generosity will be put forth towards funding the FREE local and rural classroom events, as well as large-scale events that we run and provide in the Scarborough community!

***If you wish to register for this event, PLEASE make sure to fill out this media release consent form, as we will be taking photos during the event. We will provide those that do NOT have consent with a sticker to indicate to our designated photographers not to photograph you.***
---
FAQs
Are there minimum age requirements to enter the event?
This is a FREE event for ALL ages!

What are my transportation/parking options for getting to and from the event?
PUBLIC TRANSIT SERVICES: TTC transit/GO transit/Durham Region transit

905 Eglinton East Express, 995/95E York Mills Express, 38/38A Highland Creek, DRT PULSE 900/900A Oshawa/U of T Scarborough to campus
UTSC PARKING
Parking is available in Lots G and H (Pay on exit) for a flat rate fee of $3
Parking Lots A for a flat rate fee of $5

Parking Lot A - Credit or Coin payment only
Parking Lot G and H - Credit payment at exit gates, Credit or Cash payment at paystations (located in Lot H and Instructional Centre)
More information about public transit routes OR where to park if you wish to drive to the event, can be found here: http://www.utsc.utoronto.ca/admissions/directions
https://www.utsc.utoronto.ca/parking/dailyvisitor-parking-rates
Campus map can be found here (TTC and GO bus loop is beside the big construction site on the map, DRT bus drop off is at the Military Trial and Ellesmere Rd intersection)

**Signage will be placed around campus to direct you to the event building (MW)**

What can I bring into the event?
We do not advise you to bring any valuables as we will not have a coat/bag check option.

Are there any food options open on campus?
Our food options are limited on Sundays, so we suggest you bring your own lunch/snacks. Outlets that are open on Sunday are:

Tim Hortons: 11:00AM - 5:00PM
Fit For Life: 9:00AM - 7:00PM
Asian Gourmet: 11:30AM - 6:30PM
KFC: 12:00PM - 8:00PM

What themes and activities will you be hosting?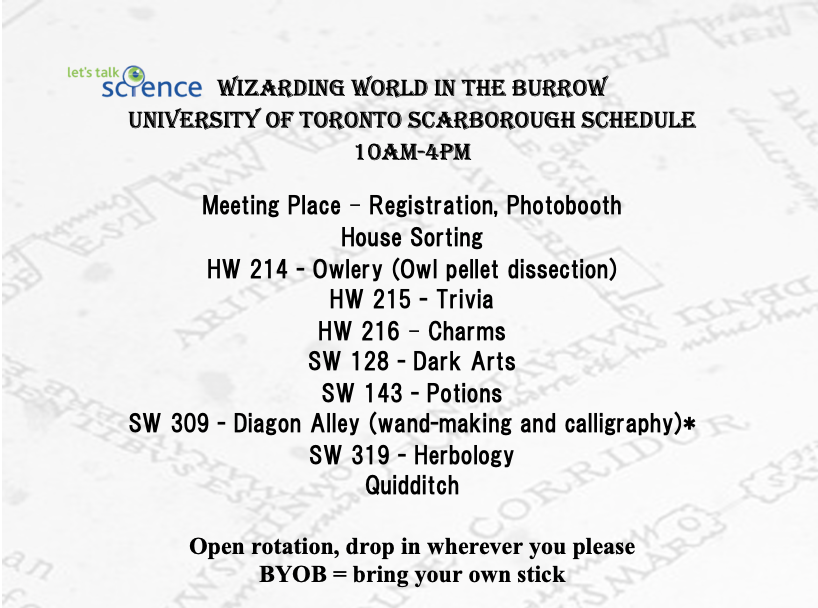 How can I contact the organizer with any other enquiries?
Contact us at lts@utsc.utoronto.ca