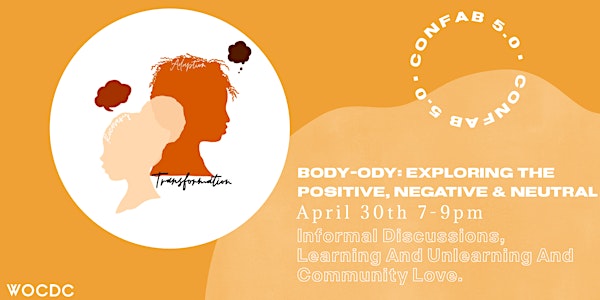 WOCDC Confab -Body-ody: Exploring the Positive, Negative & Neutral
Sales Have Ended
Registrations are closed
Ticket sales for this event have ended. Join the collective to stay up to date about future events and opportunities: https://wocdurham.ca/join/
Sales Have Ended
Registrations are closed
Ticket sales for this event have ended. Join the collective to stay up to date about future events and opportunities: https://wocdurham.ca/join/
WOCDC is back again with our fifth Confab - an open safe space to learn, unlearn, connect, express your feelings and share a rant (or two).
About this event
Topic #5: Body-ody: Exploring the Positive, Negative & Neutral
As Black, Indigenous and Womxn of Colour, how do we navigate the media and society when it comes to body image?
Come out and engage with us online as we dive into our fifth Confab - an informal discussion where we get to lead with curiosity, express our thoughts and learn alongside others.
This free event is curated for BIWoC (Black, Indigenous and Womxn of Colour) from the ages of 16 and up and all those who attend will be entered into a raffle to win an amazing prize!
This Confab will be lead by our conversationalists:
Dej Morrison:
Dej (she/her) is a fashion, beauty, & lifestyle YouTuber and blogger.
"I am a tall, plus sized black woman with stretch marks, cellulite, eczema, discolouration, acne scars/hyperpigmentation. You name the flaw, I am sure I have it. For a very long time I struggled with self confidence, especially when it came to body image. As womxn, there is so much pressure on us to look a certain way, and sometimes it can truly get the best of you when you don't fit the ideal "standards". But I decided that I don't have to let these ideals define how I view and love myself. I enjoy putting myself together in a way that makes me happy, comfortable, and reflects my own personal style and that's what I share in my content. Some things I love/enjoy: carnival/soca/fetes, sushi, tea, make-up, wine, travelling (10 countries and counting), styling outfits, and spending time with my family and friends!"
Erin Nancoo:
Erin (she/her) is a Queer, Trini, self-taught yogi who is on the path of deepening her relationship with decolonized practices. As a survivor of sexual assault, she is passionate about reclaiming her body and sensuality through yoga and hopes to help her community find that same healing. She also deeply believes in rest as a form of resistance, and in defying patriarchal, eurocentric standards of beauty. A wearer of many hats, Erin loves plants, DJing, playing ukulele and creating art that nurtures her inner child.
Louange Mwajuma:
Louange (she/her) is a fashion, beauty and lifestyle content creator and she uses her platform in order to encourage womxn to be confident in themselves.
"The fashion industry thrives off of enforcing insecurities. Womxn are told to hide this or cover that, creating feelings of shame around fashion. I am visible because womxn who look like me do not have to be invisible. I don't need to wear clothes that hide or disguise any part of me. I stand tall and proud of who I am."
Organizer of WOCDC Confab -Body-ody: Exploring the Positive, Negative & Neutral