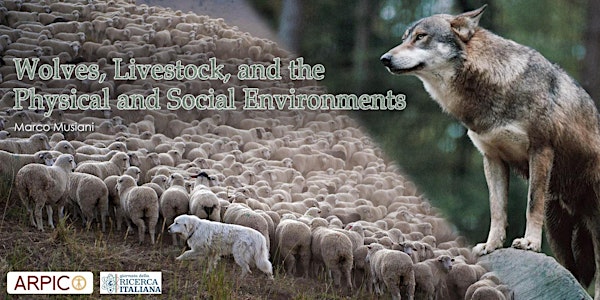 Wolves, Livestock, and the Physical and Social Environments
This lecture will account for differences in social and economic contexts when balancing wolf predation on livestock with wolf conservation.
When and where
Date and time
Wed, Apr 14, 2021 7:00 PM - 9:00 PM PDT
Refund Policy
Contact the organizer to request a refund.
Eventbrite's fee is nonrefundable.
About this event
ARPICO, the Consulate General of Italy in Vancouver, and PROF. MARCO MUSIANI present...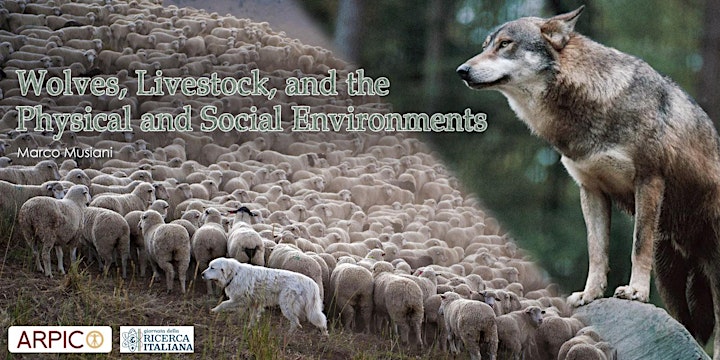 Wolves, Livestock, and the Physical and Social Environments
Due primarily to wolf predation on livestock (depredation), some groups oppose wolf (Canis lupus) conservation, which is an objective for large sectors of the public. Prof. Musiani's talk will compare wolf depredation of sheep in Southern Europe to wolf depredation of beef cattle in the US and Canada, taking into account the differences in social and economic contexts. It will detail where and when wolf attacks happen, and what environmental factors promote such attacks. Livestock depredation by wolves is a cost of wolf conservation borne by livestock producers, which creates conflict between producers, wolves and organizations involved in wolf conservation and management. Compensation is the main tool used to mitigate the costs of depredation, but this tool may be limited at improving tolerance for wolves. In poorer countries compensation funds might not be available. Other lethal and nonlethal tools used to manage the problem will also be analysed. Wolf depredation may be a small economic cost to the industry, although it may be a significant cost to affected producers as these costs are not equitably distributed across the industry. Prof. Musiani maintains that conservation groups should consider the potential consequences of all of these ecological and economic trends. Specifically, declining sheep or cattle price and the steady increase in land price might induce conversion of agricultural land to rural-residential developments, which could negatively impact the whole environment via large scale habitat change and increased human presence.
Marco Musiani is a Professor in the Dept. of Biological Sciences, Faculty of Science, University of Calgary. He also has a Joint Appointment with the Faculty of Veterinary Medicine in Calgary. His lab has a strong focus on landscape ecology, molecular ecology, and wildlife conservation.
Marco is Principal Investigator on projects on caribou, elk, moose, wolves, grizzlies and other wildlife species throughout the Rocky Mountains and Foothills regions of Canada. All such projects are run together with graduate students and have applications towards impact assessment, mainly of human infrastructure.
His focus is on academic matters. However, he also serves as reviewer for research and management projects, and acted as a consultant for the Food and Agriculture Organisation of the United Nations (working on conflicts with wolves).
Italian Research in the World Day

This event is organized in collaboration with the Consulate General of Italy in Vancouver to celebrate the Italian Research in the World Day, instituted starting in 2018 as part of the Piano Straordinario "Vivere all'Italiana" - Giornata della ricerca Italiana nel mondo.
The establishment of an Italian Research Day in the World was announced by the Italian Minister of Education, University and Research, Valeria Fedeli, during a visit to the CERN Laboratories in Geneva. The celebration day was chosen by government decree to be every year on April 15 on the anniversary of the birth of Leonardo da Vinci.
The main objective of the Italian Research Day in the World is to value the quality and competencies of Italian researchers abroad, but also to promote concrete actions and investments to allow Italian researchers to continue pursuing their careers in their homeland. Italy wishes to enable Italian talents to return from abroad as well as to become an attractive environment for foreign researchers.
Speaking Event Starts Online at 7:00 pm.
Q&A follows the speaker segment.
Tickets are Needed
Tickets are FREE, but all individuals are requested to obtain "free-admission" tickets on Event Brite so that you may receive the online event link via email.
All ARPICO events are 100% staffed by volunteer organizers and helpers and all costs are underwritten by members of ARPICO.  Therefore to be fair, all audience participants are asked to donate to the best of their ability online when signing up with EventBrite to "help" defray costs of operations. Thank you.
Everyone is welcome.  See you there!
Technical Instruction
The event will be managed via the videoconferencing platform BlueJeans Meetings, by clicking on the link that will be emailed to each registered individual (to the email address provided). Please, note that the event will not be active until 6:45 pm on the day of the event.
At that time, clicking on the link will automatically let you join the event via your web browser (Chrome, Firefox, Safari, Opera should all work smoothly). You are NOT required to download or install anything to your computer. The entire video stream will occur inside your web browser window just like any other website you might visit. There is no security risk or risk to your personal information. You can always join the event late, as this will not interfere with the presentation.
When you open the link you will be prompted to input a guest name. Please use your name that will allow us to identify you, and continue. On the following screen you may be prompted by your browser (depending on your settings) to allow access to use your computer's microphone and camera. You do not need to approve these if you do not plan to talk or be seen at any time during the Q&A segment. Upon joining you should see a screen similar to the sample image seen below where the various icons superimposed on the pictures of participants will show when you hover the mouse pointer over the BlueJeans browser window.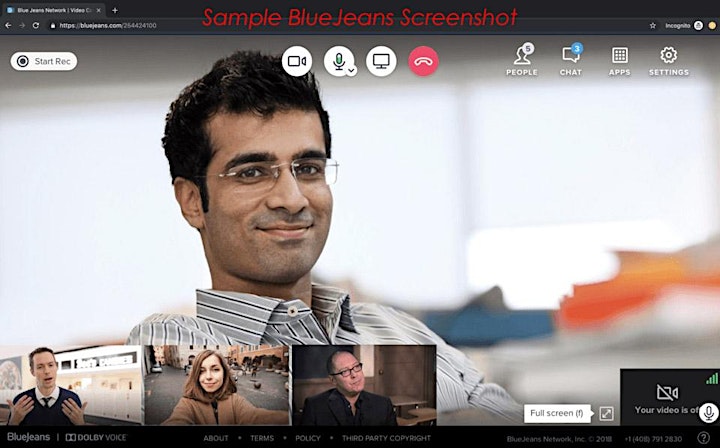 By default, your system's camera will be turned on and your microphone will be turned off. If you do not wish to show your face, you can of course do that by clicking on the camera icon like the one on the bottom right of the sample screenshot provided. We ask that you keep your microphone muted, since any background sounds and noises from your environment will be audible and may interfere with the speaker's voice.
As we have done for the in-person events, we will be recording our virtual ones for future reference.
Q&A
At any time during the lecture, participants will be able to post comments or questions for the speaker via the "chat" button also visible by hovering over the BlueJeans browser window. The moderator will read them for the speaker by way of a Q&A session at the end of the lecture.
Feedback
In the days following the event we will be sending all participants a succinct feedback form, which we encourage you to fill in and send back to us.
About the organizer
ARPICO (Associazione di Ricercatori e Professionisti Italiani nel Canada Occidentale) or "Society of Italian Researchers and Professionals in Western Canada" was founded in 2011.

ARPICO advocates and promotes public awareness of science, innovation and research activities involving, where possible but not exclusively, Italo-Canadian and/or Italian researchers and professionals; and,

ARPICO supports the education and professional development of young researchers and innovators. We are proud to partner with institutions of scholarly activity in providing scholarship and research exchanges between Canada and Italy.

Become a member- you do not have to be of Italian ancestry to join ARPICO.

Membership dues and donations supply the Society with seed money for event programming like public lectures. ARPICO organizes and hosts public lectures, cafes and debates in the community featuring a roster of influential experts from around Canada and abroad.

Successful events attract the attention of the public and help expand our membership base with new members, who also want to spread the science-innovation-research message and support young researchers and innovators with their careers.

Enlisting greater numbers of members not only helps underwrite expanded event programming, but also supplies ARPICO with more talent, more contacts, more energy, all of which increase ARPICO's ability to find and secure more scholarship funding from governments, foundations and businesses.

Learn more: www.arpico.ca