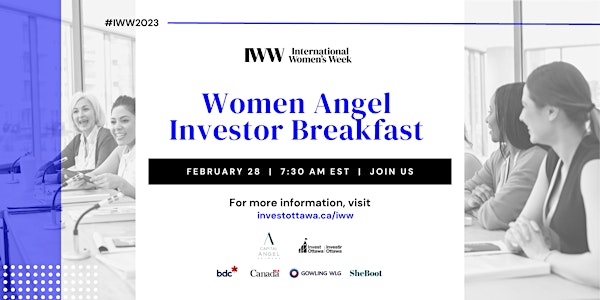 Women Angel Investor Breakfast
Calling all veteran, new and aspiring angel investors: join us to explore the opportunity, benefits and impact of angel investing.
When and where
Date and time
Tue, Feb 28, 2023 7:30 AM - 10:30 AM EST
Location
Bayview Yards 7 Bayview Station Road Ottawa, ON K1Y 2C5 Canada
About this event
Registration is still open and available via Hopin:
------------------------------------------------------------------------------------------------------
Are you intrigued by angel investing? Interested in engaging with experienced founders? Would you appreciate the opportunity to hear directly from investment leaders?
The Capital Angel Network (CAN), the largest group of angel investors in the Ottawa-Gatineau region and in the top five most active angel groups in Canada, and Invest Ottawa (IO), lead economic development agency for knowledge-based industries in Canada's Capital, look forward to welcoming current and aspiring women angel investors, supporters and promoters from Canada's Capital and across the country as part of this hybrid International Women's Week event.
We want you: We are excited to attract new angel investors and champions to both CAN and SheBoot, the national investment-readiness bootcamp for women tech founders established by CAN and IO.
Over the last three years, this program has evolved with the generous support of FedDev Ontario and NRC-IRAP, together with 50+ women entrepreneurs, investors and mentors with IO and CAN.
You will be in great company: We are grateful to the many investors, mentors, champions and allies who will join us. This includes leaders from BDC Capital's Thrive Venture Fund, our IWW title sponsor, and special guest speakers! All we need is you!
Women angel investors are needed more than ever: Over the last five years, women-founded startups have never exceeded 2.8% of the total investment allocated to venture-backed firms. New PitchBook data shows that U.S. companies with all-women founders are raising less capital this year than in 2021 amid current economic challenges. A few numbers:
According to Crunchbase, women raised around 2.4% of all venture capital allocated in the US last year, a figure which stood at 1.9% in the third quarter of 2022.
This number becomes even lower - even worse - if we factor race into account.
While the overall percentage of US investment allocated to all-women teams was 2.4% in 2021, Black and Latinx women hovered around 0.05% each, while Indigenous founders raised approximately 0.004%.
We know this is unacceptable.
How do we move the dial? We need more women making investment decisions from the other side of the table. On the cheque-writing front, the numbers underscore that the industry is still a very long way from equal gender and diversity representation. Women investors account for just 16% of VC decision-makers in the US. Furthermore, 95.5% of VC firms are led by male decision-makers.
Together, we aim to:
Consistently increase the number of women angel investors in Canada's Capital and inspire similar action across the country and around the world; and
Create new and impactful opportunities for experienced female funders and founders to encourage and support aspiring and early-stage women entrepreneurs.
Help us achieve these goals and drive positive change. Join us for breakfast on February 28 to:
Learn the basics of angel investing
Hear from existing women angels in Ottawa
Network with fellow like-minded women in our community
Learn about some of the top women-founded companies in the city
Join us for this free hybrid IWW event!
Agenda
7:30 am - Onsite Networking
All guests with in-person tickets are invited to Bayview Yards for a 30-minute networking breakfast.
If you are in the Ottawa Area, we look forward to hosting you!
If you join us virtually, you will receive a weblink following your registration. Please settle in with your favourite beverage and a breakfast snack and get ready for the launch of our program at 8:00 am!
8:00 am - Welcome
Jennifer Francis, Chair of the Capital Angel Network, Director of the Board, Invest Ottawa, Investor, and Co-Founder of SheBoot;
Julia Elvidge, High Tech Advisor, Director of the Capital Angel Network and Co-Founder of SheBoot; and
Sonya Shorey, Vice President, Strategy, Marketing and Communications, Invest Ottawa and Co-Founder of SheBoot.
8:05 am - Opening Keynote & Fireside Chat
Arlene Dickinson, Managing General Partner at District Ventures Capital, Co-Managing Partner, M&A at Believeco: Partners, CEO of Venturepark Labs, and Dragon on CBC's Dragon's Den
Fireside chat facilitated by Sonya Shorey.
Arlene Dickinson is a serial entrepreneur and General Partner of District Ventures Capital, a venture capital fund focused on helping market, fund and grow entrepreneurs and their companies in the food and health space.
She is a three-time best-selling author, podcaster and accomplished public speaker.
Arlene is widely recognized for her role as a Dragon/Venture Capitalist for over 14 seasons on the multi-award-winning CBC television series Dragons Den.
8:50 am - Panel Discussion
A conversation on investing from both sides of the table facilitated by Julia Elvidge with panellists:
Elizabeth Audette-Bourdeau, Co-founder and CEO of Welbi
Lise Birikundavyi, CFA, Co-founder and Managing Partner of BKR Capital
Maureen O'Higgins, Partner of O-Higgins Consulting and Investor
Nadia Ladak, Co-founder and CEO, Marlow
Sarah Daniele, Co-founder and CEO of Mydoma Inc
9:30 am - Angel Investing: A Presentation and Open Q&A Session
Next Steps to Becoming an Informed Investor, a presentation and open Q&A co-facilitated by Jennifer Francis and Lorraine Mastersmith, Owner of KIN Vineyards Inc. and Firm Managing Partner at Capital Angel Partner, Gowling WLG.
10:00 am - Concluding Remarks & Networking
-------------------------------------->
Special Note: By registering for this event, you accept that you will receive event-related emails, as well as an invitation to subscribe to our mailing list.
We look forward to welcoming you on Zoom on February 28th for our Women Angel Investor Breakfast. To learn more about:
Keep up to date with what's to come during IWW by following #WeMeanBusiness and #IWW2023.
Honouring and Acknowledging the Land on Which We Gather
Invest Ottawa, Bayview Yards and Area X.O are situated on the traditional unceded territory of the Algonquin Anishnaabeg People. We are grateful to have the opportunity to be present in this territory and come together as a community. Today and every day, we want to respect and affirm the inherent and Treaty Rights of all Indigenous Peoples across this land. We recognize the contributions of Métis, Inuit, and all Indigenous peoples have and continue to make, both in shaping and strengthening this community and our country.
Important Event Details to Ensure a Great Experience for You
If you are joining us in person, we are delighted to share the following information on transportation to our innovation hub and support available upon your arrival:
Transit: Bayview Yards is 600m away from Bayview Station, which serves multiple routes. It is also the O-Train stop.
Driving: 50 spaces along Bayview Station Road offer 2HR free parking, and 27 spaces along Stonehurst and Burnside offer 1HR free parking.
Parking: Complimentary parking is available onsite.
Inclusive & Accessible: Should you have any specific mobility requirements, please contact Audrey Willsey at awillsey@investottawa.ca. Our team will be pleased to work with you to make all the arrangements required for a great experience.
Special Note: By registering for this event, you accept that:
You may be photographed or video recorded as we capture special moments during this event and share memories with our community via our website and social media
You will receive event-related emails, as well as an invitation to subscribe to our mailing list
--------------------------------------->
Special Thanks to our IWW 2023 Title Sponsor, BDC Capital's Thrive Venture Fund and to our Angel Breakfast Sponsor, Gowling WLG.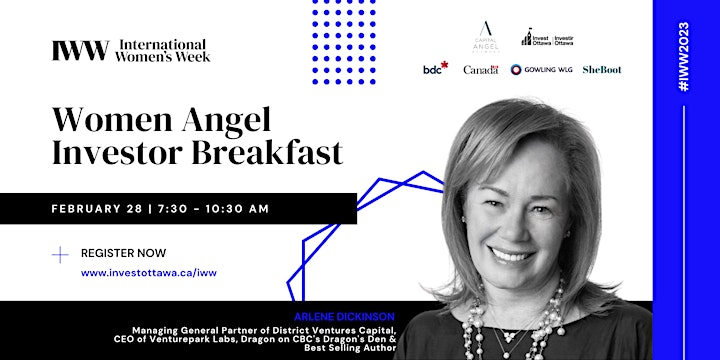 About the organizer
Invest Ottawa delivers economic development programs and initiatives that increase entrepreneurial momentum, wealth and jobs in the City of Ottawa and its surrounding region. Its goal is to make Ottawa the best place in Canada to start and grow a knowledge-based business. Invest Ottawa services include startup incubation and mentorship, acceleration for existing companies, global business attraction and local business retention, targeted sector development, commercialization, and marketing Ottawa's diversified economy and high quality of life.
----------
Investir Ottawa offre des programmes et initiatives en matière de développement économique d'export qui stimulent l'esprit entrepreneurial, la richesse et les emplois de la Ville d'Ottawa et des régions avoisinantes. Son but est de faire d'Ottawa le meilleur endroit au Canada pour démarrer et croître sa propre entreprise basée sur le savoir. Les services offerts par Investir Ottawa comprennent l'encadrement et le mentorat pour entreprise naissante, l'accélération pour les entreprises existantes, l'attraction commerciale de niveau mondial et le maintien du commerce local, le développement des secteurs cibles, la commercialisation et la promotion de l'économie diversifiée d'Ottawa et de sa haute qualité de vie.