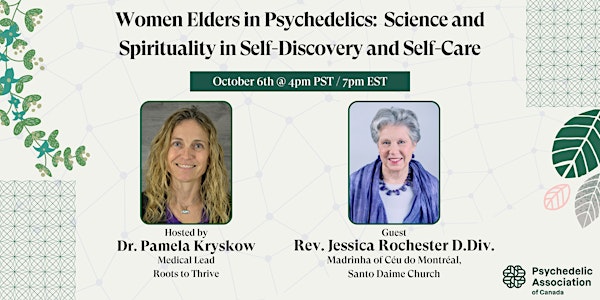 Women Elders in Psychedelics: Science and Spirituality in Self-Discovery
We will address how each person's experience is unique, and how to wisely manage care of one's body, soul, and spirit during the process.
Refund Policy
Contact the organizer to request a refund.
Eventbrite's fee is nonrefundable.
About this event
The internationalization of Ayahuasca and the current interest in entheogens and psychedelics for treatment and self-discovery bring challenges to professionals and participants alike. While licensed ritual use, research and clinical efforts are moving forward, there seems to be little knowledge available for the community at large regarding the experiences, and the potential awakening precipitated by non-ordinary states of consciousness (NOSC).
This presentation discuses the "maps" necessary for depth inner exploration, for these journeys require a broader cartography of the self and the unseen, transpersonal realms. We will address how in NOSC each person's experience is unique, why issues such as boundaries, identities and ethics need specific attention, and how to wisely manage care of one's body, soul, and spirit during the process of self-discovery.
Join our panel members to answer these questions and ask some of your own.
Thursday October 6 2022
As a member of the Psychedelic Association of Canada, you get access to all of our events. Find the link to claim your free ticket in our members' area.
Not a member yet? Join us! Learn more about our membership here: www.psychedelicassociation.net/support-the-cpa
Looking to support greater access to psychedelics in Canada? You can make a donation here: Donate Now
The recording of this event will be made available one week after the event.
Thank you for your support.
Speakers:
Reverend Jessica Rochester D.Div.
Reverend Jessica Rochester D.Div. is the Madrinha of Céu do Montréal, the Santo Daime church she founded in 1997. She worked with Health Canada from 2001 until 2017 to achieve the legal right to import and serve the Santo Daime Sacrament, also known as Ayahuasca. She is the author of Ayahuasca Awakening, A Guide to Self-Discovery, Self-Mastery and Self-Care.
She is an ordained Inter-Faith Minister with a Doctorate in Divinity. A transpersonal counsellor, she trained in the work of psychiatrists Roberto Assagioli MD and trained with Stanislav Grof MD. She is an educator who lectures on subjects such as non-ordinary states of consciousness, spiritual development and well-being.
Host:
Dr. Pamela Kryskow, MD
Dr. Pamela Kryskow is a medical doctor in Vancouver, British Columbia. Her training includes Family Medicine, Rural Emergency Medicine, Chronic pain, Functional Medicine and Psychedelic Assisted Psychotherapy. She is currently working with colleagues on research related to Psychedelic Assisted Psychotherapy, Microdosing, MDMA, Psilocybin, Chronic Pain and Psychedelic therapy. She is the medical lead in Roots To Thrive Non Profit and the Medical Chair of the Vancouver Island University Psychedelic Assisted Therapy Post Graduate Certificate Program and a Clinical Instructor at UBC.