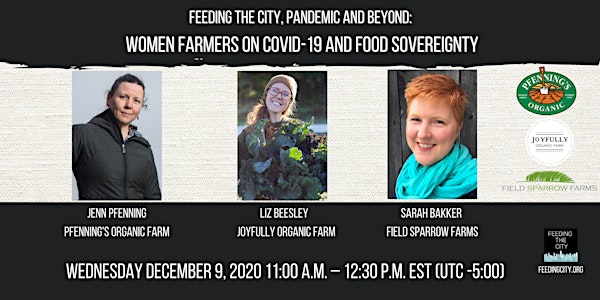 Women Farmers on COVID-19 and Food Sovereignty
ONLINE EVENT - Feeding the City, Pandemic and Beyond: Women Farmers on COVID-19 and Food Sovereignty
By Feeding the City, Pandemic and Beyond
When and where
Date and time
Wed, Dec 9, 2020 11:00 AM - 12:30 PM EST
About this event
How have farmers responded to unprecedented challenges and opportunities throughout the pandemic? How has COVID-19 highlighted long-term changes that are needed in agriculture and food distribution in Canada? Join us for an interactive roundtable featuring three women ecological farmers:
Sarah Bakker – Sarah is a livestock farmer and co-owner of Field Sparrow Farms, located near Bobcaygeon, Ontario. They deliver pasture-raised meats to the local community of Kawartha Lakes and to Toronto. Sarah is also the General Manager of the National Farmers Union—Ontario, an organization at the forefront of local struggles for food system change.
Liz Beesley – Liz is the co-owner of Joyfully Organic Farm, which offers organic vegetables to communities in the Greater Toronto Area through a Community Supported Agriculture (CSA) program and through farmers markets. She and her partner have overcome the significant challenges that young farmers face, such as land access, in order to grow a successful business.
Jenn Pfenning – Jenn is the co-owner of Pfenning's Organic Farm, a company that grows, packs, and distributes organic produce from their farm near Waterloo, Ontario. Jenn has been a vocal advocate for the rights of migrant agricultural workers, as workers in this program have contributed significantly to the labour that her family performs on their farm.
Jointly moderated by: Jayeeta (Jo) Sharma, Associate Professor of History and Food Studies at the Culinaria Research Centre of the University of Toronto, and Project Lead for Feeding the City; Sarah Elton, Assistant Professor of Sociology at Ryerson University and the award-winning author of several popular books on food systems; and Bryan Dale, Postdoctoral Fellow at the Department of Historical and Cultural Studies, University of Toronto Scarborough and Project Manager for Feeding the City.
Supported by the Culinaria Research Centre, University of Toronto Scarborough.
(Photo of Jenn Pfenning by Mathew McCarthy, @McCarthyRecord)
About the organizer
Feeding the City is a project that brings together academic researchers and a range of community partners. We are tracking how food growers and buyers, community food providers, and civil society organizations in the Greater Toronto Area are being affected by the COVID-19 pandemic, as well as the ways they are responding to maintain food access and alleviate food insecurity. We are collecting and analyzing quantitative and qualitative data from farmers and urban growers, food workers, vulnerable sections of food consumers, agri-food networks, and social enterprises.
Our goal is to understand how local communities are meeting the challenges of this pandemic, to learn how they can best be supported, and to consider how current experiences inform transformative changes that are required in the food system.
Read more: https://feedingcity.org