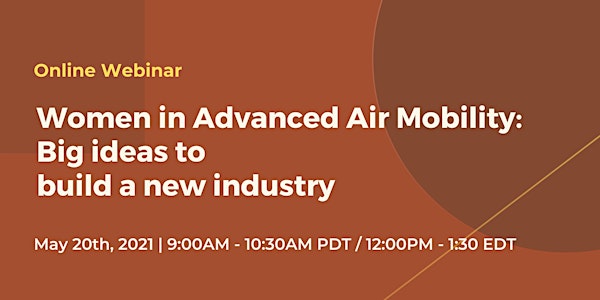 Women in Advanced Air Mobility: Big ideas to build a new industry
The best industries which serve everyone are built by everyone. Join us May 20th for a discussion about how to build the best AAM industry.
About this event
This new industry brings the excitement of new job opportunities along with the historic burden of diversity and inclusion challenges. Can we use our past experiences to build an industry more profitable and more diverse than ever before?
Wisk Aero, Women and Drones, and the Canadian Advanced Air Mobility Consortium (CAAM), alongside 18 other organizations, warmly invite you to join us for a moderated dialogue about this new industry. How will companies fill talent shortages? What career opportunities await young people? And as we stand on the threshold of building the Advanced Air Mobility ecosystem from the ground up, how do we eradicate historic injustices and offer equal opportunity to all?
This event, as one part of an annual three part series including LGBTQ+ and indigenous peoples, strives to move this conversation forward as we build this new industry together. This is an online event featuring a keynote fireside chat followed by topical discussions on opportunities for the Advanced Air Mobility industry. Breakout discussions will be hosted by a small group of speakers, either in a traditional panel discussion or a more conversational exploratory dialogue.
Registrants will have the opportunity to submit their questions ahead of time when registering for the event as well as during the event Q&A.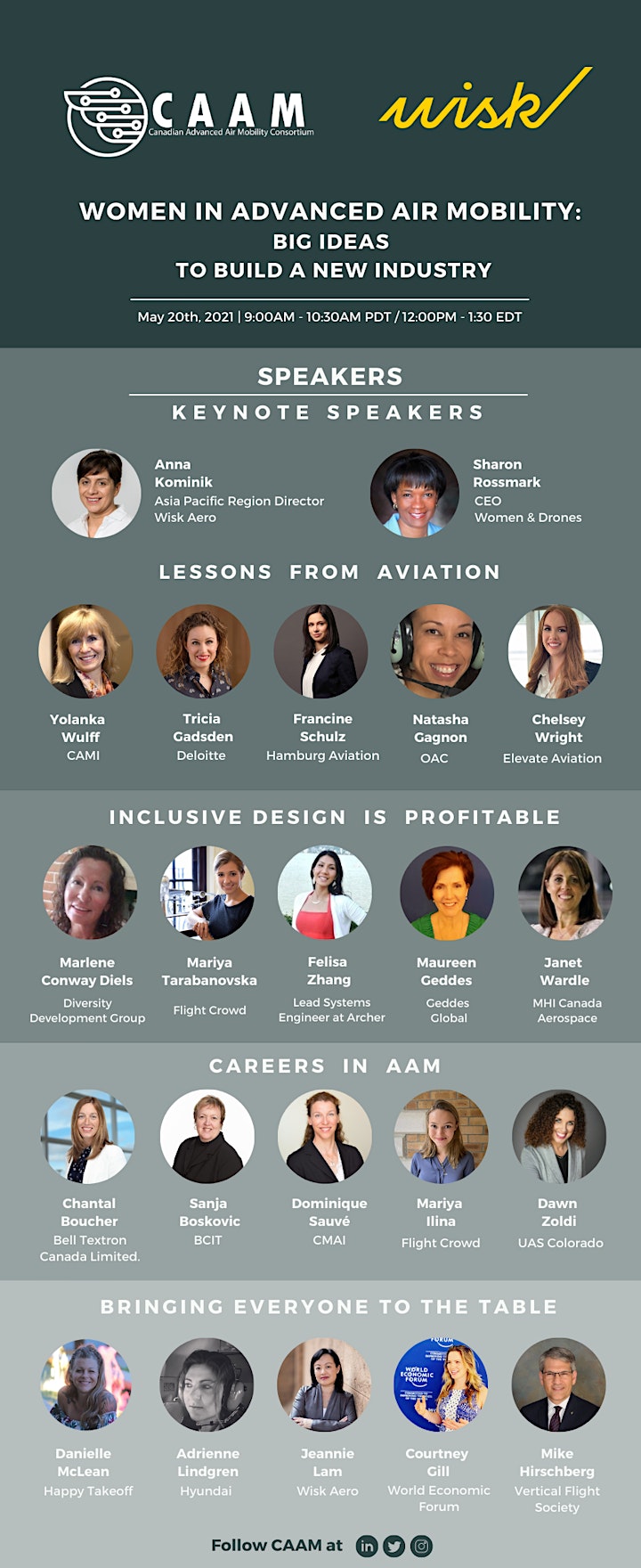 Themes of this event:
→ The career opportunities upcoming for all people from all sectors
→ How inclusive design may also be profitable design
→ What lessons might be learned from traditional aviation for this new sector
→ Who benefits from having all people at the table, and why some of them aren't yet here
Agenda (PDT | EDT)
9:00 AM |12:00 PM – Welcome and Introduction
9:05 AM | 12:05 PM – Fireside Chat - Keynote and Moderator
9:30 AM | 12:30 PM – Breakout Room Discussions and Audience Q&A
10:20 AM | 1:20 PM – Closing remarks
Location:
This is an online event. A Zoom webinar link will be provided to registrants closer to the event.
Uplift Series
This online event is presented as part of CAAM's annual Uplift events series. This series is organized to advance the efforts of Canadian Advanced Air Mobility to build the most successful future industry possible, which includes a strong commitment to equity and diversity. CAAM hopes to take advantage of the nascency of this industry to create a culture that all people want to be a part of. All industries must be built in the 21st century with these issues at the table.
LGBTQ+ in AAM: August 19th, 2021
Continue the conversation with us for our second annual uplift event focussed around our evolution towards an Advanced Air Mobility industry that is inclusive of sexual orientation. Join the waitlist here: http://bit.ly/UpliftSignup
Indigenous Wisdom in AAM: November 18th, 2021
Before there are solutions, there must be listening. Our path to reconciliation is far from over. The new Advanced Air Mobility industry can benefit Indigenous peoples and our efforts towards reconciliation, but only if we make space to listen first. Join us in conversation as we collectively come together to make space for voices that have been absent from the table for far too long. Join the waitlist here: http://bit.ly/UpliftSignup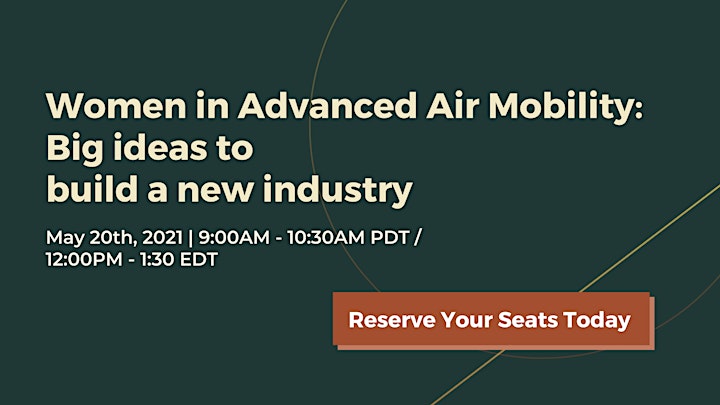 Terms and Conditions
Canadian Advanced Air Mobility("CAAM") uses the Eventbrite program for the convenience of the public. However, you need not use Eventbrite and you may register for this event by emailing CAAM at (Info@Canadianaam.com). You should provide personal information to us only by the methods that you authorize. NOTE THAT ANY INFORMATION SUBMITTED TO EVENTBRITE WILL BE STORED ON SERVERS IN THE UNITED STATES AND ACCESSED IN THE UNITED STATES, AS AND FOR THE PURPOSES DESCRIBED IN THE "EVENTBRITE TERMS OF SERVICE AGREEMENT (BUYERS AND OTHER NON-ORGANIZERS)" (https://www.eventbrite.ca/tos/) AND THE INCORPORATED EVENTBRITE "PRIVACY POLICY" (https://www.eventbrite.ca/privacypolicy/).
Please refer to the foregoing Eventbrite documents for other information regarding the manner in which personal information that you submit will be collected, used, accessed and disclosed if you choose to use Eventbrite. By using Eventbrite, you will be deemed to agree to the terms and conditions stated in such documents, in relation to the information you submit to Eventbrite, commencing as of the date you submit such information to Eventbrite.
Personal information collected, whether via Eventbrite, email or telephone, will be used by CAAM only for the purpose of managing attendance at the Women in AAM May 20th event. Such personal information is collected by CAAM under the authority of the Freedom of Information and Protection of Privacy Act. Questions may be directed to CAAM's marketing team via email to info@CanadianAAM.com.