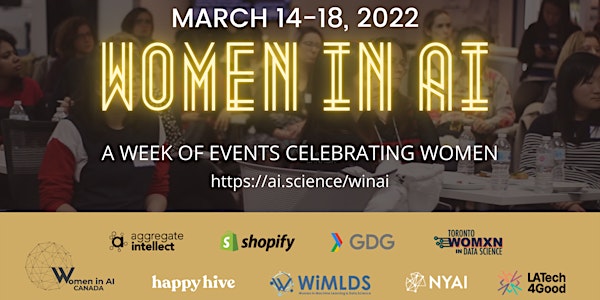 Women in AI Week (WinAI) 2022 Kick Off Event!
Let's kick off Women in AI Week 2022! We highlight awesome women in the AI community & the problems they're solving.
Date and time
Monday, March 14, 2022 · 3:30 - 5:30pm PDT
Refund Policy
Contact the organizer to request a refund.
Eventbrite's fee is nonrefundable.
About this event
In March 2022, Aggregate Intellect will be hosting Women in AI Week in partnership with NYAI.co, Google Developer Group, Shopify, WomxnDSTO, Happy Hive, WiMLDS NYC, Women in AI Canada, PureFacts Financial Solutions, and in an effort to celebrate and promote women in the field of AI & machine learning.
For more Women in AI Week Events check out the main event site: https://ai.science/_m/winaiweek
We invite you to join our concentrated effort of showcasing interesting projects and careers with the goal to not only provide information and education, but also attract and inspire more women to join the field. We'll hear from 4 speakers in field
If you want to learn more about us, check out ai.science or say hi winai@ai.science
The event will be on zoom. The link will be emailed to you after you register.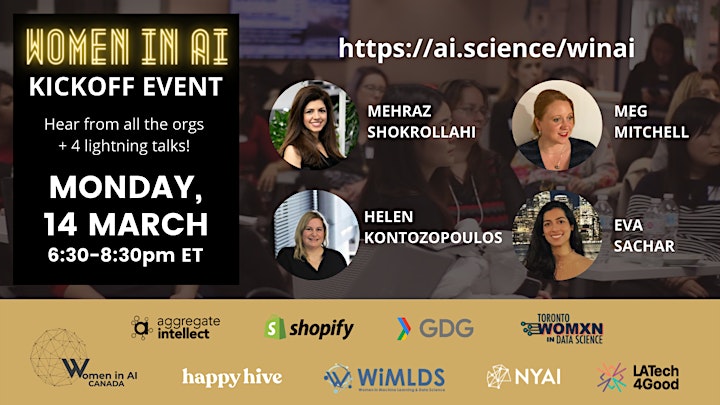 Agenda:
6:30pm - Welcome & Introductions (hear from all Organizers about their org + their event later in the week!)
6:45pm - Lighting Talk #1: Meg Mitchell
6:55pm - Lighting Talk #2: Mehrnaz Shokrollahi
7:05pm - Breakout Rooms: Round #1 with invited guests
7:35pm - Lighting Talk #4: Helen Kontozopoulos
7:45pm - Lighting Talk #5: Eva Sachar
8:05pm - Breakout Rooms: Round #2 (same set up as before)
8:25pm - Closing Remarks
8:30pm - End of Event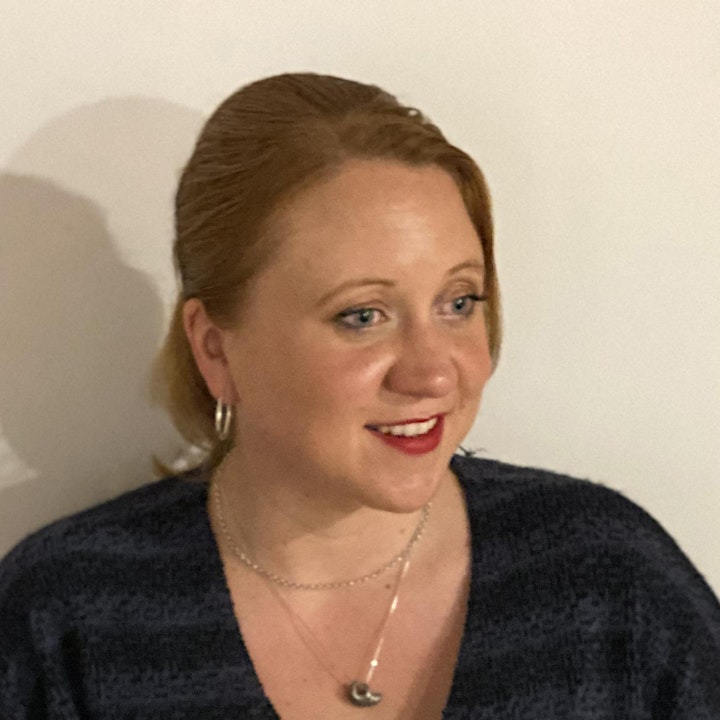 Margaret Mitchell is a researcher working on Ethical AI, currently focused on the ins and outs of ethics-informed AI development in tech. She has published over 50 papers on natural language generation, assistive technology, computer vision, and AI ethics, and holds multiple patents in the areas of conversation generation and sentiment classification. She previously worked at Google AI as a Staff Research Scientist, where she founded and co-led Google's Ethical AI group, focused on foundational AI ethics research and operationalizing AI ethics Google-internally. Before joining Google, she was a researcher at Microsoft Research, focused on computer vision-to-language generation; and was a postdoc at Johns Hopkins, focused on Bayesian modeling and information extraction. She holds a PhD in Computer Science from the University of Aberdeen and a Master's in computational linguistics from the University of Washington. While earning her degrees, she also worked from 2005-2012 on machine learning, neurological disorders, and assistive technology at Oregon Health and Science University. She has spearheaded a number of workshops and initiatives at the intersections of diversity, inclusion, computer science, and ethics. Her work has received awards from Secretary of Defense Ash Carter and the American Foundation for the Blind, and has been implemented by multiple technology companies. She likes gardening, dogs, and cats. She currently works at Hugging Face as a researcher and lead ethics scientist
Talk Title: Responsible AI & Tech Ethics
Follow Meg: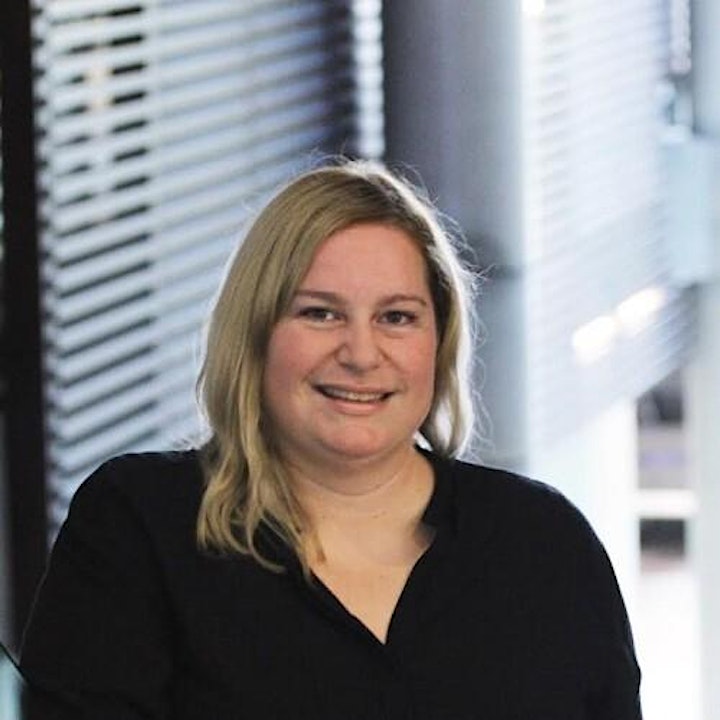 Helen Kontozopoulos co-founded ODAIA in 2018, an AI-powered commercial insights SaaS platform for the Pharma industry. She has over 9 years of experience in teaching product development, design and entrepreneurship as an Adjunct Professor in the Department of Computer Science (UTSG) and Department of Computer and Mathematical Sciences (UTSC) at the University of Toronto. Helen Co-founded the Department of Computer Science Innovation Lab - UofT Startup incubator in 2015. In her spare time she makes digital art.- aiartist.ca
Talk Title: An AI startup story: building in the unfamiliar
Follow Helen: https://twitter.com/helenissocial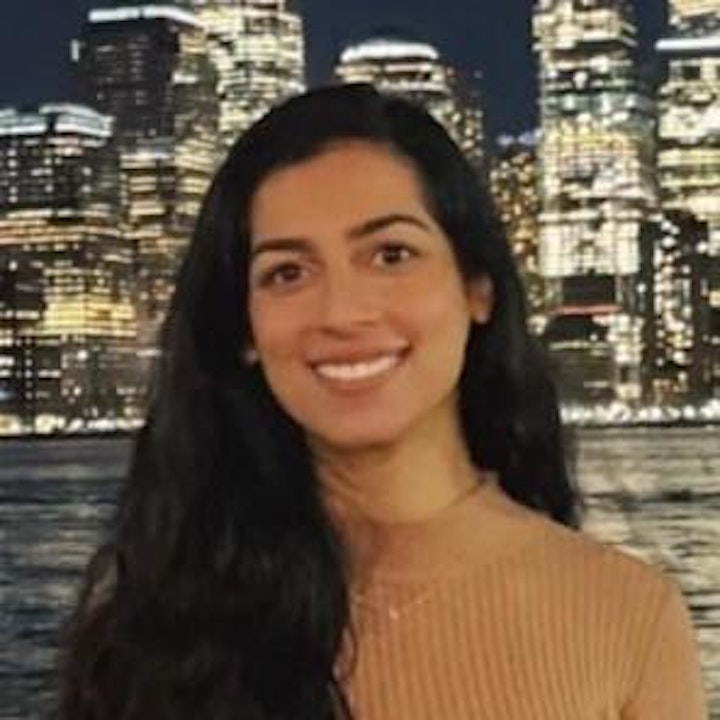 Eva Sachar serves on the Leadership Council for LA Tech4Good, where she focuses on educating data practitioners on foundations and best practices related to data equity and ethics. Her industry experience has been focused on implementing advanced analytics and machine learning solutions in Healthcare and Public Service. Eva is passionate about our social responsibility to develop AI that is both ethical and equitable.
Eva is currently working towards an MA in Statistics at Yale University. She received a BS from Tufts University with double majors in Applied Mathematics and Computational Economics, and high honors for her thesis, "A Data Science Approach to Identifying Gentrification in Providence, RI".
Talk Title: Data Equity, AI Ethics, & Your Work
Talk Summary:
From social media to complex social problems, data-driven decision-making impacts all of us, requiring a closer look at what assumptions are being made in the data, whose perspectives are represented in algorithms, and how these impacts may disproportionately affect different communities. It is critical that women are represented in data and AI teams so that technology doesn't magnify social biases and reflect inequities of the past onto the future.
Whether you're a data-informed decision-maker, data scientist, machine learning engineer, or data analyst, you play a critical role in fighting for equity in data. Join us to learn about foundational concepts of data equity and AI ethics and best practices from academia to introduce to your current projects to make your data practices more equitable. Building fluency in these concepts and bringing the data community together to hold each other accountable to implementing better practices and innovating responsibly is essential as we look to the future.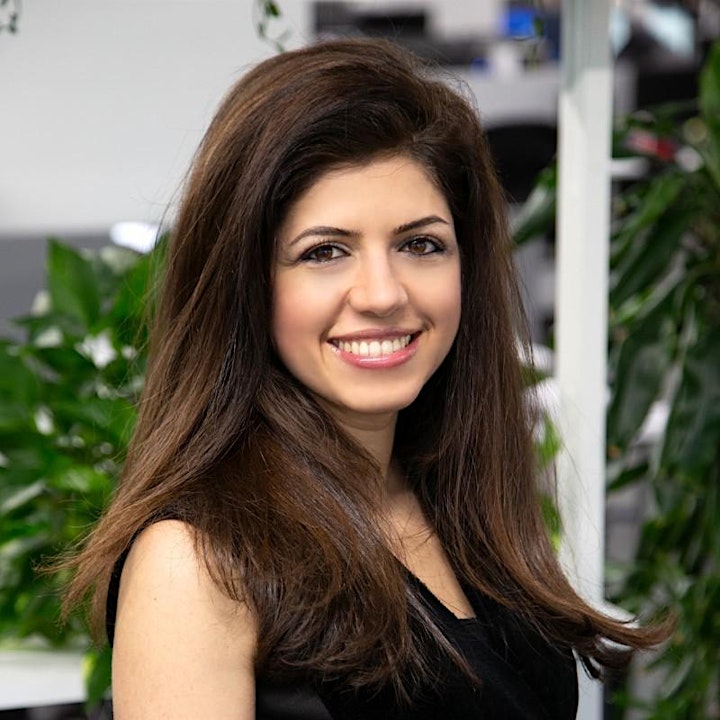 Mehrnaz Shokrollahi is an AI Team Lead at PureFacts Financial Solutions, where she helps the team of talented people transform financial data into reliable infrastructure, apply machine learning models to gain insights and provide value to wealth management industries. Prior to this, Mehrnaz was a Senior Data Scientist at Flipp. Her roles were to develop predictive models to detect user churn, predict user revenue, predict campaign budget allocations and to provide insights to other stakeholders. She also designed for the first time in Flipp a deep learning algorithm based on image processing and computer vision to classify image categories.
Talk Title: My Journey and how I am Paying it Forward
Talk Summary:
In this I will talk about my journey and experiences as an immigrant to Canada all the way to my current position at PureFacts and how I am paving the way forward.
Follow Mehrnaz: https://www.purefacts.com/insights/mehrnazs-post
About the organizer
A.I. Socratic Circles (#AISC) is a community of intellectually curious individuals centred around technical review and discussion of advances in machine learning.
We are a welcoming, supportive community of machine learning practitioner and researchers. Our technical backgrounds are diverse; we come from industry and academia, with an array of experience, from avid learners to experts in their fields.
Our group is centred around consistent meetings focused on meticulous but friendly discussions of advances in machine learning (typically scientific publications). In our discussions, we strive to cover both intuitive conceptual understanding and foundational mathematical details.