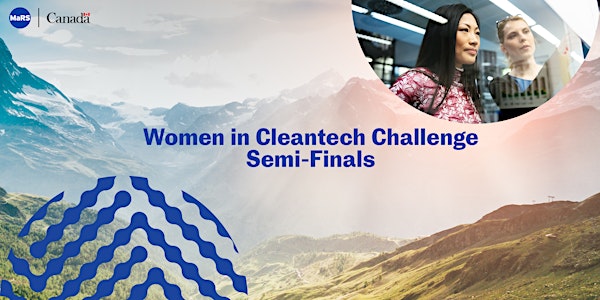 Women in Cleantech Challenge Semi-Finals
When and where
Location
MaRS Discovery District 101 College Street Auditorium Toronto, Ontario M5G 1L7 Canada
Description
On September 18, MaRS and Natural Resources Canada invite you to the Women in Cleantech Challenge Semi-Finals.
Watch as 10 finalists pitch their ideas in front of our Challenge Jury, a prestigious group of technical experts joined by Canadian author, poet, and inventor Margaret Atwood. The jury's mission: select five innovative women to participate in an intensive 30-month accelerator program and compete for the Challenge's million-dollar grand prize.
It's a fact: more female cleantech innovators means a stronger and more inclusive Canadian economy. The Women in Cleantech Challenge Semi-Finals is a great opportunity for you to join the movement.
Our goal is to identify top female innovators from across the country who are developing technologies that tackle the world's most daunting energy and environmental challenges. We want to help them rapidly advance their breakthrough ideas into market-ready products with the potential for global impact. To learn more visit: www.womenincleantech.ca.
Agenda
Semi-Finals: 8:30 a.m.–12:30 p.m.
---
Le 18 septembre, MaRS et Ressources naturelles Canada vous invite à la demi-finale du Défi des femmes en tech propres avec la juge invitée spéciale, Margaret Atwood.
Observez les 10 finalistes qui présenteront leurs idées devant le jury de notre Défi, un groupe prestigieux d'expertes techniques rejointes par l'auteure reputée, poète et inventrice canadienne, Margaret Atwood. La mission du jury : sélectionner 5 femmes novatrices qui prendront part à un programme intensif d'accélération d'une durée de 24 mois et se disputeront le grand prix de 1 million de dollars du Défi.
C'est un fait : un plus grand nombre de femmes novatrices en technologies propres se traduit par une économie canadienne plus forte et plus inclusive. La demi-finale du Défi des femmes en tech propres constitue une occasion idéale de vous joindre au mouvement.
Nous aspirons à repérer les innovatrices les plus prometteuses, d'un océan à l'autre, qui mettent au point des technologies s'attaquant aux plus grands défis mondiaux en matière d'énergie et d'environnement. Nous tenons à leur permettre de faire rapidement progresser leurs idées révolutionnaires pour les transformer en produits prêts à mettre sur le marché, porteurs d'un potentiel de répercussions d'envergure mondiale. Pour en savoir plus, visitez le site www.femmestp.ca.
Horaire
Concours de présentation d'idées : de 8 h 30 à 12 h 30