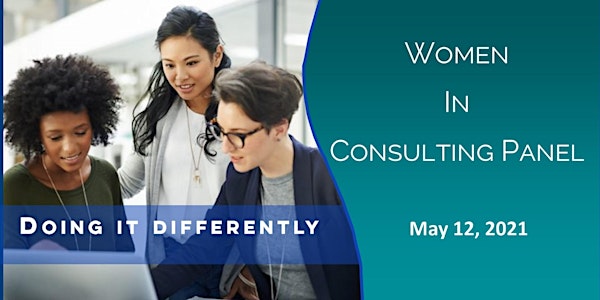 Women in Consulting | Doing it Differently
An open discussion with 4 CMCs who exemplify excellence in their respective fields. Learn from them what Doing it Differently is all about
Date and time
Wed, May 12, 2021 9:30 AM - 10:45 AM PDT
About this event
We're highlighting women in professional consulting - how women can enter the profession, be successful, and meet the unique challenges of working in and influencing an often male-dominated industry. Join us for the 'What's up Wednesday' Digital Series on May 12 to explore women in consulting. Our panel consists of four Certified Management Consultants who exemplify excellence in their respective fields. We'll learn from them how women approach consulting and leadership differently with positive results. We've extended the time to allow participants to join the discussion and share their experience.
Our panel
Moderator: Lyn McDonell, FCMC, C. Dir., President of The Accountability Group
Dominique Dennery, FCMC, IAF, PROSCI, Health & Wellness Coach and Facilitator
Eva Maxwell, CMC, Management Consultant at Gelder, Gingras & Associates
Sonya Gulati, CMC, Senior Manager at KPMG
Learn more about the panel
Check out Eva's new blog post for some great perspective on how you can affect change in your own organization. On the Road to Gender Equality
Some Topics we will be exploring:
How to get into consulting… no matter what stage of career
If women approach consulting differently with unique ways of seeing, listening and relating to clients, team members, and networks beyond the firm
What the real challenges are
Whether and how women of colour face special hurdles and what can be done to elevate their visibility, voice, leadership and impact
In an open discussion, panellists will hear from the participants and answer their questions. If you have a question to pose in advance to the panel, please register and ask your question via the registration process. The panellists will be reviewing all feedback and will do their best to respond to the main interest areas.
This session is open to all CMC members and guests, we encourage you to invite others in your organisation to join us. #DoingItDifferently
Event Details
Who: Everyone is welcome from across Canada and beyond
Cost: Free to members and guests
Format: Online Interactive Zoom Presentation and Dialogue
Join us for an engaging lunch, brunch or breakfast session, depending where you are. It's a terrific opportunity to meet new people and socialize with your peers.
Login details will be provided after registration. We hope to see you there!
The Ontario Institute has a mandate to provide learning and networking opportunities to its membership. As part of our efforts in this area we are pleased to offer our WHAT'S UP WEDNESDAY SERIES crafted with consultants in mind.
On the second Wednesday of every month, we will hold, free sessions on areas of interest to the consulting community. Every event will be 1 hour long, beginning at 12:30PM Eastern time.
WHAT'S UP WEDNESDAY
June 9, 2021 Risk and Risk Management Demystified
A Practical Approach for Adding Client Value Register here
Mark your calendar and stay tuned for more great opportunities to engage!