Women in STEM Leadership : Celebration of Success & Learning from Failure

Thursday, 11 April 2019 from 6:30 PM to 8:30 PM (PDT)
Event Details
Join IEEE Women in Engineering (WIE), Society of Canadian Women in Science and Technology (SCWIST) and Immigrants Services Society of BC (ISSofBC) in this STEM Women in Leadership Panel discussion.
Our women leader panelists will share and discuss their failures, challenges, and things they do that help them to succeed in their career.
Only with the celebration and recognition of failures, can we then lead to the path of success!
---

THE PANEL




Christin Wiedemann
President of Radical I/O
SCWIST Board Member
Co-Chair of Women in Communication and Technology
After finishing her Ph.D. in Physics at Stockholm University in 2007, Christin Wiedemann started working as a software developer, but soon discovered that she found software testing to be more interesting and challenging. Changing careers, she started working as a tester, and soon also test lead and trainer.
In 2011, she moved to Canada, joining a local consulting company as a test lead. She soon assumed the role of Chief Scientist, using her scientific background to drive the company's research and method development, training and marketing. Her strong drive and natural leadership abilities led to her promotion to first Regional Manager, and later Executive Vice President. In 2019, Christin joined Radical I/O as President, and in her new role she provides strategic leadership by establishing long-term goals, strategies, plans and policies.
As a consultant, Christin has been fortunate enough to work on a variety of projects in very different environments, ranging from hundred-people projects to transition off a mainframe to five-people projects building mobile apps. Her work has increasingly been focused on coaching and training.
Christin is a passionate advocate for women in STEM, a passion she pursues through work and volunteering. She has been on the Board of Directors for SCWIST, the Society for Canadian Women in Science and Technology, since 2015, and in 2018 she took on the role of Co-Chair of the BC Chapter of WCT, Women in Communications and Technology.
LinkedIn: https://ca.linkedin.com/in/christinwiedemann Twitter: @c_wiedemann
---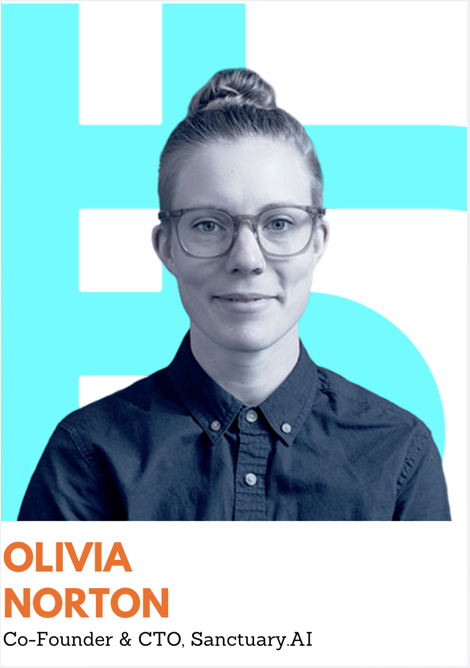 Olivia Norton
Co-Founder and CTO
Sanctuary.AI
Olivia is an engineer and maker of minds at Sanctuary. Prior to founding Sanctuary, where she is the CTO, she was the lead engineer for the Artificial General Intelligence group at Kindred AI. Her professional experience includes software consulting in the oil and gas industry, as well as research and development work in the field of biomedical imaging at the Institute for Bio-mechanics at ETH Zurich. In her spare time Olivia runs marathons, tends her garden, and binges on sci-fi/fantasy novels. She is a sommelier in training and a certified yoga teacher. Olivia holds a Bachelor of Science with distinction in computer engineering from University of Calgary and a Master in Engineering in electrical and computer engineering from University of British Columbia. She is also one of BC Business' Top 30 Under 30 for 2018.
---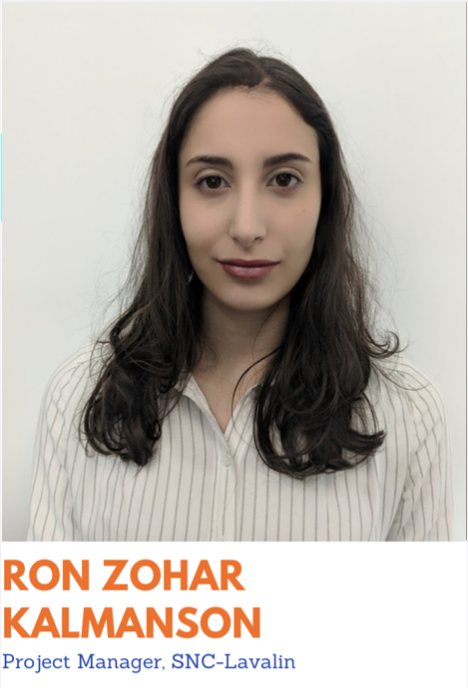 Ron Zohar Kalmanson
Project Manager, SNC-Lavalin
Ron Kalmanson is a Project Manager with over 8 years of experience in the power industry. Prior to her move to SNC-Lavalin where she currently works, Ron was a  transmission lines engineer for major engineering companies, including Amec Foster Wheeler and Geodigital. In addition to her British Columbia P.Eng, Ron holds a Washington State P.E Licence, as well as a PMP. In the past, Ron has volunteered with the IEEE Young Professionals and APEGBC to promote Women In Engineering and equality in the workplace. 
---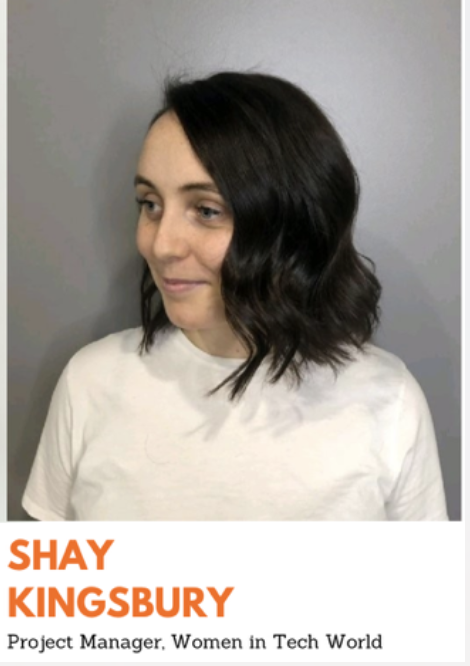 Shay Kingsbury
Development Manager, EA Games
Project Manager, Women in Tech World

Shay Kingsbury is a Development Manager at EA Games, and Project Manager for the not-for-profit research organization Women in Tech World. She spends her daylight hours building world class development teams and delivering software projects. And her evening hours leading delivery across volunteer teams at Women in Tech World, including the operations, research, content and marketing teams.
---
When & Where

Immigrant Services Society of BC (ISSofBC) Welcome Centre
2610 Victoria Drive
Vancouver, BC 5N 4L2
Canada

Thursday, 11 April 2019 from 6:30 PM to 8:30 PM (PDT)
Add to my calendar
Organizer
The Society for Canadian Women In Science and Technology, or SCWIST, was founded in 1981 as a registered charity and non-profit association aimed at encouraging women into science, engineering and technology; supporting and promoting the education of girls and women through programs and activities in partnership with the community.
VISION: 
To create an environment where women and girls in Canada can pursue their interest, education, and careers in STEM (science, technology, engineering, mathematics) without barriers.
MISSION: 
To provide activities, mentorship, and leadership that support women and girls in accomplishing their dreams

 To remove barriers and raise public awareness by promoting and advocating for inclusive policies and equitable practices in education, the workplace, and in government

To inspire innovation and encourage excellence through positive role models and outreach programs

To foster connections through professional networks and programs we develop in partnership with the community

To boost the numbers, retention, and status of women in the workplace by facilitating networking, mentoring, and advocating woman-friendly policies