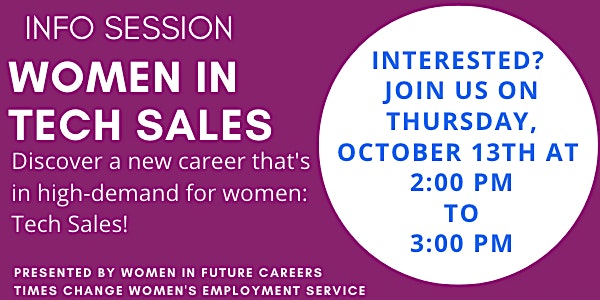 Women in Tech Sales Info Session
Discover a new career that's in high-demand for women: Tech Sales
About this event
Tech companies are actively recruiting women for roles in Tech Sales. Could this be a new career path for you? It's possible!
What is Tech Sales?
What skills do you need? (The transferrable kind)
What training is available?
Do you need to be "techie" to be in Tech Sales? (Spoiler: No!)
Join us to discover more about this exciting career with our guest speaker, Kim Benedict, CEO and Co-Founder of TalentMinded and the Women in Tech Sales Bootcamp.
More about our guest speaker:
Kim Benedict has been in recruitment for over 20 years with the last 7 years building and growing TalentMinded - the first subscription based, full service recruiting solution company in Canada. TalentMinded works with largely B2B SaaS tech companies all over the world especially focused on fast growing scale-ups that are purpose driven.
Kim is also the co-founder of the Women in Tech Sales Bootcamp which has trained over 180 women at all stages of their career and helping them secure tech sales positions with some of the most notable brands like Softchoice, Ceridian, Freshbooks, Clio, Achievers and many more.
When not working on TalentMinded - Kim can be found at her cottage in Muskoka exploring new ATV trails, bass fishing and spending time with family.
**Register today and watch your email inbox (even Junk or Spam) for your Order Confirmation, which will have your Zoom link to access at event time.**