Description
The Redwood's Women in Trades and Technology Conference is a one day conference that will allow those who identify as women to learn more about nontraditional careers in skilled trades and technology jobs that require certification, an apprenticeship and/or a college level education. There will be a key-note speaker and panel discussions; hands-on demonstrations by industry professionals; information provided by unions, colleges and associations; and registration for programs.
Snacks and lunch will be provided for free, as well as free childcare available (maximum of 30 childcare spots available). The event will be happening in Metro Hall's Rotunda, which is on the main floor. For more information, please visit http://www.theredwood.com/join-us/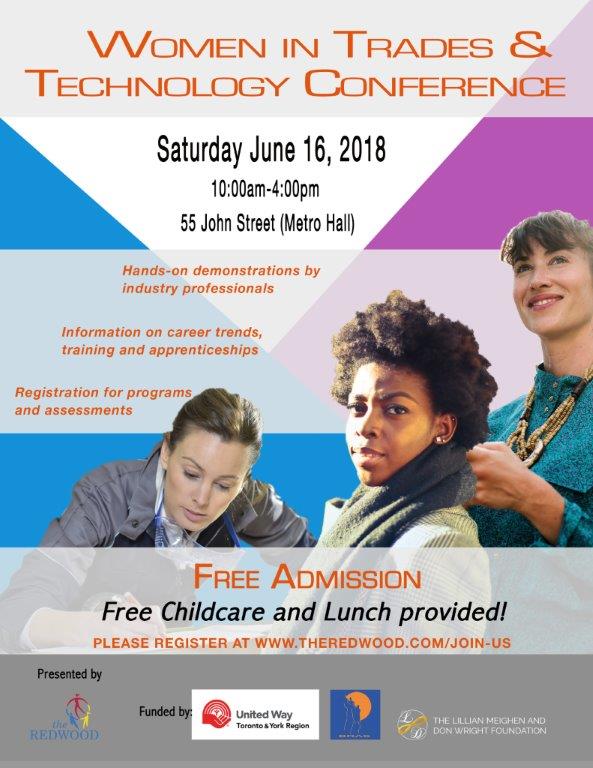 Panelists' bios will be added on a daily basis.
PANELISTS:
Tara Wilkins is the Director of Marketing and Sales and a Digital Marketing Instructor at Camp Tech, Canada's leading tech and digital skills training company. Outside of Camp Tech, Tara curates a weekly email newsletter for The Makers Nation, hosts The Enneagram Collective T.O Meetup and co-hosts a comedy podcast about the Enneagram.
Melanie Holmes is an equity driven and inclusive student services professional who thrives on supporting the diverse needs and lived experiences of the student community. Equalizing social, cultural, and economic capital for underrepresented populations drives her professional work. As the Community Outreach Coordinator for Women in Non-Traditional Careers at Centennial College for the past six years, Melanie actively facilitates and case manages students' personal, academic, and social development as they transition in, though, and beyond the College for some of Centennial's most high-risk and high-needs students. Throughout her career Melanie has always acted as an advocate for access to post-secondary education and is a fierce ally to women in skilled trades and technology. Melanie is an engaged and active student services professional who is empathetic and understanding of the barriers of the students she serves.
Tracy Leparulo is a Blockchain Futurist in downtown Toronto and the Founder of Untraceable Inc. She is an early advocate for blockchain technology and is committed to growing an inclusive crypto community. In 2013, Tracy expanded her event management business and successfully launched Untraceable Inc. Since then, she has worked on various projects from wallets and exchanges to certified training. Her and her team have also organized hundreds of events such as the first Ethereum hackathon in the world, the first Bitcoin Expo in Canada, ETHWaterloo, and the firstt token conference--Polycon. Her extensive event management experience and marketing expertise fuel her ability to create unforgettable events. As an entrepreneur and early crypto investor, Tracy always finds creative ways to seamlessly integrate innovative tech to create immersive experiences.
Pina Trimarchi, of TradeLinx Labour Education Centre, has over 18years of experience in Employment Services for non-for profit government funded programs. Certified Human Resources Leader , Certified MOL Heath and Safety Instructor with a diploma in Career and Work Counselling from George Brown College.
Anna Willats has been a Toronto-based social justice and women's rights educator, advocate, and organizer for over 35 years. As a professor in the Assaulted Women's and Children's Counsellor/Advocate Program since 2000, and a project manager of the Ministry of the Status of Women Ontario funded Women Transitioning to Trades & Employment Program at George Brown College since 2007; she supports women and gender diverse people to prepare for post-secondary education and employment in a variety of sectors, with a focus on skilled trades and non-traditional occupations. Anna is committed to working collectively in a variety of ways for meaningful and progressive socio-economic change, from the ground up!​
Deanna Wheeler is a carpenter who lives in the Greater Toronto Area. She has had many jobs which include residential framing and renovations, commercial renovations, new hospitals, cabinet and furniture making, welding, and tv and film sets. She pursued a career in carpentry two years after graduating high school and took 5 years to complete her apprenticeship. She is now a certified inter-provincial red seal carpenter and works for the Toronto district school board as a full time carpenter building playgrounds and parks for schools. Deanna is thankful for the opportunity to pursue a career in her field of choice and from the encouragement she gets from family, friends and strangers. She hopes to inspire more women to consider choosing a skilled trade as a career.
In Temi Odesanya's own words: "I have worked in the field of Business Intelligence (BI) and Advanced Analytics across industries spanning financial services, retail, hospitality, telecommunications, manufacturing and consulting industries and I have a robust passion for making data dance to the rhythm of business challenges through team spirit. I received a Bachelor of Science in Management Information Systems, a certificate in Salesforce and Customer Relationship Management analytics and recently completed a master's in management- Business Analytics at the Ivey School of Business (Western University). I'm also a 2018 recipient of Panoply's Women Who Kick @$$ in Data Analysis, Science and Engineering. I have found an exciting passion and continue to strive at learning through mentoring and team collaboration in the field."
In Lolly Jeng's own words: "I have been employed in the construction industry as a Drywall taper after graduating from Drywall school in 2017. I was homeless living in Scarborough when I applied and got into drywall school. I travelled for up to 2 hours to get to school after I was introduced to the trades but quickly realized I had found my niche once I started apprenticeship training. I appreciate the financial freedom my work provides me and I'm always open to speak to others about my experience of being a woman in the trades"
In Melisa Illescas' own words: "I have been a LiUNA local 506 member since 2010. After working in Asbestos Abatement Removal and Demolition, in 2013, I enrolled in the Construction Craft Worker program through our Training Centre. In December 2015, I became the first female from LiUNA Local 506 and the College of Trades to obtain the Red Seal as a Construction Craft Worker Journeywoman. I also have an extensive training record, which includes various heavy equipment, such as Telehandler, skid steer and excavator. I have worked with well known companies as well as the College of Trades and many knowledgeable individuals. My experience as a Labour in a male dominated trade has been a tremendous learning experience for me as there are many barriers in which I have overcome. Being a Labour is about constantly keeping with training, learning new skills, methods and modifying the work to better execute tasks more efficiently and safely".
In Margaret Manwaring's own words: "I am Margaret Manwaring, electrician, recently retired from the Ford Motor Co. in Oakville, Ontario. I currently work part time. I hold both my Construction/Maintenance license and a Master Electrician license. I am a proud member of Unifor Local 707.
My career in the electrical trade began with a victory for the Women into Rail Campaign back in the early 1980's. A federal Human Rights Tribunal hearing found that CN Rail had been systematically denying women access to work in the skilled trades. The tribunal ruled that CN had to offer apprenticeship opportunities to the complainants and then open the door to future hiring. And that is how I got my start as an apprentice electrician on the railroad.
I loved my job at Ford where I worked with multifaceted automation, including a great deal of robotics.
A career in Skilled Trades is one of lifelong learning and many, many different opportunities. During my career I have participated in Joint Apprenticeship Committees, providing oversight and leadership to the apprenticeship system at Ford. I have also participated as a trainer in Unifor's education program "Women in Trades and Technology Awareness" since its debut in 2001. I have done mentoring and public speaking to promote skilled trades as a career option for youth and for women in particular.
I am thrilled to see women making progress in obtaining skilled trades apprenticeships and increasing our numbers in these excellent jobs!"