Monthly Lunch & Learn Series to bring together women in the sport and physical activity sector (and beyond) to discuss a range of topics.
About this event
As an extension of our successful Women & Leadership Series, we will be offering monthly Lunch & Learns to once again bring together women in the sport and physical activity sector (and beyond) who are looking to advance their leadership skills, meet other like-minded women, and learn from guest presenters on a range of important topics. Through interactive sessions, participants will hear from women in leadership roles on topics such as Social Justice & Anti-Racism, Diversity & Inclusion, Fundraising & Sponsorship, Accessible Sport, Mentorship & Career Progression, Mental Health & Preventing Burnout. Women who are aspiring to be leaders in their fields and women who are already established leaders are invited to join together and share their stories and experiences in a safe and inclusive environment, leaving each session feeling empowered, included, and knowledgeable on a topic they may not have considered before.
$5 from each registration will be donated to a local and relevant charity/organization.
January: Local Chapter - Canadian Mental Health Association | February: KidSport BC | International Women's Day: ProMOTION Plus | March: BC Women's Health Foundation | April: Athletics4Kids | May: Dress for Success
*These events will be held virtually through Zoom for the foreseeable future. You must register for each event separately. We'll see you on Zoom!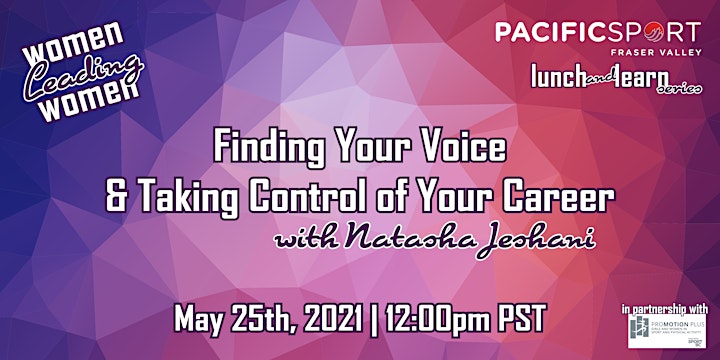 We welcome Natasha Jeshani, an HR professional, to present on all things Human Resources! She will touch on finding your voice, leadership & mentorship, negotiating, career progression, and more!
Caring about the companies she supports and the candidates she places – Natasha landed HER dream job when she opened her own HR and Recruitment Consulting Firm. The dream was simple - do good work, with good people.Natasha is the President and CEO of Career Contacts, an HR and Recruitment consulting firm, as well as the Author of a best selling career services book called The HR Insider, how to land your dream job, and keep it.
As a Global HR and Recruitment Consultant, and Author, Natasha holds a Sociology degree from UBC and an HR Management Certificate, with distinction, from BCIT. Her extensive academic, as well as hands-on experience in various areas of people management, has provided lasting legacies in HR protocols and policies.