Sales Have Ended
Registrations are closed
Tickets for this event have ended. Please contact sfournier@pacificsport.com if you have any questions.
Sales Have Ended
Registrations are closed
Tickets for this event have ended. Please contact sfournier@pacificsport.com if you have any questions.
Monthly Lunch & Learn Series to bring together women in the sport and physical activity sector (and beyond) to discuss a range of topics.
About this Event
As an extension of our successful Women & Leadership Series, we will be offering monthly Lunch & Learns to once again bring together women in the sport and physical activity sector (and beyond) who are looking to advance their leadership skills, meet other like-minded women, and learn from guest presenters on a range of important topics. Through interactive sessions, participants will hear from women in leadership roles on topics such as Social Justice & Anti-Racism, Diversity & Inclusion, Fundraising & Sponsorship, Accessible Sport, Mentorship & Career Progression, Mental Health & Preventing Burnout. Women who are aspiring to be leaders in their fields and women who are already established leaders are invited to join together and share their stories and experiences in a safe and inclusive environment, leaving each session feeling empowered, included, and knowledgeable on a topic they may not have considered before.
$5 from each registration will be donated to a local and relevant charity/organization.
January: Local Chapter - Canadian Mental Health Association
February: KidSport BC
International Women's Day: ProMOTION Plus
March: BC Women's Health Foundation
April: TBD
May: Dress for Success
*These events will be held virtually through Zoom for the foreseeable future. You must register for each event separately. We'll see you on Zoom!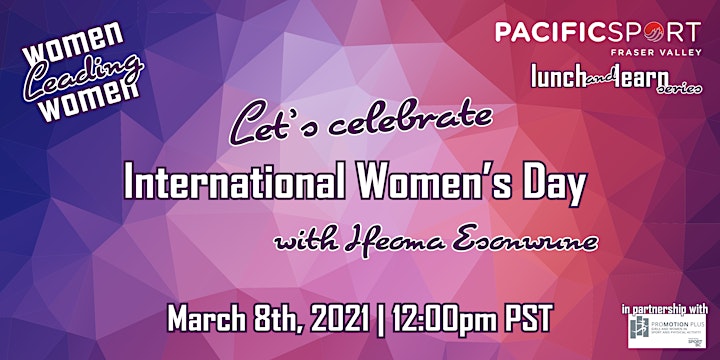 BONUS LUNCH & LEARN ALERT!
We've added an additional Lunch & Learn to celebrate International Women's Day on March 8th and are excited to host Ifeoma Esonwune for an empowering conversation surrounding Women, Power, and Leadership!
Women are rising and assuming elite leadership positions, but progress towards gender parity remains low. Women represent only a fraction of the percentage of their counterparts in both corporate and political leadership. This IWD Lunch & Learn will discuss gender, leadership styles, and the effectiveness of our differences. We will explore approach, strength, criticism & much more!
Ifeoma Esonwune is a dynamic, empathetic and enthusiastic international speaker and publisher. She is an award winning entrepreneur, communication strategist, community leader and influencer, business and leadership coach, and a food enthusiast.
Ifeoma is the founder and CEO of Network for the Empowerment of Women, the owner of Matella Event Concepts and the Publisher of Rise and Lead Women's Magazine. Ifeoma is devoted to empowering and helping women discover their potentials, become transformational leaders, and turn their passions into profitable business ventures. She loves to inspire and positively engage the youths in her community and around the globe. Ifeoma has won several awards for her leadership and vision, and has been featured in multiple mainstream media channels.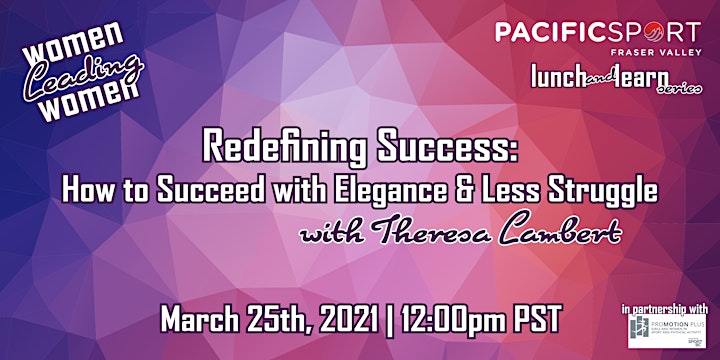 Our March session will be presented by Theresa Lambert. A full explanation of what to expect can be found below straight from Theresa!
Many of us have been taught to believe that we've got to be good at doing many things at once if we want to "get ahead". That we've got to be the one that hustles hardest in order to make it to the top. Our society doesn't celebrate focus,⁠ or pace,⁠ or due diligence…⁠Our society celebrates overnight success, rapid acceleration, and one hit wonders.⁠ We want people to succeed in the limelight, and we want it to happen fast!⁠ And so we start, and we do not stop.⁠ We keep pushing through, even when we feel tired.⁠ We keep going, even though our body is telling us to stop.⁠ We keep showing up, because we are afraid of what will happen if we stop.⁠
And then one day you find yourself out of touch with your heart's calling…⁠ Your relationships start to feel repetitive. Your rituals are lacking (remember weekends?). You are neither tuned in or turned on. You are deep in routine.⁠ You are stuck in a pattern of measuring productivity.⁠ You are undervaluing things that don't have a visible currency... Not paying attention to your energy levels or personal radiance!
And one day you wake up tired.⁠ Too tired to pretend, too tired to keep going, too tired to see the benefits of the success…⁠ That's the exact place I found myself in. After spending years in the corporate world, I realized that far too many women were pushing themselves to their absolute limit just to be seen. I, too, spent years climbing the ladder, and when I reached the top, I realized I had done it backwards…
I placed more priority on making a living than actually living and I don't believe we have to live that way to define our success over a lifetime. Are you ready to experience success the elegant way? Come join us for this lunch and learn and let's redefine the meaning of success, for you, for me, for all of us.
Theresa Lambert is the Bestselling Author of Achieve with Grace: A guide to elegance and effectiveness in intense workplaces, a professional coach, mindset strategist and speaker. She founded her coaching and consulting firm, Theresa Lambert Coaching & Consulting Inc., to teach high-achieving women to succeed with more elegance + less struggle.
Drawing from her nearly 20 years of experience in the hospitality Industry and most recently her 6 year tenure as the General Manager of Nita Lake Lodge she brings both a real world view and proven applicable tools to support her clients. Theresa has been recognized as a business leader in Whistler's Profiles of Excellence, featured in Thrive Global, Authority Magazine, Hotelier Magazine and Beyourown, and spoken at Women in Hospitality Leadership events, including Empower Her. Originally from Stuttgart, Germany, Theresa now lives in Whistler, BC where you can most often find her on the golf course in the summer months or relaxing by a fireplace in winter.
April's session will be presented by Manpreet Dhillion, an equity, diversity, and inclusion specialist. Maximizing Diversity of Thought in Inclusive Communities will cover how to engage ideas from a diversity of perspectives, what you can do to be a more inclusive community member, and how you can facilitate more inclusive community experiences for all!
Ranked #15 globally on the 2020 EmPower Ethnic Minority Future Leaders list, Manpreet Dhillon is an equity, diversity, and inclusion specialist with a unique lens as a leadership coach for people of culture empowering them for equality of pay and representation. She focuses on creating systemic change to address institutionalized inequalities through representation from the communities being served.
Manpreet has over 20 years of leadership, coaching, human resources, and community development expertise.
Manpreet is the founder/CEO of Veza Global and an Entrepreneur in Residence with Women's Enterprise Center. Veza has worked with the following selected notable organizations, including UN affiliate: Organization for the Prohibition of Chemical Weapons, UN Women, BC Cancer Foundation, Allied REIT, HR Tech Group, Immigrant Employers Council of BC, 7-Eleven and Terramera. She also led a trade mission of women entrepreneurs to Croatia – one of the first held by a private company to further the mission of increasing export by women entrepreneurs.
Manpreet has held positions as a board member of Canada India Education Society, liveBIG Society, British Columbia Institute of Technology Alumni Board of Directors, past Board Member of Royal Roads University, and has served on various arts and health boards. Manpreet is a twice contributing author to Chicken Soup for the Soul, and a contributing author to Forbes, Thrive Global, and Small Business BC. She received her Masters in Organizational Management and resides in Vancouver, BC, Canada.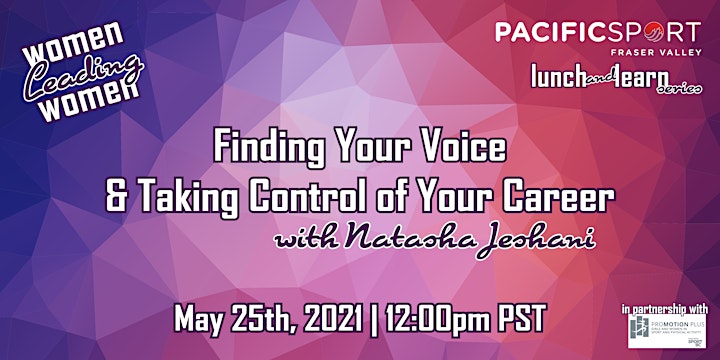 We welcome Natasha Jeshani, an HR professional, to present on all things Human Resources! She will touch on finding your voice, leadership & mentorship, negotiating, career progression, and more!
Caring about the companies she supports and the candidates she places – Natasha landed HER dream job when she opened her own HR and Recruitment Consulting Firm. The dream was simple - do good work, with good people.Natasha is the President and CEO of Career Contacts, an HR and Recruitment consulting firm, as well as the Author of a best selling career services book called The HR Insider, how to land your dream job, and keep it.
As a Global HR and Recruitment Consultant, and Author, Natasha holds a Sociology degree from UBC and an HR Management Certificate, with distinction, from BCIT. Her extensive academic, as well as hands-on experience in various areas of people management, has provided lasting legacies in HR protocols and policies.
Date and Time
Location
Refund Policy