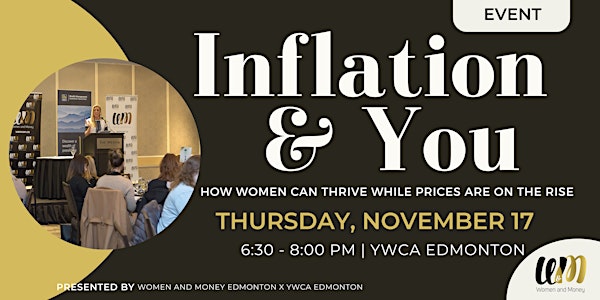 Women & Money Presents: Inflation & You
Join us for an evening of connection, conversation and education!
When and where
Location
YWCA Edmonton 10402 124 Street Edmonton, AB T5N 1R5 Canada
About this event
November is Financial Literacy Month! Join us for "Inflation & You," featuring three speakers all sharing their advice and insights into how women can not only survive but thrive as costs rise.
Managing your finances means finding the right balance. Inflation and higher interest rates signal that you may need to adjust your budget to find the right balance between paying down debt and daily spending. The right balance will depend on your financial situation and goals.
This Financial Literacy Month, learn about good versus bad debt and how to manage your money in a changing world.
Location:
YWCA Edmonton | 10402 124 St, Edmonton, AB T5N 1R5
Parking & transportation information is below!
Tickets:
Limited tickets available!
$10.00 +GST
Registration closes on November 17, 2022, at 6:45 P.M. (MDT)
What to Expect:
6:00 pm Doors open, grab a drink and a light snack and connect with the Women and Money community
6:30 pm Welcome from Women and Money & YWCA Edmonton
6:35 pm Speaker #1
6:50 pm Speaker #2
7:05 pm Speaker #3
7:20 pm Snack Break & Networking
7:35 pm Panel Discussion + Q&A
8:00 pm Wrap up and closing remarks
8:05 pm Time to chat, connect, and enjoy the Women and Money community!
Featured Speakers
Event hosted & moderated by Katherine O'Neill
Jane Alm: Demystifying Inflation - A Broad Discussion of Inflation
Valerie Gibbs: Money Management - Managing Your Emotions During Inflationary Times/ Spending Habits and Budgeting
Freida Richer: Credit & Debt - Using Credit Wisely During Tough Times and Navigating Your Debt
Speaker Bios:
Jane Alm, Senior Wealth Advisor Angus Watt Advisory Group | National Bank Financial Wealth Management
With a career spanning four decades, Jane has developed an expertise in North American income products. Her knowledge of wealth management, retirement planning, asset allocation, options and strategies is extraordinary. Her experience and her patient, personalized approach ensure you are informed and comfortable with your investments and decisions.
Jane began working alongside Angus in 1979 as a summer student. She was fascinated by the industry so came back full time the next spring. She has been a partner of the Angus Watt Advisory Group since 2006.
Jane's mother was one of the first female investment advisors in Edmonton, and instilled in her a strong sense of self-reliance and ethics. Jane has taken the lessons of her first mentor to heart, and passes them along by encouraging and mentoring young women in the finance industry. She served as the Sponsorship Chair of Edmonton Women in Finance.
As part of our trusted Business Anchor team with Angus Watt and Jim Watt, Jane provides daily business news updates to Albertans over 30 times per week on Global TV and 630 CHED.
Jane loves to travel with her husband Mark. She is a proud mother of one and proud human mum to 2 beagles. To relax, Jane enjoys golf, long walks, and reading. She brings passion and energy to everything she does, including her hobbies. Not satisfied with merely enjoying wine, she has achieved Level 2 at Wine and Spirit Education Trust (WSET) and recently completed a sensory masterclass as well has a Canadian Wine Scholar designation.
Freida Richer, CIRP, LIT Partner Grant Thornton Limited
Freida is a Partner with Grant Thornton, a leading Canadian accounting and business advisory firm, and has worked exclusively in the insolvency industry for 26 years helping people with their financial fresh starts. She is a Chartered Insolvency & Restructuring Practitioner (CIRP) and a federally appointed Licensed Insolvency Trustee. Freida is a member of the Canadian Association of Insolvency & Restructuring Professionals (CAIRP) and served as a Board of Director for the Alberta Association of insolvency practitioners (AAIRP). She is energized by helping people resolve their financial difficulties and is dedicated to bringing awareness on the importance of financial literacy. Her op-ed piece on "The Culture of Credit" was published in The Globe and Mail and for the past seven years, Freida has been a monthly commentator on Global Edmonton's Morning News on timely topics impacting Albertans with consumer debt.
Valerie Gibbs, Investment Counsellor, RBC PH&N Investment Counsel
Valerie brings more than 10 years of experience in the finance industry to her role as an Investment Counsellor with RBC PH&N Investment Counsel. Supported by seasoned investment managers strategically located in key markets around the world, Valerie provides customized wealth management solutions to high net worth individuals, their families, businesses, foundations and not-for-profit organizations. She holds both the Chartered Financial Analyst (CFA) and Certified Financial Planner (CFP) designations. She is the Vice President of CFA Society Edmonton, Co-Chair of Edmonton Women in Finance's Professional Sub-Committee and member of the YWCA's Finance Committee.
Event Sponsors
IG Wealth Management
About Financial Literacy Month
November is Financial Literacy Month (FLM)! Throughout the month, Canadians are encouraged to invest in their financial well-being. This means taking control of their finances and reducing financial stress by making a budget, having a savings and debt reduction plan, and understanding their financial rights and responsibilities. To find out more, click here.
About Women & Money
Founded in 2016, Women & Money is a volunteer-run not-for-profit that grew out of the recognition that all women benefit from financial independence, whatever their income or circumstances.
There is a large gap when it comes to women and our financial literacy which has a massive impact on a woman's future. We get it, talking about your finances is boring and can be down-right overwhelming which is why we host engaging online and in-person events with leading experts in the industry to demystify your finances.
Our events cover a range of topics from mortgages, wills, estate planning, investing, pensions, debt, budgeting and more.