York Angel Investors - Symposium on Angel Investing
About this event
Join us Tuesday, April 20th from 12:30-2:00 PM as we kick off "Women of York!"
Women of York is addressing a critical gap within the Government of Canada's Women Entrepreneurship Strategy (WES); access to women angel funders.
Angel investors not only assist start-ups and entrepreneurs with access to pre-seed funding but in many cases provide strategic advice and mentorship.
Over the past 11 years York Angel Investor members have invested $27M in over 215 startups. We are one of the largest and most diverse angel groups in all of Canada and want to expand our network of women investors to over 25%.
This is a exclusive event for acceditied investors...only 100 spots available for women. Spouses and partners are welcome to register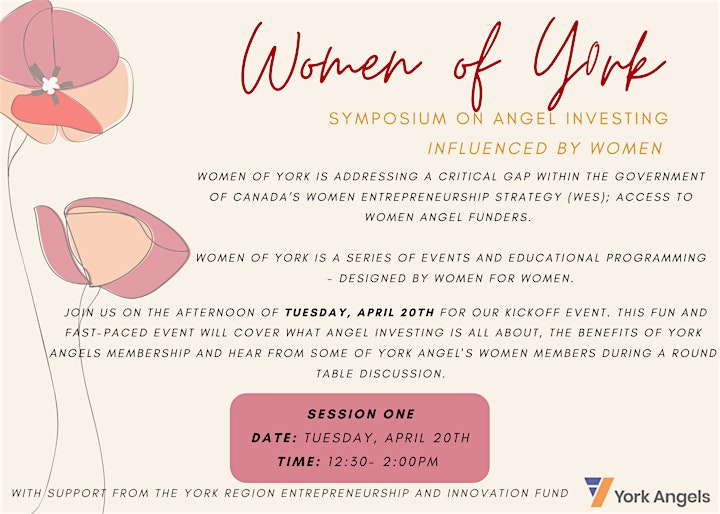 In addition to networking opportunities, join us for an inside look at what Angel investing is all about! Meet and learn from experienced Angel investors and chat with founders about how Angel investment accelerated their business.
Join us for first of three (3) virtual sessions this spring!
Session One: An Inside Look at Angel Investing
April 20th, 12:30-2:00 PM
For those interested in learning more, there will be two (2) follow-on events
Session Two: Join us as a guest at our Monthly Investment Meeting
April 29th, 1:00-4:00 PM
Session Three: Founders and Funders: An Angel's Role in Supporting Entrepreneurs
May 6th, 12:30-2:00 PM
Join us in the afternoon of Tuesday, April 20th for our kickoff event
This fun and fast-paced event will cover What Angel investing is all about, the benefits of York Angels membership and hear from some of York Angel's Women members during a panel discussion.