Description
Join us on Sunday, March 12th 2017 for a screening of the movie She Started It followed by a post-screening Q&A discussion with an incredible panel.
The event is for ages 19 and older only because of the licensing for the evening at the Rio.
Holly Peck, Director + co-Founder of Women Who Code Vancouver, is emceeing this event.
Launched in 2013, She Started It is a feature length documentary film on women tech entrepreneurs, shot on location in Silicon Valley, NYC, Europe, Vietnam, Mississippi & more, that aims to highlight successful role models for young women. It is the first film to show the behind the scenes of running a tech start-up as a young woman. Trailer here.

We've booked a post-screening discussion with 5 Vancouver-based female CEOs and founders — Amielle Lake, Kimberly Hansen, Mandy Potter, Dana Fleming and Nancy Fearon — who will share their experiences and perspectives on how they've navigated the ups and downs of founding, launching, and managing their own businesses.

Amielle Lake
Founder + Director, Fieldtripp Media Inc.
CRO + Founder, Tagga Media
Amielle is the founder of Tagga Media. She formerly served as CEO of Tagga, and now occupies the role of Chief Revenue Officer. Tagga's Customer Data Platform is designed to collect and consolidate fragmented customer data residing across disparate data silos, to deliver a single, unified profile for each member of a brand's community. These profiles allow brands to better understand the customer journey by surfacing formerly unavailable behaviors, trends, and patterns. Since 2015, Amielle has served as founder and director of Fieldtripp Media, a trusted community for people to list, discover and book unique experiences in their city - online or from a mobile phone or tablet. Since 2010, she has served as Director of the Forum for Women Entrepreneurs BC.
Kimberly Hansen
CEO + Co-Founder, Signl.fm
Kim is a co-founder and CEO at Signl.fm, what we're calling Podcast 2.0, or YouTube for Podcast. A distinctly technical, creative mind, Kim is an expert at doing much with little — in 2013, she led the design team on the highly-rated Everlove: Rose, with Silicon Sisters. She went on to lead a small team of creatives and developers to create a never-before-seen user experience for the successfully greenlit EON Altar, a "digital table-top" roleplaying adventure. Moving on from games, Kim and socilogica's CTO Mike Cora worked together to create socilogica's Rewardlogic gamified customer engagement platform. Rewardlogic features a fully scriptable RPG engine and iBeacon augmented reality. The platform is currently installed at dozens of Harley-Davidson® dealerships around the world. Early in 2015, Kim left socilogica. to begin ideation on Signl.fm and to join BlackPurl Technologies as a UX and Gamification Consultant. There, Kim worked with a small team of area experts and outsourcing partners to create a gamified Point of Sale solution. The MVP created was instrumental in raising seed and A-series rounds. Today, she is the CEO and Executive Producer at Signl.fm, acting as the primary vision-holder, frontend lead, and in charge of business development.
Mandy Potter

Co-Founder, Cleanify
Mandy is the co-founder and Chief Hustler at Cleanify, focussing on revenue and supply growth. She started the company in Vancouver, BC and has spent the last 3 years raising money and growing her startup in San Francisco. In 2016, she won the entrepreneur pitch contest at the Lesbians Who Tech Summit held in San Francisco's historic Castro Theater. The competition had five LGBTQ entrepreneurs competing in front of four judges to pitch their startups for a chance to win $5,000. Mandy is a speaker at Lesbians Who Tech and has spent the past few years supporting diversity in her own startup as well as encouraging others to do the same.
Dana Fleming

CEO + Founder, Vision Wealth Management
Dana is the Founder and CEO of Vision Wealth Management (VWM). An active advocate for investor education and a "clients first" focus within the professional investment community, Dana strongly believes that investing is only one of several critical components in building both long term financial stability and balance in anyone's life. Her practice focuses on knowing and understanding each client's own "vision" of her/his life and how to best build the financial foundations to support this picture. Dana graduated from Stanford University in 1989 and, despite an Honours Degree in Anthropology, began her post‐university career as a "coding geek" with Andersen Consulting (Accenture). While she loved the constant puzzle solving coding required, she found solving peoples' puzzles even more intriguing and joined the financial services industry in 1998.
Nancy Fearon
Partner + Portfolio Manager, Vision Wealth Management
Nancy is a Partner and Portfolio Manager at Vision Wealth Management (VWM). Nancy received her Masters of Management (MBA) from Kellogg Graduate School of Management (Northwestern University) in 1998 and a Bachelor of Commerce from the University of Toronto in 1993. Her career in the financial services industry has taken her to 3 continents and the world's major financial centres including New York, Toronto, London, Hong Kong, Singapore and Tokyo. She has advised corporations and governments on finance, mergers and acquisitions and helped billion dollar asset managers sift through the Canadian, European and Japanese equity market offerings. A life-changing event brought Nancy to the realization that life isn't all about making money and building wealth isn't all about generating the highest return possible. She decided to leave her senior post at a Canadian bank and shift her focus away from large institutions to families and friends. She joined Vision Wealth Management in 2011 and has been helping families grow their wealth smartly, without having to "bet the farm" ever since.

The Code of Conduct
By purchasing a ticket and attending the event, you agree to follow the rules outlined in the Code of Conduct published by Women Who Code.
Additional Merchandise
In addition to a spectacular screening we are excited to offer you a custom T-Shirt to show your solidarity with women everywhere. Feisty Fashion will be printing this great design by one of its artists to support this event. You can buy them as an addon to you ticket, sizes can be provided to us as part of the registration process (Women: S to XL, Men: XS to 2XL).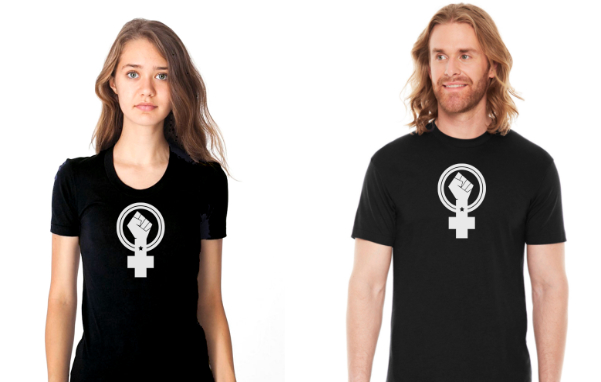 Women Who Code would like to thank our friends, Sebastian Vetter and Aliya Hassam, for helping spearhead this event.

Yours truly,
Women Who Code + Friends