Description
EXCLUSIVE VIP INVITE! SAVE THE DATE!!!

VIP Launch Party of Women Wine Wednesday's with Jazz at the AnchorBar in Burlington! March 15th, 2017.

Complimentary wine and food samples.
Amazing jazz quartet all night long.

R.S.V.P. info@anchorbarcanada.com or register right here to be on the VIP list.

Introducing a weekly night dedicated to the ladies, with featured 1/2 price special wines by the glass and the bottle, a "ladies choice menu, just for us" and special jazz musicians each week.



The AnchorBar, Burlington is the venue, home of the Original Buffalo Chicken wings first created in Buffalo, New York back in 1964. Although many have tried to duplicate the Buffalo wing, the closely guarded secret recipe is what makes the Anchor Bar chicken wings the "Best Wings in the World". These amazing chicken wings now avaiable in Burlington.
Accomplished jazz musician, Emily Steinwall will be regularly performing accompanied by different musicians on the Wednesdays. Emily Steinwall in an emerging tenor saxophone player, flautist and bandleader in Toronto's jazz scene.
The AnchorBar is #1 and we ladies love our all natural, chicken wings made fresh everytime with amazing wine.

Launch VIP Party of Woman, Wine Wednesdays with Jazz is happening on March 15th with The Wine Ladies hosting, getting the word out, this night is for us ladies!

Food and Drink Samples
Give Aways's and Prizes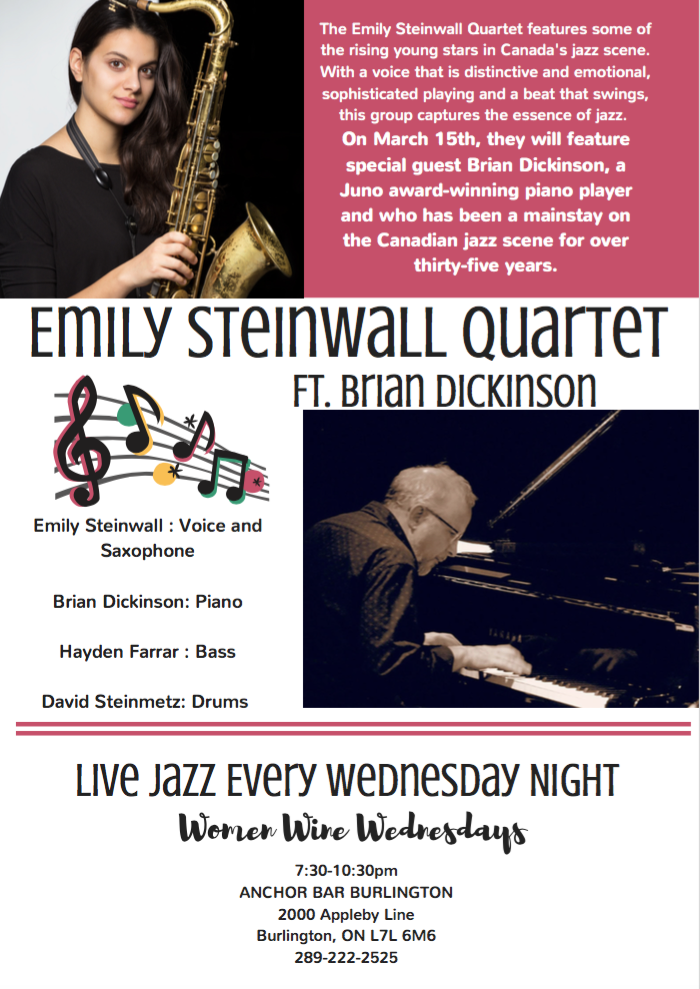 The Emily Steinwall Quartet features some of the rising young stars in Canada's jazz scene. With a voice that is distinctive and emotional, sophisticated playing and a beat that swings, this group captures the essence of jazz. On March 15th, they will feature special guest Brian Dickinson, a Juno award-winning piano player and who has been a mainstay on the Canadian jazz scene for over thirty-five years. The group features Emily Steinwall on voice and saxophone , Hayden Farrar on upright bass, David Steinmetz on drums and Brian Dickinson on piano.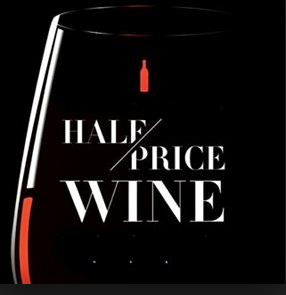 Half Price Wine Every Wednesday! All Wines! All Sizes!
If you love French wine you are going to love two of our wine features that evening. Main oui! C'est bon!!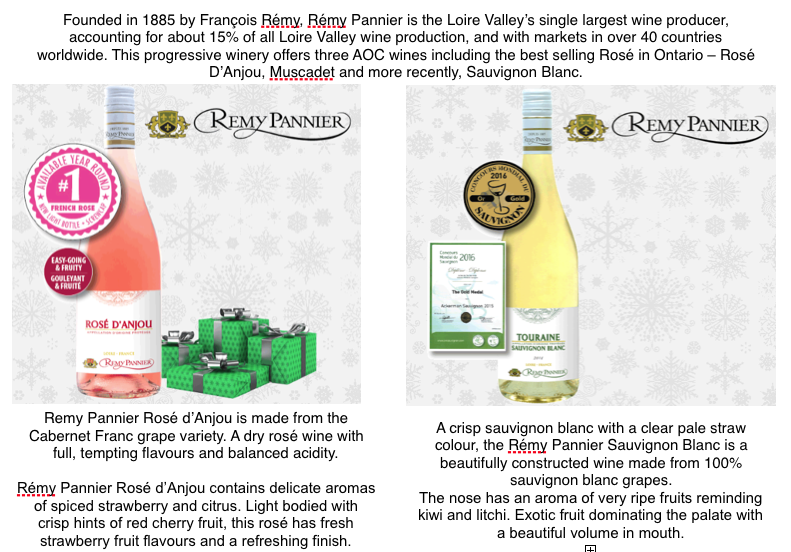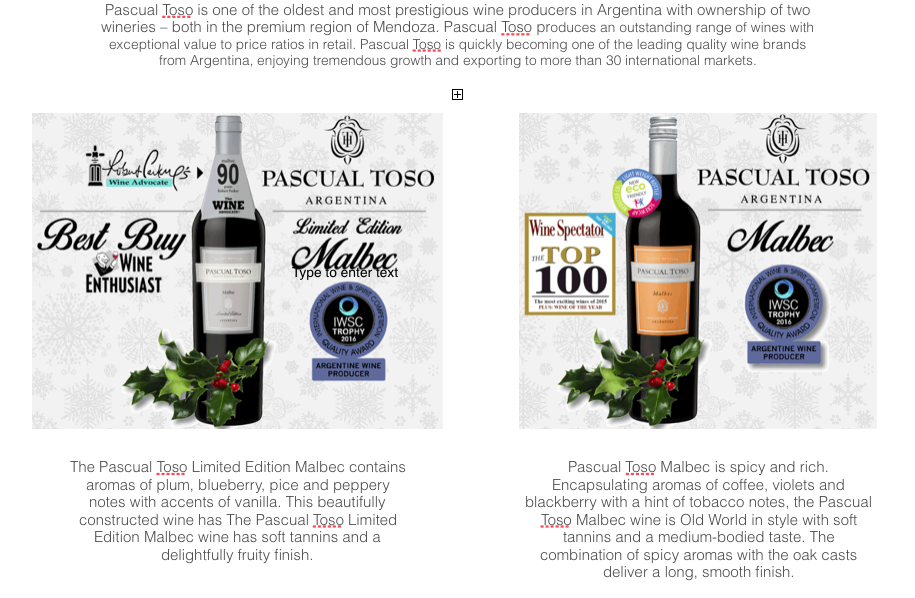 Please RSVP info@anchorbarcanada.com or register right here to be on the list.
Space is limited and you must be on the list to attend.

By the way... gentlemen welcome too!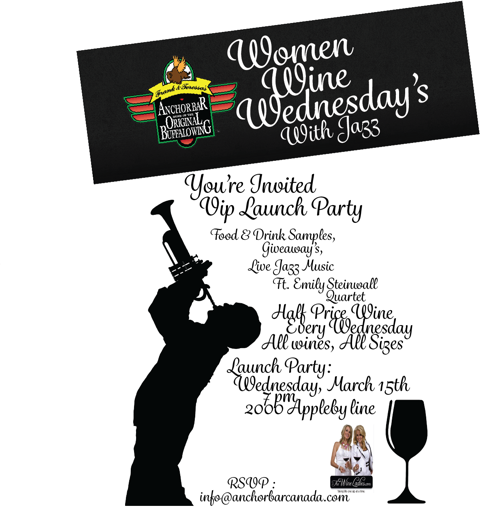 Organizer of Women Wine Wednesday's With Jazz VIP Launch Party- March 15th, 2017- AnchorBar Canada
The Wine Ladies, Georgia and Susanne founded by entrepreneur sister team in 2003, take life one sip at a time as they share the splendour of food and wine for all and the wonderful lifestyle it entails.  Regular national TV personalities and hosts of their own weekly TV show about wine, food and lifestyle these ladies share their passion and live life to the fullest and without hesitation. Their motto "everything in life somehow comes back to the vine" keeps their audiences entertained and informed.
Charismatic and entertaining The Wine Ladies enjoy their many live public appearances acting as hosts and emcees at events, fundraisers, galas, on stage presentations, wine tours or wine tastings. They also spread their passion of wine, food and lifestyle  through  their national newspaper columns and their regular food and wine article. The Wine Ladies enjoy a very active social media platform engaging their many followers and fans through their blogging, videos, Facebook, TWITTER, You Tube and more.
The Wine Ladies recently received the prestigious  Entrepreneur of the Year  award  by the Oakville Awards For Business Excellence.