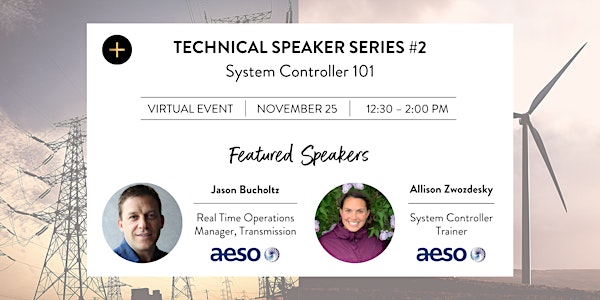 Women+Power Tech Speaker Series #2: System Controller 101
System Controller 101
Date and time
Thursday, November 25, 2021 · 11:30am - 1pm PST
About this event
Every day the AESO System Controllers work to manage and operate the provincial power grid. Our System Controllers balance supply and demand 24/7, making sure four million Albertans have power when they need it. But, what happens behind the scenes for this to be possible?
In this session, participants will discuss:
AESO's role in the electricity industry
System Controller (SC) shift work and training
AESO control room operations
Components of balancing the grid
Emergency operations and supply adequacy
Questions and answers
Guest Speakers:
Jason Bucholtz is a Real Time Operations Manager at the Alberta Electric System Operator. Jason is a member of a technical team that provides all Albertans with a safe and reliable supply of electricity. Jason works with Energy Management System and Operational planning engineers to integrate tools that aid System Controllers in the operation of the power grid with greater awareness and efficiency. For the past 20 years, Jason has worked in Alberta's utility industry, including work in the field as a protection and control technologist for AltaLink Management.
Allison Zwozdesky has joined the AESO Performance Improvement in Training team this year. She is a System Controller Trainer and she focuses on Human Factors. She is thrilled to share what she has learned about the system controllers and feels very humbled to present to this community. Allison comes from an operations background which drew her to this position. From Airports operations to Operations Control Centres, Allison has over 14 years of experience in aviation operations. Her passion for training grew from pedagogical studies during her Bachelor of Fine Arts in Theatre at the University of Calgary.
About the organizer
Women+Power is a community for women of all levels of experience working in or with Alberta's power industry along with men who support us as allies. We provide opportunities for members to connect with, support, recognize, and inspire each other to empower women to achieve their full potential both professionally and personally.