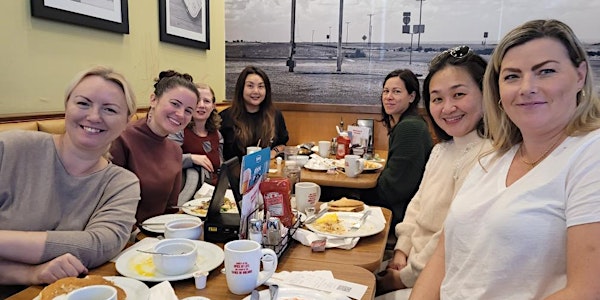 Women's Brunch
I run brunches at restaurants in Vancouver and Burnaby every Sat at 11 am.
When and where
Location
Cora's Restaurant 7155 Kingsway #142 Burnaby, BC V5E 2V1 Canada
About this event
Hi Sisters!
I run brunches at restaurants in Vancouver and Burnaby every Sat at 11 am. We have our regulars and we've gotten to be good friends! There are always new women joining in. There's no fee and it's not for business or networking. Each woman will be required to order and pay for her meal/drink. It's just to connect meaningfully with new friends. Pls call me, Stephanie at 236.869.2559 if you need help finding our table or email me at thehealingteam@gmail.com
I'm looking forward to meeting you! :)
Join my meetup: https://www.meetup.com/the-reiki-and-psychic-development-meetup/ to attend our ongoing brunches.
Group Guidelines
Thank you for taking the time to read our guidelines!
This group is about making warm and meaningful friendships! Here are some guidelines to make sure that everyone has a good experience at our get-togethers.
Business: This is an event for making friends. It's not for networking and promoting to customers. It's ok to tell people what you do, but pls keep it brief and redirect the conversation back to getting know each other.
Confidentiality: Don't share private things that are discussed in the group with others. That will help keep it a safe space free to talk personally.
Identities: Let's avoid making comments that could offend others eg about age, body image/size, sexual orientation, race, culture, spirituality, religion, mental health etc. Pls keep in mind other people's sensitivities so everyone feels safe.
Dating: The purpose if our group is to make freinds. Pls don't reach out to others for dating and pls avoid any sexual comments.
Listening: Ask questions to get to know other people. Try to encourage everyone to share and connect.
Tables: If there are two tables and we can't get seated at one, pls join the table with the lower number of people.
Late/Absence: Pls text in advance if you're not coming as events require a minimum of 4 people to run. Pls also text if you're coming late. Sometimes we will have reservations so it is good to know attendance.
Feedback: Open communication is always encouraged. Let's create a warm and safe space. :)