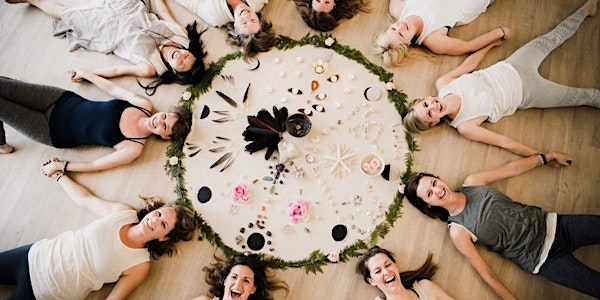 Women's Circle (11 online Sessions)
A 10 month transformational journey of connection, growth, and healing.
Refund Policy
Contact the organizer to request a refund.
Eventbrite's fee is nonrefundable.
About this event
1 hour 30 minutes

Mobile eTicket
"A circle of women may just be the most powerful force known to humanity"
Women's circles have always been a refuge for me to let my guard down and open up without the fear of being judged or hurt. Sharing is a powerful form of healing, and no matter how alone you may feel we are all going through stuff. In women's circles we can share, listen, and learn from each other's experiences in a safe and nurturing environment.
In this circle we will explore some of the philosophies of yoga, specifically the Yamas and Niyamas which are yoga's ethical guidelines to guide you on your life's journey. These core principles can help you expand your awareness and understanding of your thoughts and actions so you can begin to shift your perspective towards self-love, while cultivating self-discipline and inner freedom. Aligning to these principles has helped me to find purpose and inner peace in an otherwise chaotic life. It is an honour to pass on this ancient wisdom to other women who are looking to move beyond the limitations of their current conditioned minds.
Each month you will be introduced to a new concept for you explore, apply, and analyze in your own life. You will be given journal prompts and other practices to do between meetings in order to deepen your experience. Each person will have an opportunity to share their thoughts, feelings, and breakthroughs related to each topic. You will also be added to a private Facebook group so we can continue to connect and recieve support between each session.
THIS PROGRAM IS FOR YOU IF …
You are longing for spiritual growth and guidance.
You are looking to build meaningful connections with other women.
You currently practice yoga and are interested in exploring yoga beyond your mat.
You do not practice yoga and are open to exploring life changing philosophies.
You are looking for a structured path and nurturing environment to do inner work.
WHAT ARE THE YAMAS AND NIYAMAS?
YAMAS - RESTRAINTS:
Ahimsa (nonviolence)
Satya (truthfulness)
Asteya (non-stealing)
Brahmacharya (non-excess)
Aparigraha (non-possessiveness, non-greed)
NIYAMAS - OBSERVANCES:
Saucha (cleanliness of body and mind)
Santosha (contentment)
Tapas (discipline)
Svadhyaya (self study)
Isvara Pranidhana (surrendering to a higher power)
SCHEDULE:
This will run from February to December and we will meet on the 2nd week of each month.
Group 1: Sunday's @ 7:00pm - 8:30pm EST
Group 2: Monday's @ 7:00pm - 8:30pm EST
PRICE:
Early Bird - $97 (purchase by January 25)
Regular - $147
(This price covers all 11 sessions)
✧Each group is limited to 8 spots to provide a very safe and intimate container for those participating✧