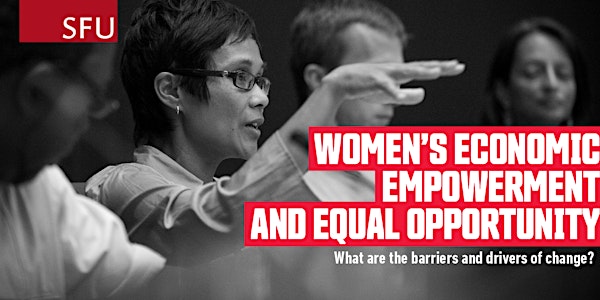 Women's Economic Empowerment and Equal Opportunity: Barriers and Drivers
Event Information
Location
Room SUR 2600, Simon Fraser University - Surrey Campus
250-13450 102 Avenue
Surrey, BC V3T 0A3
Canada
Panel-based Discussion on Women's Economic Empowerment: A Glimpse Into Professional and Personal Experiences
About this event
Economic empowerment of women—is no longer an utopian vision but a concerted effort of many. Despite these efforts, women face many serious barriers to using their full potential and becoming economically empowered.
As part of the International Women's Day celebration and Women Deliver 2019 Conference, SFU presents a mobilization event to unpack the factors that impede and promote gender equality. Women from various sectors will join the panel to share their personal and professional experiences in the context of broader inequalities as well as factors that influenced their lives and careers.
WHO IS ON THE PANEL?
Elder Margaret George — SFU Elders Program
Angela Malli — Founder/ President (Refined Recruitment Solutions Inc.)
Kamal Dhillon — Author, Activist and Trainer (Black and Blue Sari Charity Inc.)
Christina Wong — Executive Director (Employ to Empower)
Kristin Linklater — Executive Director (SFU Marketing and Communications)
Kerry Gibson — President/CEO (EcoCentury Technologies)
EMCEE: Dr. Milan Singh — Special Advisor (SFU FASS)
Moderator: Sobhana Jaya-Madhavan — Associate Vice President (SFU External Relations)
EVENT SCHEDULE:
The event will include a panel discussion with an audience Q&A, followed by a small fair showcasing women-led initiatives and businesses. The evening will close with food and a networking opportunity.
• 3:30 – 5 p.m., panel-based discussion
• 5 – 5:30 p.m., audience Q&A
• 5:30 – 6:30 pm., showcase and networking event (refreshments will be served)
Women Deliver 2019 Conference is the world's largest global conference on women, girls' and gender-diverse people's rights, health and well-being. SFU is a proud mobilizer of the Women Deliver Conference and this event is one of many SFU will be organizing in the lead up to the conference. Please find more information here.
This event is being held on the unceded territories of the Coast Salish Peoples.
This event is wheelchair accessible. Please e-mail us at wd2019@sfu.ca if you need mobility assistance or have any dietary restrictions.
Date and time
Location
Room SUR 2600, Simon Fraser University - Surrey Campus
250-13450 102 Avenue
Surrey, BC V3T 0A3
Canada