Fire-Side Chat with Experts about Women's Health, Wellness and Advancement.
About this event
The Afro-Caribbean Mentorship Program sponsored by The Royal Bank of Canada Presents:
Women's Empowerment Event 2022
Black Women Glow:
Healing, Empowerment & Growth.
This event will celebrate Afro-Caribbean Black (ACB) Women's Empowerment on the themes of Healing, Empowerment & Growth. Our goal is to address the impact of anti-Black racism and its effects on Black Women while providing Hope through sharing resources, educational support, and guidance from Black women experts within our community.
We aim to combine modern study and practices, with the knowledge and wisdom of Black women who came before us; the mothers, aunties, grandmothers, and cousins who help shape the lives of ACB women to this day.
Themes:
Dating & Relationships. (Goals/ Challenges i.e. Domestic Violence. Fostering healthy relationships
Academic & Career Advancement
Menstrual, Sexual & Reproduction Health Education & Myths
Mental Health & Meditation
Medical Racism and Equality in Healthcare
Skin Care Tips
Featuring our Expert Guests:
Dr. Leisha Strachan (Professor & Associate Dean, Research and Graduate Studies - U of Manitoba)
Saran Vaughn-James (Menstrual Health & Holistic Education)
Susan Wenzell (Sex therapist, relationship expert and psychotherapist)
Dr. Laurie Samuels (Founder of Cupid's Sting - Domestic Violence Intervention)
Amie Archibald-Varley (RN, MN-CP Women's Health)
Plus Instructional Sessions with :
Meghan Stewart (Mindfulness Educator)
Tamar Joseph (Yoga teacher & Counselor)
This event keeps in mind that "women empowerment" in Canada often omits ACB women's lived experiences. We purposely open this space to acknowledge, appreciate, honour and recognize ACB Women and their shared knowledge throughout the generations!
This event is open to all community members who feel the need to learn about how we can continue to empower ACB women. We encourage people of all ages and various ethnic backgrounds to attend, as this is a safe and inclusive space!
For more details visit our website at www.weareacmp.com
DO YOU HAVE A QUESTION FOR OUR EXPERTS?
Click the link below to submit your question and have it answered LIVE during the show.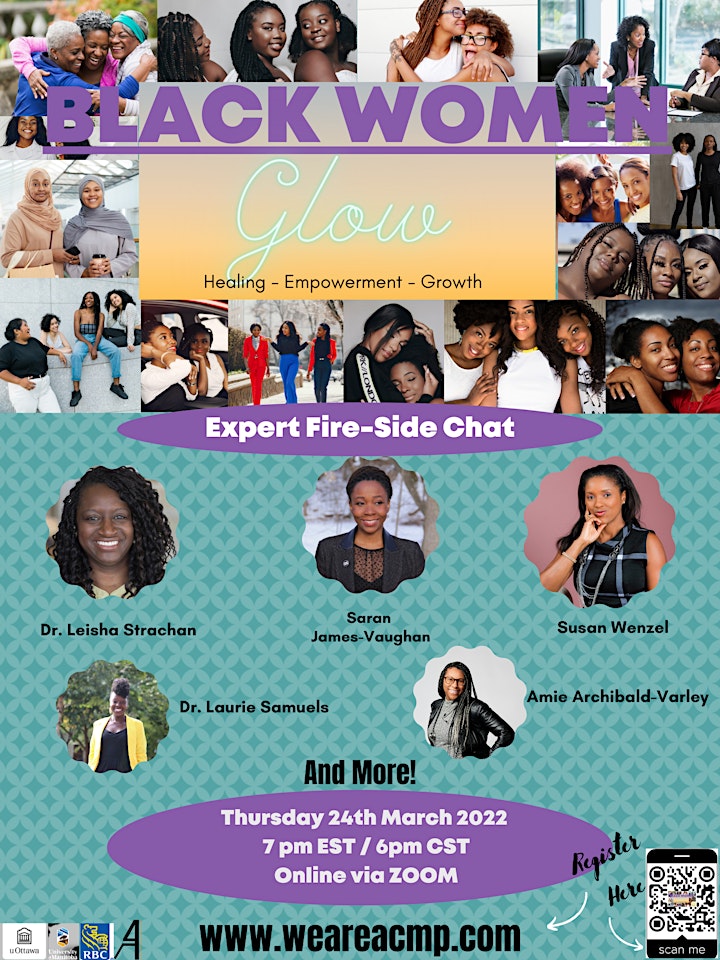 Le programme de mentorat afro-caribéen parrainé par la Banque Royale du Canada présente : Événement sur la valorisation des femmes noires 2022
Les femmes noires brillent : Guérison, valorisation et croissance.
Cet événement célébrera la valorisation des femmes noires afro-caraïbéennes (NAC) sur les thèmes de la guérison, de la valorisation et de la croissance. L'ACMP organisera UN événement en ligne axé sur l'avancement personnel, académique, physique et mental des femmes NAC, tout en s'engageant de manière critique sur le concept de Blackness dans la société canadienne.
Notre objectif est de combiner les études et les pratiques modernes avec les connaissances et la sagesse des femmes noires qui nous ont précédées, les mères, les tantes, les grands-mères et les cousines qui ont contribué à façonner la vie des femmes NAC jusqu'à ce jour. L'événement continuera à soutenir les entreprises NAC et leurs propriétaires économiquement touchés par la pandémie de COVID-19. Nos efforts consistent à encourager notre communauté à "ACHETER NOIR", tout en incitant le public à soutenir les entreprises noires par le biais de segments commerciaux présentant des publicités d'entreprises appartenant à des femmes noires au sein de la communauté.
Thèmes:
Rencontres et relations. (Objectifs/défis, par exemple, la violence domestique. Favoriser des relations saines, etc.)
Promotion académique et professionnelle
Éducation et mythes sur la santé menstruelle, sexuelle et reproductive
Santé mentale et méditation
Racisme médical et égalité dans les soins de santé
Santé physique et autonomie
Avec nos invités experts:
Dr. Leisha Strachan (Professeure et doyenne associée, Recherche et études supérieures - Université du Manitoba)
Saran Vaughn-James (Santé menstruelle et éducation holistique)
Susan Wenzel (Sexothérapeute, expert en relations et psychothérapeute)
Dr. Laurie Samuels (Fondatrice de Cupid's Sting - Intervention contre la violence domestique)
Amie Archibald-Varley (RN, MN-CP Santé des femmes)
De plus, des séances d'instruction avec:
Meghan Stewart (Éducatrice soucieuse)
Tamar Joseph (Professeur de yoga et conseillère)
Cet événement est ouvert à tous les membres de la communauté qui ressentent le besoin d'apprendre comment nous pouvons continuer à renforcer l'autonomie des femmes NAC. Nous encourageons les personnes de tous âges et de toutes origines ethniques à participer, car il s'agit d'un espace sûr et inclusif !
Pour plus de détails, visitez notre site web à l'adresse www.weareacmp.com
AVEZ-VOUS UNE QUESTION POUR NOS EXPERTS?
Cliquez sur le lien ci-dessous pour soumettre votre question et obtenir une réponse EN DIRECT pendant le spectacle.